While the stereotype of a Russian may be cold and harsh, Lyudmila Agrich is anything but. In fact, the only part of the 52-year-old Russian artist that does fit the typecast is her soft lilting accent.
"Usually, I just talk too much. I spill more than I should," she says, laughing.
And talk and spill she does. As the words tumble all over each other it becomes apparent why this jovial woman prefers fine art as a way to express herself.
Self-identifying as an expressionist impressionist, Agrich trained and worked as an architect in the Ukraine before moving to Colorado with her husband over 10 years ago. Slowly, the reliance on technology began to make her hate being an architect, and so she quit.
"I didn't leave [architecture] to become a full-time artist. I was happy with my hobby. [Painting] was for my soul and heart, and I loved it," she says.
It wasn't until she approached a gallery on Broadway to show her work that she began to think of herself as an artist. It was fortunate she did because it was this gallery owner who encouraged Agrich to use a palette knife instead of a paintbrush to create images.
"With the palette knife, it's not always comfortable," she says. "It's my kind of tool because I'm not in control. The thing is you have to let go and trust. The more simple, the more perfect."
While her original works were mostly of flowers, Agrich's pieces now almost always have people in them. She focuses on capturing the intimate moments in ordinary life and believes that what makes a painting alive is the human energy.
"I notice these very mundane things, and I show people how beautiful they are. Even so-called ugly things can be beautiful," she explains. "This is what life is all about, the day-to-day life. People try to catch something and never can, and that's interesting. I like openness and sincerity, and I appreciate that in people. We can connect to each other through it."
While these moments are special, capturing the appropriate mood is most important.
"What I need to do is cage [the mood]," she says. "I can have an image in front of me, but when I paint I'm just creating this mood."
With her wide palette strokes and particular subject matter, Agrich's pieces are like a modern-day version of the works by French impressionist painter Édouard Cortès.
If that sounds like a lofty comparison, it's not. It's true. "American Art Collector Magazine" just wrote a feature article on her and published some of her paintings. This is now-Coloradoan is an artist to watch.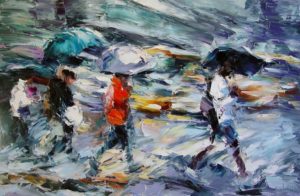 So what's this rising star's goal for her current exhibition at Mirada Fine Art Gallery?
"I hope that people will be happy for that one moment," she says.
We're willing to bet that happiness is just the beginning.
Exhibit Details:
Flow: Lyudmila Agrich
March 22 – April 14
Mirada Fine Art Gallery
5490 Parmalee Gulch Rd., Indian Hills, CO  80454