Make no mistake about it, Bobcat Goldthwait isn't particularly fond of nostalgia. Memories of a loud, trembling on stage persona? Twisted Sister and all those hair bands? Or those silly 80s movies, like One Crazy Summer, Hot to Trot, and Police Academy? Good riddance.

Bobcat Goldthwait – Comedy Central
"I know that most people only know me from Police Academy, but I don't want to be known as that fat quarterback that was a big deal in high school and thirty years later is still sitting at the bar talking about that touchdown pass."
Instead, Bobcat chooses to live in the moment.
After making his feature writing/directorial debut in 1992 with Shakes the Clown, he realized his true passion behind the camera. And began directing episodes of The Man Show, Chappelle's Show, and Jimmy Kimmel Live! Along the way, he quietly began writing and pushing the envelope on the big screen as one of the most creative and intelligent voices in cinema.
In 2006, he wrote and directed the provocative comedy, Sleeping Dogs Lie, about a man who discovers his fiancé once experimented with bestiality. A few years later, he collaborated with long time friend, Robin Williams, on World's Greatest Dad – an underrated gem that explores the effects of suicide and cult celebrity in high school. And most recently, he delivered God Bless America (2011), a political satire about rage and disenfranchisement in modern society, starring Joel Murray and Tara Lynne Barr.
A stand-up comedian at heart, Bobcat returns to the stage and to Denver this week with his own blend of dark, sophisticated humor. And we had a chance to sit down and chat about his early comedic roots, musical influences, and feature films with just a hint of nostalgia.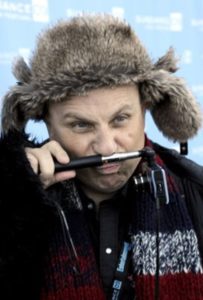 What can you tell me about the origin of Bobcat? And what inspired that gruff, high pitched voice?
I was always influenced by comedians like Andy Kaufman and Brother Theodore – guys who took the piss out of people's perception of what a stand-up comedian should be. And I was such a hard core stand-up comedy fan when I was a little boy that by the time I became an adult, I was kind of over it. So, I think the persona was really just me making fun of stand-up.
As for the Bobcat name, my friend Barry Crimmins was a comedian and he went by the name, Bearcat. And my friend Tom Kenny and I were being dicks one day because we were 15 and 16. (I've known Tom since I was six years old. We grew up together, did comedy together, and now he's the voice of Spongebob Squarepants).
Anyways, we were making fun of Barry. "Oh, he's Bearcat. Well, if he's Bearcat, then I'm Bobcat and he's Tomcat." But thirty years later, the joke's on me because they're known as Barry and Tom and I'm still Bobcat. So, I guess it kinda backfired.
Police Academy, Scrooged, Burglar, those Twisted Sister videos. What do you remember about the 80s?
I liked Scrooged a lot and it was nice to be in a Christmas movie. But I really don't have fond memories of the 80s because that was when hair bands became so popular and I hated them. I don't have a soft spot for that kind of music. It was really horrific – dudes doing music that was intentionally shallow.
90s music changed all that, especially with Nirvana.
Yeah, I did some dates with Nirvana and had fond memories of getting to see those shows and spend a little time with the band. That was a lot of fun.
You wrote and directed Shakes the Clown back in 1991. And then in the early 2000's began directing The Man Show, Chappelle's Show, Jimmy Kimmel Live! What got you back into directing?
Jimmy Kimmel got me back into directing. I never stopped wanting to direct; I just couldn't get any work. And it was Jimmy who was a big fan of Shakes and had me direct The Man Show, some Crank Yankers, and eventually his own talk show. I attribute all of that to Kimmel for believing in me.
How has your comedy changed since those early days of stand up? And those early days with Police Academy?
My stand up has never really changed too much. Maybe the persona isn't there? But I still talk about the same kinds of things I enjoy talking about and still do the same kinds of things on stage.
I know people have a soft spot for Police Academy and stuff. But it's kind of weird. I was thinking the other day that the whole amount of time that I spent doing all three movies was just a little under three months. And I've been talking about it for thirty years?
I know that most people only know me from Police Academy, but I don't want to be known as that fat quarterback that was a big deal in high school and thirty years later is still sitting at the bar talking about that touchdown pass.
Most people probably think I'm dead (laughs).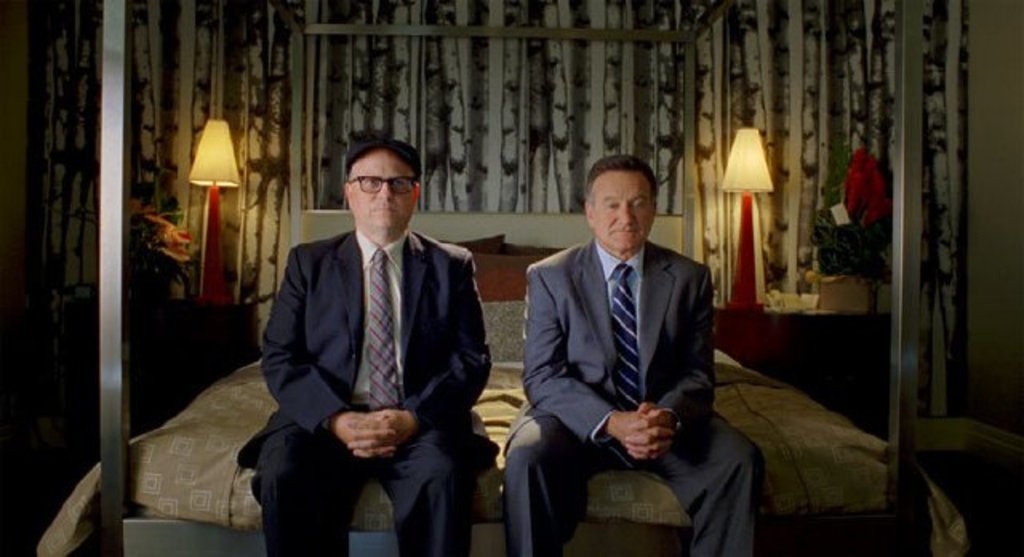 You've known Robin Williams for a long time. And you got to direct him on the set of World's Greatest Dad. Was it difficult to get him to not be funny?
Robin and I get along really well when I'm directing him. He really wants to do a great job and we have a trust thing. When we're making a film, it's very silly and chaotic except when the scenes are very heavy. I usually have a lot of fun when I make a movie. Even when the subject matters are dark.
I heard Bob Fosse used to have a pretty fun set during Star 80 and some really dark movies. Even Cabaret was pretty dark. So I keep everything light. Robin is a great actor and a professional. We trust each other and we save all the hijinks for when the cameras aren't rolling.
God Bless America is funny, but an uncomfortable depiction of America at its worst – reality TV, cell phones, spoiled teenagers. What inspired you to write it?
I think some folks think that that movie is just me writing a laundry list of things I don't like and then shooting them. But that's not it. I wanted to explore our interests in these distractions, i.e. the fact that we're not communicating anymore and that we're all okay with being rude and inconsiderate toward one another and that the digital age is making it easier for people to be less communicative.
It's funny. They say technology accelerates communication, but it really just accelerates narcissism. There's an underlying bitterness. And I wanted to write a movie that asks people: Are you a part of the problem or are you a part of the solution?
You retired from stand up in 2005 and performed a final run in Vegas. With your directing going so well, what motivated you to come out of retirement and hop back on stage?
There are a couple reasons. One reason is that it's a pretty awesome, expedient way to create something. You don't have to wait around to see if an idea hits with an audience. But honestly, I do a lot of stand up to help pay my bills. Stand up is what keeps me from being on reality television.
What are your thoughts on Denver?
I've played the Comedy Works a whole bunch over the years. I haven't played the other one (Greenwood Village); I've only played the one downtown. But the downtown location is easily one of the best clubs, if not the best club, in the whole country. I love playing there.
What can audiences expect from your upcoming shows?
My material tends to be a bit autobiographical only because I'm self absorbed like everybody else! No, I think it's autobiographical because by telling stories, you prevent from having material that is similar to other people.
I do think that a lot of people have this expectation that I'm going to do the persona that people know from twenty or thirty years ago. But I try to do a good job and I address that in the show.
I'm not really big into nostalgia. I'm more about making stuff and creating stuff for today.
You have to evolve.
Well, you don't have to. There's certainly a lot of people who've had a few hits over a certain period and they just go out and do that over and over again. But I think if I had to do that, I would probably overdose on a toilet somewhere (laughs).
I'm a big fan of music. And if you're not going forward, the musicians whose music I liked over the years wouldn't have gone on to make other things that I appreciated. They would have gotten stuck with the things that worked and wouldn't have experimented, changed, or tried new things. The Who would've never written Tommy or Quadrophenia. They would've continued writing the same pop tunes they started out doing.
It's not very interesting.
No. I like to go to a show and be challenged by the person(s) I'm watching.
So, what can you tell me about Schoolboys in Disgrace?
That's my passion – all the movies that I've been developing and writing. And it's taking a lot longer to get going because unlike my other movies, it's not just a small movie that I make with my friends. It's on a much larger scale. It's a musical – Schoolboys in Disgrace is a Kinks album from the 70s. And slowly, but surely it's all coming together.
Mark Sells is a nationally recognized film/entertainment journalist and Critic-at-Large for 100.3 FM The Sound (Los Angeles). In addition to his blog on 303, you can follow The Reel Deal on YouTube, Twitter, and Facebook for the latest entertainment news, reviews, and interviews.
Sleeping Dogs Lie – Trailer
World's Greatest Dad – Trailer

God Bless America – Trailer