There's always chocolate, roses, and romantic dinners, but you'll probably pay less for all of those after February 14th.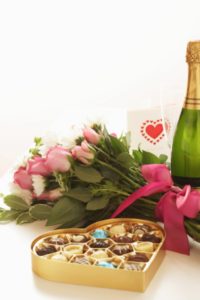 So why not give your sweetheart a gift that will heat things up on a cold winter's night? A little sexy lingerie will go a long way. It's a gift for both of you that keeps on giving year round.  Women love to feel sexy and men love it when they do. Cindy Johnson, co-owner of SOL, which stands for Store of Lingerie, knows this, and that's why she is dedicated to making it easy for men to shop for that perfect Valentine's Day gift. She came up with a unique way of getting guys into her upscale store in Cherry Creek ten years ago when she and her sister and business partner realized that most 'real' men in Colorado don't want to go to a chi-chi lingerie store and sip champagne. "A customer suggested we do something that would make guys feel at ease, kind of like when they go to a football game. And that's when we came up with the idea of the 3 B's – beers, brats, and bras," said Johnson.
For the past ten years, the Sunday before Valentine's Day a local bratwurst vendor sets up his cart in front of their shop, cooking up and serving between three and four hundred brats.  Wash those down with some decent local micro-brews and suddenly shopping for women's delicate lacy under-things makes a pretty decent replacement for Sunday afternoon football games. Johnson, who, with her sister, has owned the store for fifteen years, must be doing something right. It's impressive for a small locally owned shop that sells $100+ panties and bras to thrive in a tough economy, especially while competing with the marketing budgets and buying power of certain mega national lingerie chains.  I was there on Sunday and the store was teaming with people, male and female, even at the end of the day.
Ms. Johnson told me they have loyal customers of fifteen years, and every year the guys who come to the annual Valentine's event tend to bring a friend or two. Not surprisingly, Johnson said that customer service is what keeps people coming back. "If a guy is a new customer, we will ask questions to find out what his wife or girlfriend's style is. If he's shopped here before, we will have a database of prior purchases," said Johnson.  Women who are particular, can come in ahead of time and put a wish list together on the computer. SOL recently began carrying a men's underwear line, and they have encouraged their customers to make a date of it and shop together.
SOL tests out the lingerie lines they represent ensuring that the pieces are not only sexy and beautiful, but that they fit a variety of body types and are comfortable as well. As Johnson said, "No one wants to put on a piece of sexy lingerie that's so uncomfortable it will be worn once and end up in a drawer." Besides a beautiful selection of bras and panties that are displayed on flip panels on the wall like fine pieces of art, they also have an extensive variety of sexy chemises, camisoles, stockings, and even some lacy open-crotch panties.  If your woman likes something a little more cozy at times, they also have a collection of very comfortable and stylish pajamas, robes and lounge wear.
Tomorrow is Valentine's Day. If you don't have time to shop for something special, you can still order from SOL's user-friendly website and they will deliver it to you by courier on the 14th. You can find store hours and more information at SOLLingerie.com.