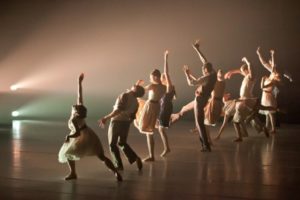 Ballet Nouveau Colorado is getting a makeover. The company, now known as Wonderbound, will continue doing what it does best – collaborating with a wide variety of artists in the Denver area, but at a new location in the Five Points area starting in March.
Wonderbound speaks to the unparalleled artistic synergy the company has established since its inception in 1992. The repertoire of musicians, galleries, visual artists, and writers the company formerly known as BNC have worked with stretch from the Baroque Symphony Orchestra to an up close encounter at the Red Line art gallery. This month, the troupe performs alongside indie band Paper Bird, who will perform live alongside the dancers.
I spoke to dancer Meredith Strathmeyer, who is sitting out the current season post hip surgery. I wanted an insight into what it's like to be sidelined in such a small company, where it's easy to notice that the tallest dancer is missing.
What's it been like to watch the dancers on the from the wings? The good and the bad?
It's been a season of growth and patience. Probably the most difficult thing on Earth for a dancer is to not move, to be still when everything is itching to take off. It seems every night I have detailed performances and rehearsals in my dreams! But out of this state of stillness I think I've been able to rediscover my love of dance and my need to explore. I've been watching my friends in rehearsal and taking mental notes, like "That's how I want to express sadness through my limbs" or "As soon as I can walk again, I'm going to play with moving through vocabulary that clearly, that quickly." Stuff like that. Now when I take class I find that every plie, every tendu is precious, and I wonder how I ever took it for granted. I hope that I'll carry that reverence with me once I'm back onstage
Things you've been doing to stay in shape/with free time while nursing your hip:
The main shift after surgery was from a physically exhausting 9-5:30 job to a mentally taxing one. I stepped in as Communications and Social Media for the company, and in addition to giving the company I love a voice, it's allowed me to see the mission control of a non profit organization. The inner workings are just as detailed and complex as what I'm used to in company rehearsals, so I've learned a lot and kept my memory sharp in the process! But now that I'm further along in my rehab, I'm stepping out of the position and back into "beast mode": lots of ballet class, Pilates, pool work and physical therapy – all the things my body has been craving! I also started a crochet club with some of the company dancers, which lets us relax, watch movies and make ballet warmies together. I've been playing with a children's book idea for a while, so my down time has allowed me to doodle up a storm and start piecing together a story.
You're making a transition to Denver. Are you excited about the new space for Wonderbound? What can you tell me about it?
I think some people are a bit confounded by a car garage as our new home/space/think tank, and they wonder about logistics like "Are you putting up walls to make more studios? What about heating bills? Why floor to ceiling plexiglass doors?" What the world hasn't learned yet is that we are deadly serious about making dance for everyone, about literally taking down the walls that make people feel as though the art form doesn't belong to them and their situation. We are moving downtown so that the city can simply walk by on their lunch break and see us creating, rehearsing, taking technique class. They can go to a show and have that "aha!" moment where they recognize a step onstage that they saw Garrett pull out of his imagination. That's something you can't get with concrete walls in the way.
Something you absolutely adore about Carry On:
There's something extra special about dancing right next to the musicians onstage, and when you're lucky you lock eyes with them; what a treat to be in the moment sharing your craft with a group as equally passionate about theirs. You're in the zone and everything clicks. It's the embodiment of everything we're about – bringing two art forms together to make something greater, richer, more. This time around, Garrett has made some tiny tweaks to the work, and Paper Bird brought a new song to the table which resulted in a gorgeous new pas de deux between Julie King and Colby Foss. All of Garrett's signatures are there, but he played with some new lifts and movement that just makes you gasp.
Catch the dancers of the newly christened Wonderbound shake it out to Paper Bird this weekend and next. Tickets range from $19-$47, and can be purchased on the BNC website. Remaining dates and times as follows:
Friday, February 8, 2013; 7:30pm
Saturday, February 9, 2013; 7:30pm
Sunday, February 10, 2013; 2pm
Performing Arts Complex
at Pinnacle Charter School
1001 W. 84th Avenue
Denver, CO 80260

Saturday, February 16, 2013; 7:30pm
PACE Center
Parker Arts, Culture & Events
20000 Pikes Peak Ave.
Parker, CO 80138