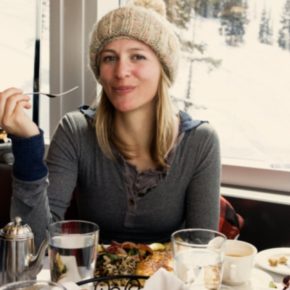 Sipping at high altitudes can cause extreme pleasure.
The second annual Beaver Creek Food & Wine Weekend celebrates top culinary talent on the slopes January 24-27th.   Four days packed with gourmet food, wine, and skiing! Sounds like my kind of weekend.
The weekend will begin with a Meet the Chefs Reception, where food lovers can rub elbows with the best and brightest culinary talent. Additional palate-pleasing events include the Snowshoe & Gourmet Lunch, Après-Ski Burgers and Beers and a brand-new event: Ski. Eat. Ski, where skiers of all abilities can conquer the mountain followed by a luxurious lunch prepared by esteemed Chef John Besh.  How fabulous does that sound?  Returning events include intimate educational seminars and exclusive Friday evening dinners at Allie's Cabin  on the mountain and Splendido at the Chateau, hosted by local executive chefs as well as celebrity chefs, and raising money for local non-profit organizations in the Vail Valley.  There is something for everyone.
This year, foodies will get to see their favorite chefs in action in the kitchen, as well as on the slopes for the first-ever Celebrity Chef Ski Race & Brunch, which will raise money for their preferred charities. Taking place at the Haymeadow race arena, event attendees will have the opportunity to bid on one of three race spots on each chef's team. Starting on January 1, 2013 attendees can start bidding at www.beavercreek.com. The minimum bid is $300 per person. Following the Celebrity Chef Ski Race, competitors and spectators will enjoy brunch at the Beaver Creek Chophouse. This weekend is truly a food and skiing lover's paradise!
Chefs and Talent involved in this delicious event:
Gail Simmons– Trained culinary expert, Special Projects Director at FOOD & WINE, and dynamic television personality and judge for BRAVO's Emmy-winning series Top Chef. During her formal culinary training in legendary kitchens such as Le Cirque, she also contributed to a number of cookbooks and published her own memoir titled Talking With My Mouth Full in February 2012. Find her at the Splendid Lunch and Learn and Cadillac Lunch and Learn seminars.
John Besh– Executive chef and co-owner of the Besh Restaurant Group based in New Orleans. His collection of restaurants includes August, La Provence, Lüke, Besh Steak, Domenica and The American Sector. Besh will be featured at the Allie's Cabin dinner and Ski. Eat. Ski.
Sam Talbot– Chef, restaurateur, author, TV personality and currently the host of AOL's GMC "Trade Secrets". The former executive chef of The Surf Lodge and Imperial No. Nine, Talbot authored "The Sweet Life: Diabetes without Boundaries" published last fall. Sample his fare at Après Ski and Burgers.
Alex Seidel– Chef and owner of Fruition Restaurant. He began his culinary career at age 14 in Wisconsin, and quickly moved from the line to sous chef of Main Street Bistro by age 20. Inspired by food at a young age, Seidel was recently recognized in 2010 as one of FOOD & WINE's "Best New Chefs in America".  See him at the Snowshoe and Gourmet Lunch.
Tim Love– Chef and owner of The Woodshed Smokehouse, The Lonesome Dove Western Bistro and The Love Shack in Fort Worth, Texas. Love, known as a "veritable meat master" serves traditional meats and steaks as well as rabbit and rattlesnake. His burgers will again be a draw at the Après Ski Burgers and Beers.
Spike Mendelsohn– Currently Mendelsohn is focused on his acclaimed restaurants Good Stuff Eatery and We, The Pizza, while also serving as a contributor to the CBS Early Show. His television roles also include Food Network's Next Iron Chef: Super Chefs 2011 and before that he competed on season 4 of Bravo's Top Chef. Dine with him at the Splendid Guest Chef Dinner.
Sommelier and journalist  Anthony Giglio will top off the weekend applying his humor and expertise in pairing wine and spirits at each of the events. Wine enthusiasts can sip and sample with Giglio at the Après Ski Wine Down event.

Individual event ticket prices range from $50 for après-ski and seminar events to the exclusive Friday evening dinners for $200, which includes a multi-course meal prepared by top culinary talent and paired with exquisite wines. Packages can also be purchased for the event by January 15th. Complete details available at http://www.beavercreek.com/foodandwine or call 970-754-4636.
Warm fireplaces, powdery slopes, food, wine, and friends. Not a bad way to spend a Colorado weekend.