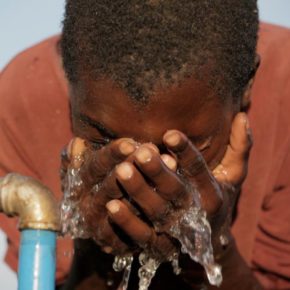 When you hear the names Jennie Garth and Sandi Patty, you think two different realms of fame. On one end you have the infamous Kelly Taylor from Bevery Hills 90210, big sister on What I Like About You, and celeb dancer on Dancing With the Stars. On the other end you have a world recognized Christian music singer who now goes by Sandra Faye. What do these two a-list (in their own respect) women have in common? Well for starters, helping families without clean drinking water.
These women don't only endorse the movement in clean drinking water and self sustaining communities within that, they fund the project as well. Where have they found an avenue to do this you ask? They found it in Water4 an organization started by Richard Greenly and his wife Terri in 2008.
I had a chance to ask Richard himself some questions about Water4 in which he obliged happily to let me know all about the organization, how it runs. who supports it, and the cost in itself to run it.
303 Magazine :Tell me about the Water4 Foundation? What is it's basis, when was it started, who is the founder?
Richard Greenly: There are over 1 billion people on earth that do not have access to clean drinking water. Every 22 seconds a child dies due to a water borne illness.
Water4 is a 501c3 non profit organization founded by myself and Terri Greenly in 2008. Water4 has developed a set of hand water well drilling tools whereby we train locals to drill water wells as a business so as to be completely sustainable.  The average water well in Africa costs $10,000 to drill with a conventional drilling rig and can be drilled only with highly skilled personnel with million dollar rigs. Our system trains locals to become the drillers as a vocation and our wells average $1000 to drill and equip.
303: Do you have any short and long term goals for Water 4?
RG: Our goal is to eradicate the worlds water crisis. By training, equipping and supporting local drilling teams each team can drill 20-50 wells per year. We will train and equip hundreds of teams per country and they will drill tens of thousands of wells per year throughout Africa.  Short term, we are implementing a 5 year 7000 well $20 million project with World Vision in 8 countries in Africa. This is the largest humanitarian water well project in the world.
303: Have you met any goals for the foundation that you've had since starting out?
RG: Yes our goals since inception in 2008 were to double our budget and reach each year. With this years numbers we have been able to get a permanent water supply to over 250,000 people. We have 26 drilling teams operating in 15 different countries.
303: How is Water4 funded? Do you have sponsors, volunteers?
RG: Water4 is funded by donor partners. We have small online donors all the way up to large corporate donors. $24 provides a water supply for a family,  $200 provides a pump for a well, $1000 provides a water well for a village, $5000 provides a drilling kit for a team of 4-5 drillers who can then drill 20-50 wells per year, $30,000 provides funding to start a well drilling business that can get water to 10,000-30,000 people per year for many years
303: Where is the primary focus of Water 4?
RG: We have been in 30 different countries in Central and South America, China, India, And Africa. Our largest project is in Africa with 7000 wells
303: Now this column specifically examines charities and foundations funded, sponsored, and spearheaded by celebrities, does your organization work with any celebrities?
RG: Yes, celebrities such as Jennie Garth, Sandi Patty
303: Do they endorse the company by being a face or are the financial supporters?
RG: Both endorse and financially support
303: Do you think that working with a celebrity helps the organization? Or harms in any way?
RG: Helps as they leverage their celebrity to bring awareness to the cause, especially through social media.
303: How long have you worked with Water4
RG: I have be a volunteer since 2008
303: How did you get here?
RG: Terri and I own Pumps of Oklahoma, a wholesale supply company that distributes water well equipment. We had the opportunity to help some of the suffering billion around the world, had some successes early on and decided since we could make a difference in helping some of these around the world that maybe we should lend a hand. We have had tremendous success.
303: What do you think stands out most about Water4? Why do you think people should take notice to it and support it?
RG: The most unique aspect of Water4 is that we empower locals in the developing world to solve their own water problems by placing the tools in their hands to not only provide a clean water source but to create a vocation/ jobs for them and a way to earn a living.  Where these water problems exist the unemployment rates are 80% so the fact that we provide jobs is very unique and important.