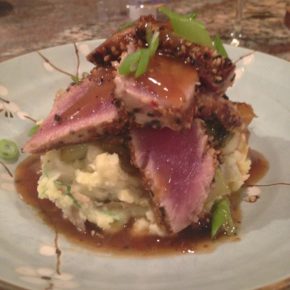 The pressure of bringing a bottle of wine to a dinner party can be a little stressful.  It shouldn't be! There are many tools that can help you to make a very informed decision about pairing wine with food.  A friend of mine who is a talented chef invited me to dinner this weekend and I wanted to make magic with his food, and my wine choice.  Mission accomplished!
When asked to bring wine to a dinner party, don't be afraid to ask what the main course is. Is there meat, fish, or a vegetarian main dish? This is key in making basic decision in food pairing.  When do you choose a red, and when do you choose a white? Here are some very basic suggestions.
Reds pair beautifully with: Mild cheeses, cold cuts, barbecues, seafood with rich sauces, salmon, tuna, poultry (with richer sauces), hearty pastas, lamb, duck, game meats, beef, pork, veal, and chocolate.
Whites: Mild to strong cheeses, Asian Foods, Latin Foods, cold cuts and picnic food.  More specifically whites pair great with light pasta, pork, game birds, shellfish, seafood with light and rich sauces,salmon, tuna, and pates and dips, and some desserts. Chocolate and white wine are usually a bad idea.
Sparklings: Contrary to popular belief, sparkling pair with food amazingly!  You can enjoy almost every kind of food with a sparkling-cold cuts, Asian and Latin cuisine, mild cheeses, desserts (except for chocolate), and almost all meat, poultry, and seafood.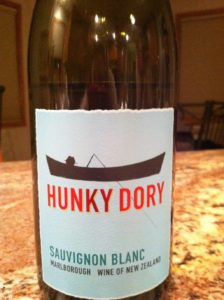 These suggestions are not always the case-but this is a good way to start to pair wine and food.  You can eventually get more technical with sauces and the way food is prepared to tweak a wine pairing.  Think of these as rules for beginners. My favorite website for help with pairings is winedin.com.  This is an excellent resource and very simple to use!
Sometimes you get a bottle of wine that you will never forget.  I took a recommendation from the guy at my wine shop for a Sauvignon Blanc and it ended up being a very interesting and complex bottle of wine that I will drink again and again.  It was a Sauvignon Blanc from the Marlborough region of New Zealand. It was love at first sip.  The label is called Hunky Dory and it was around $14.  What was unique about this particular wine was the pink grapefruit that you got on the nose and the palette! This is not very characteristic of this variety of grape.  Typically you get a lot of green bell pepper on the nose from a sauvignon especially out of New Zealand! What a fun and fruity characteristic to enjoy.
The meal that I was lucky enough to enjoy was sesame seed and ginger crusted Ahi tuna over garlic sauteed bok choy with wasabi mashed potatoes. Cointreau ponzu beurre blanc sauce to top it all off.  You know, just your average Saturday night meal.
Good friends, good food, and a new favorite wine.