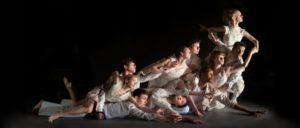 As Ballet Nouveau Colorado makes a leap into Denver-based Wonderbound, audiences will be treated to "A Journey of the Human Spirit," tomorrow at 7:30 pm, and Thursday and 7:30 pm, both at the Newman Center for the Performing Arts on the DU Campus.
BNC Artistic Director Garrett Ammon is the master of collaboration, with this piece perhaps holding the highest number of artistic organizations involved in a project thus far. Central City Opera, Colorado Symphony, Mizel Arts and Culture Center, and the Newman Center have all had a hand in making this intense performance come to life.
"A Journey of the Human Spirit" is based largely on the events of the Holocaust, and the triumphant stories that have resulted from such travesties. Before the performance, guests are invited to explore Jewish culture with traditional klezmer music, with a live performance by Hal Aqua and the Lost Tribe.
The show will feature Viktor Ullmann's opera "Der Kaiser von Atlantis" (The Emperor of Atlantis), which is a satirical, one act opera composed in the concentration camp of Theresienstadt in 1943. The opera will be sung in German, with accompanying English subtitles.
Garrett Ammon's world premiere dance set to Ofer Ben-Amots' "From Darkness to Light" will also be featured. On the performance, Ammon said, "This timely project provides an opportunity to honor those who have endured great struggles before us. Even in the darkest of times they were able to create community through art; this is truly something to celebrate."
Tickets start at $26 and are available online, in person at the Newman Center Box Office, (2344 E. Iliff Ave., Denver, CO  80210), or via phone at 303-871-7720.  The Box Office is open M-F, 10am – 4pm, Sat. 12-4. The lowest service fees are available online. $15 Student Tickets are available with valid Student ID at the Newman Center Box Office only.