Eat, Drink and Dance to help get Hurricane Sandy victims back on their feet
Patrick Schloth and Maura McGovern moved to Denver in 1996. They love everything about the city: the breathtaking mountainous terrain, the physically active community and the friendly vibe of locals. But neither of them can forget their true roots. Having grown up in Breezy Point, NY, they will always be New Yorkers at heart. So, when Hurricane Sandy devastated the East Coast, they felt a call to duty to help rebuild their hometown.
On Wednesday night, the two are throwing a benefit for Breezy Point at Local 46 in the Highlands. Ten dollars at the door gets you beer and food from Oscar Blues, Lulu's BBQ and La Revolucion. There will also be employee pricing on wells, house wines and specialty drafts. A local DJ will be spinning starting at 8:00 pm and a silent auction, with art donated by TiredPirate, will be held.
All proceeds go to the Breezy Point Disaster Relief Fund. A 501(c)3 registered fund created in the wake of the storm, the organization is comprised completely of Breezy Point community members. "The intention is to rebuild. We want to help people get on their feet, whatever it is they need," says Jane O'Meara, one of the four individuals behind the fund.
Thousands of miles away and over a month after the storm, it's easy to forget that the East Coast is still dealing with the aftermath of the storm. Even in Midtown Manhattan life seems normal: people are back at work, the subways are up and running and the hustle and bustle of the city resumes. "Life doesn't stop just because this happened," says O'Meara. Thankfully, people like O'Meara, Schloth, McGovern and hundreds of other individuals are doing what they can to ensure a prosperous future for the community of Breezy Point, NY.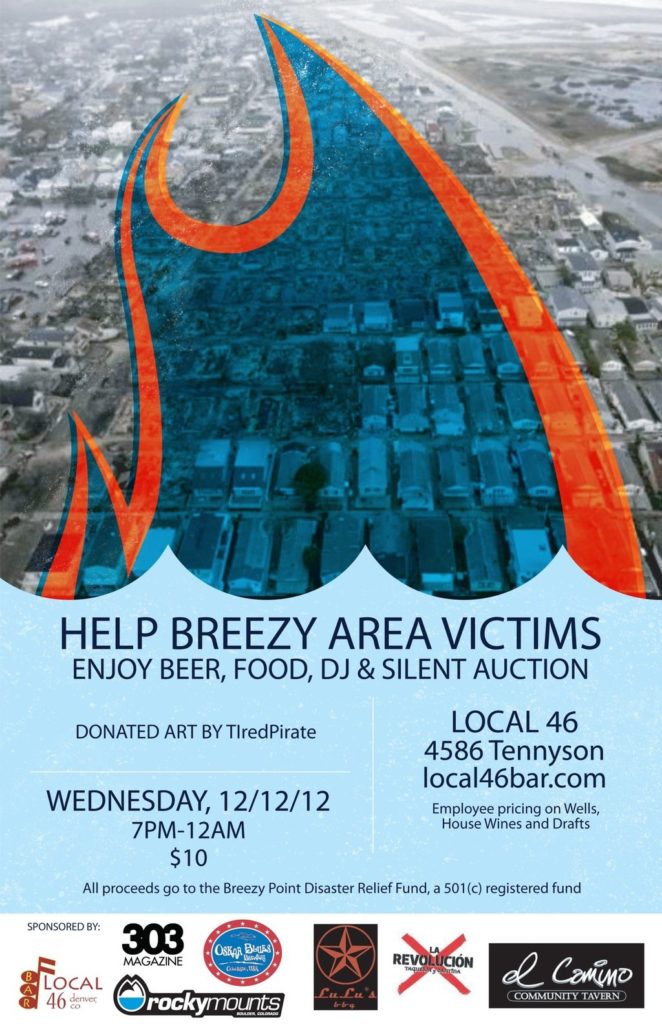 The details
When: Wednesday, December 12 from 7:00 pm – 12:00 am.
Where: Local 46
Local46Bar.com
4586 Tennyson St.
Denver, CO 80212
Cost: $10 at the door