"I only drink Champagne on two occasions, when I'm in love and when I'm not." Coco Chanel
Tonight is the night to celebrate new beginnings.  Most people pop open the bubbly on this holiday as they are ringing in the new year.  There is so much of this fizzy wine to choose from and I want to to break down the most common types!
Champagne. The most famous of all of the sparkling wines. Did you know that it can only be called champagne if it comes from Champagne, France? Otherwise it's just considered to be sparkling wine, or occasionally it is called in "champagne style."  The region of Champagne is rich with history and the bubbly drink has been thought to be around since the seventeenth century.  The traditional champagne method is tedious and extremely time consuming- this is why Champagne has the heftiest price tag out of all of the sparklings. Although, there are some very affordable bottles out there, ask your local wine shop to point you in the right direction. Champagne can range from bone dry to sweet.
Cava. This is a popular bubbly from Spain.  Often less expensive than most French Champagne and can have outstanding quality. Cava is typically made in the traditional champagne method which speaks to the quality.  95% of all Cava is produced in the region of Catalunya Spain and over half of it is exported. I drank a lot of Cava this summer and realized how affordable it is for being a special glass.
 Asti.  From the Piedmont region of Italy.  This is usually sweet and very low in alcohol (6-9 percent), and can be very low in price.  This wine does not typically go through a secondary fermentation like the other sparkling methods. Moscato d' Asti is it's close cousin and very similar but has effervescence and is much sweeter.  Mosacto d' Asti pairs beautifully with many desserts like cookies and cheesecake.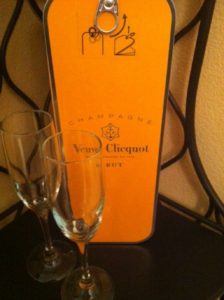 Prosecco. From the Veneto region of Italy.  Traditionally made in the bulk sparkling wine method.  This method is much less expensive than the traditional champagne method.  This is known to be a crisp white sparkler, and I haven't met a glass that I didn't like.
Now that you know what all of the fancy names mean, you can make a decision based upon what you are looking for.  As always, don't hesitate to ask questions at your local wine shop.  There is no such thing as a silly question when it comes to wine!
Sparkling wines are so sexy and festive, it is definitely a style of wine that I like to include all year long.  They all  evoke the feeling of celebration and joy on your tongue. What kind of sparkling are you going to bring to your New Year's Eve party this year? My suggestion…assign a style for each of your guests to bring and its a party!  Happy New Year!