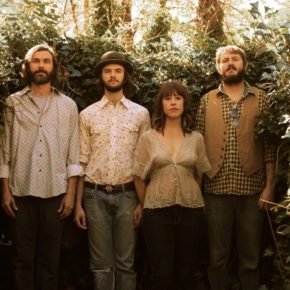 Jenna Watters wants world peace for Christmas. How sweet. That fact alone may give you a bit of insight about Jenna and her band, the Oak Creek Band. Hailing from Sedona, Arizona, Oak Creek was transplanted into the Denver music scene in 2009 and has been touring the southwest steadily for the past two years. The four-piece band, fronted by husband and wife duo Daniel and Jenna Watters, appear to be generationally challenged. The pseudo-indie band boasts of classic song writing skills and achieving an "Americana pop sound," however they seem, to me, to be a 60s folk band trapped in the future. Clean cut and dulcet, I imagine the bearded boys of Oak Creek and doe-eyed Jenna on a side stage at Newport Folk Festival, flashing peace signs and protesting the war. Their new EP, Fingerprints, is a six-track collection of honey-coated, inspirational ballads.
You can catch Oak Creek playing a free show for 21+ at the Appaloosa Grill in Denver on Monday December 17. About a month later, however, they will be bidding us all a fond farewell before embarking on a southbound adventure. On January 19 at the Hi Dive on S. Broadway, featuring Lindsey and the Lost Caravan (tickets are $8), Oak Creek will nostalgically be revisiting the venue where they played their very first Colorado gig back in September 2009. With their Arizona past behind them, they've got Colorado running through their veins and a promising Tennessee future on the forefront. Below you can read about Oak Creek's plans and gain some backstage insight as told by Jenna herself.
303 Magazine: Your website mentions a wide variety of genres that your music may be categorized as. How would you personally describe Oak Creek's musical style?
Jenna: It is hard to describe because constantly developing and changing. Originally we identified as folk rock but have become more "indie pop rock" on the recent EP. Our first album had more funk and reggae and soul to sort of demonstrate our versatility and originality. I prefer the term "roots rock," even though we're not southern sounding, we take a lot of inspiration from 1960s-70s.
303 Magazine: Who are some of Oak Creek's musical influences?
Jenna: The Beatles and The Band. We just had a huge Beatles show, which was a dream come true for us. Also, powerful female artists such as Stevie Nicks from Fleetwood Mac and Emily Haines from Metric are my personal inspiration.
303 Magazine: What bands are you currently listening to?
Jenna: Rilo Kiley, Thievery Corporation, and Cinematic Orchestra.
303 Magazine: Oak Creek relocated to Colorado from Arizona in 2009. How does the Colorado music scene compare to Arizona's music scene?
Jenna: No music scene in Arizona versus the huge music scene here! Arizona's music scene is virtually nonexistent, with the exception of the small bluegrass and jam band following in Flagstaff, as is with most mountain towns. But coming to Colorado has provided us with healthy competition and so much inspiration.
303 Magazine: What is Oak Creek's favorite venue to play?
Jenna: The Bluebird show we recently played with the Congress was the most amazing show we've ever played so far, but the Ogden is our favorite venue. We hope to play there some day.
303 Magazine: Are you on the naughty or nice list this year? Why?
Jenna: Nice. I feel like we've worked pretty hard to follow our dream this year. We've exhausted ourselves but we've done it all in a positive way and we've remained on top. And we're still here and still working.
303 Magazine: What are Oak Creek's personal goals over the next year, having just released your 2nd EP?
Jenna: We are recording a 12-13 song album in Nashville. We will be moving down to Tennessee on February 1 in hopes of having more people listen to the music and pay attention to the song writing. We love the live show experience in Colorado, but we want more people to listen, industry wise. To hear the song writing and understand the process, more so than just enjoying the live show.
303 Magazine: Which song is your personal favorite off of the new EP and why?
Jenna: "Don't Be Fooled." We just filmed a music video for it that will be coming out on January 1. It's about not being afraid to doubt everything in life, whether it's religion or politics. Don't believe everything the media tells you or what you read online. Listen to what's best for you and what's right in your heart. I grew up in a very religious family, so the song, for me, is just a reminder that because I've confidently doubted a lot of things in my life, it has made me the person I am today.
303 Magazine: Your website says that Oak Creek's "Musical goal is spreading the importance of coming together as people in the name of love and peace." This sounds like some whimsical, hippy stuff. How do you convey that message through your music exactly?
Jenna: (laughs) Based in the lyrics mostly. We don't really write love songs particularly but the recent album talks about the power of positivity of love. In this day and age it is important it is to just come together and realize we're all one and we need to take care of each other. If people are listening, we might as well have something to say in a positive way.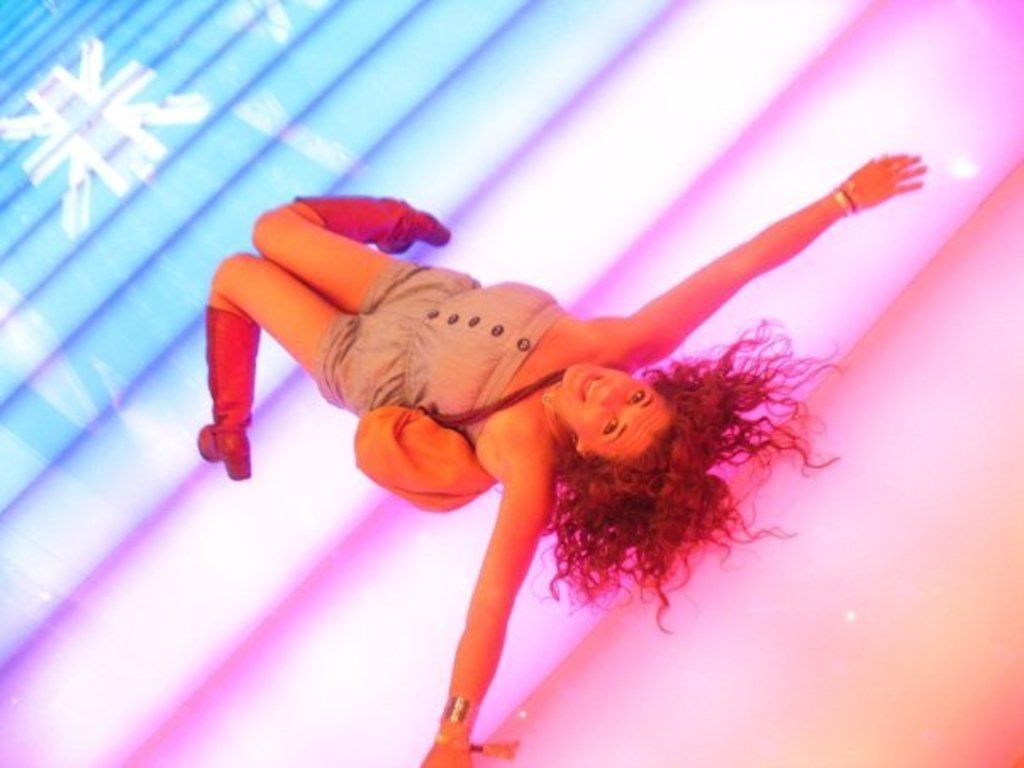 Allison Cohn loves gold spray paint and nonsense. She also has a very difficult time sitting still and keeping quiet. She can often be found dancing like a fool when she isn't hiding out in her mountain lair or gallivanting around the globe.