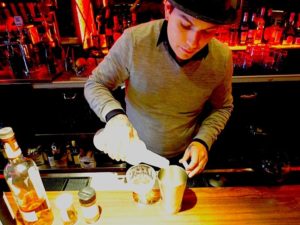 Who wants to be in a room with six of Denver's most influential bartenders pouring drinks behind a bar? That's a trick question..because everybody does.
Now, team the bartenders up with six Colorado distilleries to compete in a challenge for best cocktail, and you have The Winter Talent Showcase.
Industry Denver is hosting this boozefull event in hopes of influencing Denver's bartenders to utilize Colorado's local products behind the bars in Denver. The evening will be filled with cocktails,Colorado spirits, and friendly competition.
Each bartender has been paired with a representative of one of the distilleries participating before the event so they can collaborate on two cocktails to feature on the night of the competition. During the showcase, each team will have 30 minutes to show off their skills while they shake, stir, and pour their delicious cocktails.  Following the cocktail round, an educational and sampling round will begin where guests will be able to learn about each distillery and bartender.
The Winter Talent Showcase takes place on December 3, 2012 at Ghost Plate & Tap.  Shake hands with the industry's finest starting at 8pm, the actual showcase begins at 9pm-close.  Tickets for the event are $30 at the door but can be purchased online for $20 at www.Industry-Denver.com.  Ticket price includes all of the featured cocktails.
The bartenders were chosen for their elevated standard of hospitality and cocktail innovation.
Ken Kodys -Ken Kodys Consulting, Beverage Director BW Holdings
Jason Patz -Williams & Graham
Matty Durgin- Green Russell
Melissa Durant–Green Russell
Dante Reesman-Formerly Lala's, Currently owns & operates Mobile Mixology
Anthony Giovanni- Gaetano's
The distillers that have gotten involved will supply these bartenders with the spirits of their choosing. This is a great opportunity to taste six spirits that are locally made.
Leopold Bros., Denver
Spring 44, Loveland
Dancing Pines, Loveland
Spirit Hounds, Lyons
Mile High Spirits, Denver
The teams:
Ken Kodys – Spirit Hounds
Jason Patz  – Spring 44
Matty Durgin – Peach Street
Melissa Durant – Dancing Pines
Dante Reesman – Mile High
Anthony Giovanni – Leopold Bros.
Which team wins best cocktail? Come and find out at the Winter Talent Showcase.  Remember, all of the cocktails  showcased are complimentary with purchase of a ticket. So, make sure you are nice and thirsty when you show up.  I will be.