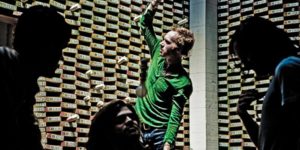 "I'm glad you think we're still relevant," says Jacob Thiele, keyboardist for The Faint. "We hope we are. People seem excited to see us play again, but it's been so long."
Thiele, keyboardist for Omaha-based synth-punk outfit, The Faint, is modest about the band's upcoming fall tour. His anxiety is reasonable, but also surprising. The Faint, one of Saddle Creek Records' most successful artists, hasn't toured in years, but boasts a fan base loyal and enthusiastic enough to prompt the label to reissue 2001's Danse Macabre, The Faint's career-defining album. Even more, Saddle Creek organized a fall tour in support of Danse Macabre's reissue, spanning across 24 major cities in the US and Canada. The Faint kicks off their tour tonight at Ogden Theater with openers Trust and Robert DeLong.
Shortly after touring to support 2008's Fasciinatiion, former bassist, Joel Peterson, quit and The Faint announced they were taking a break. After consecutively releasing four critically acclaimed albums (Blank-Wave Arcade, Danse Macabre, Wet From Birth and Fasciinatiion) and touring with big names like No Doubt, Ladytron and label-mate, Bright Eyes, The Faint was arguably at its peak when they announced their hiatus. During the break, guitarist, Dapose, worked on solo projects, while drummer, Clark Baechle, went on tour with Bright Eyes. Baechle also produced dance music under the moniker Depressed Buttons alongside Thiele and The Faint's lead vocalist, Todd Fink.
"Before we took a break, we had been hoping to push The Faint towards more of an electronic focused direction," Thiele says. "Depressed Buttons let us experiment with making more club ready, dance floor music."
While Thiele, Baechle and Fink produced and toured as Depressed Buttons, the desire to regroup as The Faint was always a lingering goal.
"We were never done," Thiele explains. "We just needed to take the time to do different things and work on different projects. I think we got a lot of the desire to make techno music out of our systems."
Although The Faint was growing restless in its hibernation, it was Saddle Creek who approached the band about reforming.
"It was Saddle Creek's idea to re-release Danse Macabre." Thiele says. "We really wanted an excuse to start playing live shows together again, so we decided to tour in support of the re-release. On this tour, we're playing Danse Macabre in its entirety."
Clocking in at just 35 minutes, Danse Macabre is a nothing short of a cathartic listening experience – a blitz which can be both empowering and exhausting. In its original review from July 2001, Pitchfork heralded the album's "new-wave synth swells," "New Order-like urgency," and "art-punk edge." Ultimately, The Faint had cleverly experimented with a myriad of genres to craft synth-heavy dance floor anthems during a time when they easily could have been written off as part of the early 2000's new-wave revival.
"Do you remember a time before the words "dance" and "rock" were linked by a hyphen and the synthesized sounds of the '80s were a regular part of the modern musical landscape? The members of The Faint do, because they were there when it started to happen. In fact, you could even say they're one of the main reasons it happened at all."
However, it wasn't the just The Faint's music that made them standout – it was their live show.
"I remember some of the shows at the Metro in Chicago – just seeing crowds react was always the most rewarding moment," says Robb Nansel, co-owner/founder of Saddle Creek. "Seeing like 800 people…all freaking out and dancing around. We'd seen that in Omaha happen over the years, but it's so different when you see it out of town."
Before LED setups, lasers and lighting rigs became a standard part of every live electronic show, The Faint was experimenting with strobes and lights in their basement practice space. Strobes led them to test other lighting techniques, connecting lighting cues to their instruments and other devices. The Faint's lighting at live shows would eventually help spur a trend that is now an industry expectation.
"We got to the point where we were playing our instruments and controlling the lighting at the same time," Thiele recalls. "I remember at one show, Todd played the wrong note because he was so focused on playing the lighting correctly. When I asked him which was worse – playing the wrong note or triggering the wrong lightening – he said lighting. That shouldn't have been the case. That's when we knew we needed to work on getting better lights."
Eventually, the band began incorporating live projections, and they started displaying film clips, graphics and artwork by the band and their friends behind their stage set-up. Thiele says they spent a lot of time conceptualizing the lighting for their current tour, wanting to compete with the impressive lighting used widely at shows today, while maintaining the band's creative identity.
Aside from new lighting, audiences can also expect new material at The Faint's shows this fall, as well as fan favorites from Wet From Birth and Fasciinatiion.
"There are a couple of songs from Danse Macabre that we rarely play because they are more of studio creations and aren't easy to play live," Thiele says. "It's a challenge to perform songs like "Violent," which we've never played live in the past. But some of those rarely performed songs have become some of our favorites to play live now."
For The Faint, this fall's Danse Macabre tour isn't a reunion, but the next chapter in a longstanding project and lifetime friendship.
"We all respect and love each other so much," Thiele says. "We've all changed a lot over the years, but we've changed together. I'm really excited to share the stage again with these guys again."
—

The Faint performs at Ogden Theater tonight with Trust and Robert DeLong. Doors open at 7 p.m. Show starts at 8 p.m.