When I think of the Mediterranean, I like many people imagine the deep blues of the sea and the crisp shining white buildings of Santorini's cliff side. The serenity and beauty of this image has caused Greece to become a dream vacation for many. But in recent times any mention of the country has come with negative mentioning's of "austerity measures", "economic crisis" and "street riots" being the most popular. I think this has chipped away at our peaceful image of that hillside above the sea that always appears to be abandoned. Now when we imagine this place maybe human conflict enters our mind rather than ancient ruins and deserted landscapes. But maybe this is a good thing because Greece and Greek culture is so much larger than our Mediterranean dream vacation and a history lesson. Rather the culture today is rich, passionate and full of…people, and more than just people running around smashing plates and saying "OPA!". So if you want to get to know your local Greek population here is your chance:
OMONIA BAKERY:  The first place I stopped was this little bakery/café off of Colfax right next to East High School. I have never been to a Greek bakery so I was wondering what would be in store other than Baklava. Well right when I walked in the display cases illuminated a plethora of Greek treats I had not seen before. The owner, woman with dark brown hair and olive skin, quickly rushed me over to each case telling me all that they have. Everyone was very polite and accommodating making this quaint and clean bakery feel very welcoming and a place I could imagine spending some writing time at. All of the baked goods from the savory spanakopita to the sweet Koulourakia was fantastic. She also made me some Greek coffee using an ibrik and some light mahogany colored coffee I'd never seen before. It was very sweet with a slight hint of amaretto.  I would recommend getting their baklava and their spanakopita and taking a minute to relax in the little café for a secluded moment to ones self.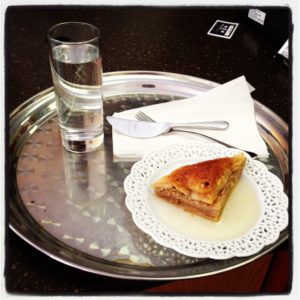 YANNI'S: found in the Landmark plaza, Yanni's pride themselves as being their rendition of a traditional Greek Taverna, or family owned eatery.  And although this place doesn't seem traditional but more modern eatery, it definitely serves up some great authentic Greek food. I would recommend getting the pork chops, they were the best of the night by far.
Other places worth visiting according to Omonia Bakery owner would be Zorba's and Pete's Gyros Place next door.
MELITA'S GREEK CAFÉ AND MARKET: If you want some really great feta and other Greek goods Melita's is the place to come. I
have heard they also serve up a mean Greek pizza that is not to be missed. Go just even for the feta because good feta can really make the difference, trust me.