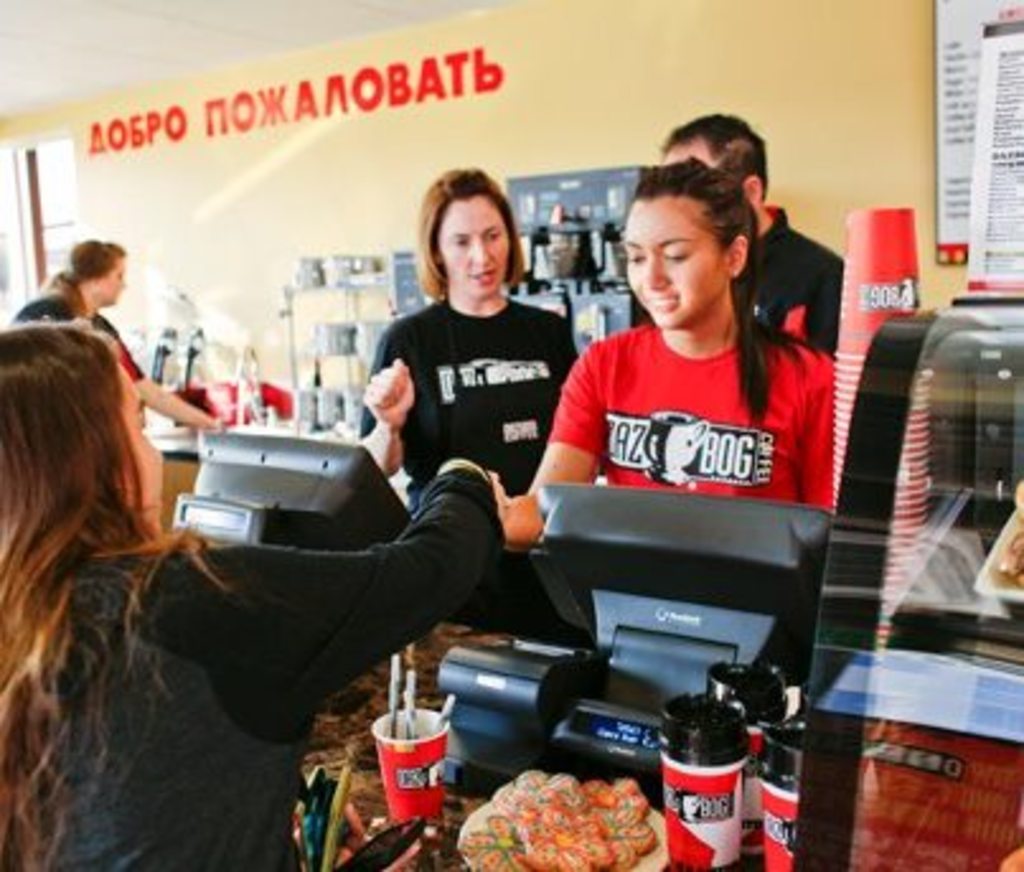 On the Auraria campus? Looking for the best locale to satisfy your caffeine cravings? MSU Denver aims to please with its recent introduction of Dazbog Coffee Company, Colorado's largest independent coffee retailer. Last Wednesday at the grand opening things were getting perky as students lined up for free travel mugs and texted "dazmetro" to 466622, receiving a $4 gift card on their mobile devices and joining the Mocapay mobile rewards program.
Friendly baristas worked efficiently throughout the shop, brewing up exclusive blends like White Nights, Babushka, and the "Road Runner" for the masses. The Road Runner blend gets its name from MSU's Mascot, Rowdy the Road Runner, and is perfectly robust for the most sleep-deprived student.  On that bustling morning it was clear to see that the art of customer appreciation has been mastered by Russian-born founders Anatoly and Leonid Yuffa.
Call the Yuffa brothers visionaries, or better yet:  philanthropists.  Beginning next Fall and continuing each year, Dazbog will provide a deserving MSU Denver business student with an entrepreneurship scholarship to support his/her long-term goals and professional pursuits. This endowment will help defray the cost of tuition, books and fees and will help cultivate the recipient's skills as a leader, providing real world experience and exposure to Dazbog's business operations and executive leadership.  A portion of the grand opening's gross sales and a portion of all sales of the Road Runner blend went towards the scholarship endowment fund.
"We know that students at MSU Denver love Dazbog coffee, but our new café on campus represents much more than that," said COO and co-founder Leonid Yuffa.  "Our goal is to help students discover their passion for business and entrepreneurship and support them in developing this passion into a successful career. We believe that having a Dazbog café on campus shows that the American dream is real and that our scholarship can help make it a reality for students for years to come."
Dazbog's MSU Denver café employs a staff that is mainly student based with 50 percent attending MSU Denver and a total of 80 percent attending one of the three schools on the Auraria campus.  Conscious decisions to invest locally, like this one, create positive impact and help the authentic Russian franchise to flourish.  "Dazbog," literally translated, means "God of Richness."  True to those words, Dazbog coffee celebrates the richness of life itself in each and every cup.
For more information visit www.dazbog.com or visit any Dazbog Coffee location.