Bike chains, bike gears, bike freewheels, bike rims – to you or I they are but a jumble of unusable bits and pieces, but to Caro Fontoura Alzaga, they are the perfect fodder for art.
Living in a warehouse with avid cyclists a stone's throw away from Denver's Art District on Santa Fe, it is no wonder bike culture became an integral part of Fontoura Alzaga's everyday life.
The clanky sounds of breaking down bikes and putting them back together piece by piece filled her home and an assortment of metal scraps littered the space, so much so they eventually amalgamated into décor.
As Fontoura Alzaga – a biker herself – sat in her kitchen musing over a suspended handmade pot rack made from a recycled bicycle rim, inspiration struck. As only a true artist could have imagined, she declared, "I want to make a bike chandelier."
After years of sticking to a fine arts curriculum, Fontoura Alzaga broke from the norm with her 2007 senior thesis exhibition. In the spirit of DIY, she set to the task of constructing a five-foot-by-three-foot chandelier made entirely of repurposed bike parts (www.facaro.com).
Winning best in show for her creation solely "thought up from her mind's eye," Fontoura Alzaga went on to exhibit in Mexico City; it was then the idea for the CONNECT series evolved.
Through the CONNECT series, Fontoura Alzaga reconciles her lifelong interchanges between the U.S., Mexico and Brazil. It was her family's antique collections and aesthetically juxtaposing décor in Mexico City that led her to explore the proposition of an object's third life.
"The title of this series has to do with the idea that the solution to creating a better world comes from connecting with each other," Fontoura Alzaga said. "As the links in the chains are connected by lynchpins, we need to find the things that we have in common rather than focusing on the things that separate us."
LIVE TO DIY, DON'T DIY TO LIVE
LA-based today, Fontoura Alzaga, a graduate in painting and digital art from Metropolitan State University of Denver, still considers Denver her "home."
She donates 10 percent of her profits to Denver's Derailer Bike Collective, a free, volunteer-run bike shop that equips area cyclists on how to fix and build their own bikes. Fontoura Alzaga benefits the nonprofit in order to share the empowerment that comes along with "doing it yourself."
Although some might align her work with the steampunk movement of late (guilty), Fontoura Alzaga built her first bicycle chandelier before steampunk went mainstream. She more closely associates herself with the DIY movement.
"DIY is entirely about moving from a position of being powerless to one of being empowered by establishing a direct relationship to whatever 'it' is," she explained.
Whether closing the gap by growing your own food, repairing a leaky sink, or even building a bicycle chandelier, the DIY movement filters into all areas of life.
"Ultimately, the most important thing to me is this idea that beautiful things can be made out of unlikely objects."

– Caro Fontoura Alzaga
THE REVINDICATION PROCESS
Fontoura Alzaga welds everything from a small wall sconce to room-commanding chandeliers.
She rummages for bike rims in junkyards and buys up used chains and gears from 50-plus LA bike shops eager for her to take the obsolete metal off of their hands.
Each chandelier first begins with an idea, which inspires sketches and digital compositing, but the form truly emerges during the hands-on creation process.
With a lot of elbow grease, Fontoura Alzaga degreases the parts by hand, then artfully employs an array of tools – more akin to that of a welder's inventory: chain breakers, a sander, a bench grinder, a drill press, hoists and a welding machine – just to name a few.
"I'm delighted that I'm able to make such an elegant form out of such a base material," she said.
She has a repertoire of 23 unique sculptural forms. Replicas of these handcrafted pieces are up for purchase, as are bespoke pieces designed to the client's specified dimensions and favored elements. Each piece takes from one to eight weeks to be produced and ranges in price from $125 to $4,200.
Her work is viable both in commercial and residential spaces from a downtown Portland, Ore., restaurant called The Imperial, to a local Denver home.
"It's a statement piece for sure … It's one of those pieces that when people walk in and they see it at first, they don't really notice it, but once they do notice it, everybody says something about it," said Kristan Vaughn, owner of Denver salon Mantra, who recently hardwired one of Fontoura Alzaga's pieces above her dining room table.
RECLAIMING AGENCY
As an artist, Fontoura Alzaga has made it her mission to use those materials which already exist to create something innovative, much like early 20th century artists, but she does it with an air of duty.
"The difference between now and the time when making art out of trash as an artistic tradition began, is the sheer volume of waste that is produced today … I feel it's a duty to incorporate principles of sustainability into my everyday life not just with my art but also by becoming aware of the production, consumption, and disposal of resources to make decisions based on what is best for all," she said.
She reveals a third function of materials through the series: an object first has an original purpose; second, becomes trash; then, from her perspective, the object's purpose can be renewed a third time. The chandelier itself becomes a metaphor of reclaimed power.
Historically the candelabrum has represented luxury, power and the upper crust. Fontoura Alzaga plays on this traditional sculpture by using symbolically "discarded, invisible and disempowered" bike parts. In turn, she flips this deeply ingrained social meaning on its head by contrasting these two symbols of traditional class structures.
"The discarded bike parts in the context of the chandelier creates a new third meaning where disempowered, invisible narratives become empowered through collective mobilization," she said.
Fontoura Alzaga's work is available on her website at www.facaro.com, on her Etsy shop 'Facaro' or at Croft House in LA (www.crofthouse.com).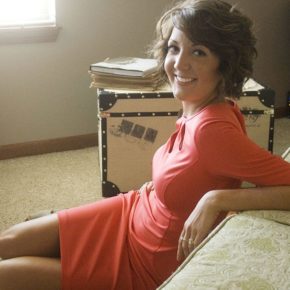 Brittany Stevens is a zealous antique hound, loves all things vintage and cannot get enough of HGTV. She is bringing her lifelong love of fashion to a new  realm – the home. Who says the décor we surround ourselves with shouldn't be as fashion-forward as what we wear?
Have a story you would like to see in Couture Décor? Contact Brittany here.