Love is in the air and stylish sparks are flying. For years, fashion and interior design have been in a constant love affair with one another – borrowing fabrics or themes, a button here, a pattern there.
From within the last decade – on up to the last month – the most iconic fashion designers of our time (as well as our favorite fast fashion retailers) have expanded their design from the runway to our rooms.
And on good fashion authority, it is a trend that will stick according to Vogue Editor-in-Chief Anna Wintour who once said, "I've long believed that the eye runs naturally from the catwalk to the kitchen."
However, these fashion-inspired home collections are not for the faint of heart, but for the true fashion diehards.
Some might say fashion and home interiors coming together is pure harmony – a match made in design heaven; others might say the pairing is an utter cacophony.
Here are 10 home collections that have made the crossover. You can be the judge of whether they made fireworks together or not.
1. Trina Turk Residential
Price range: $$ – $$$
Trina Turk's home collection, titled "Residential," remains true to her mod, Golden State flavor. Vibrant oversized geometric patterns are evidence of her affinity for mid-century architecture and the 60s and 70s hippy vibe. It is a casual, yet chic collection that cannot help but put a smile on your face. It is a dose of pure California sunshine.
Check out the hook rugs that play up the color-blocking trend, the wide array of embroidered throw pillows in colorful patterns and vintage ice buckets for your entertaining enjoyment.
2. Kate Spade New York Tabletop & Décor
Price range: $$ – $$$
"Live Colorfully," Kate Spade's brand adage, rings true for her tabletop and home décor collections. While you will find Spade's signature polka dots, bow motifs and fashion illustrations incorporated into dishes and photo frames, you will also find classic pieces that make for ideal wedding gifts.
If wedding bells are ringing, check out a pair of her 'Two of a Kind His and Hers Hiball Set' ($50) with "His" and "Hers" inscribed on them, or a 'Belle Boulevard Double Invitation Frame' to display a wedding photo and invitation side-by-side ($100).
3. Lilly Pulitzer Home
Price range: $$ – $$$$
Pink, green, yellow, orange – this is what has come to be known as the Lilly Pulitzer citrus color palette. It is not only evident in her Palm Beach-esque patterned dresses, but it transfers to her home furnishings line, which is full of preppy statement pieces.
Her brand's story makes the sunshine yellow of her birch barstools a natural continuation of the lifestyle brand. Pulitzer, a socialite of the 1960s, once opened a lemonade stand making use of her husband's citrus groves. While going about her work, she frowned upon the stains made on her clothes. That is when she designed her infamous bold, patterned dresses to camouflage the spots.
Identical fabrics now grace button-tufted ottomans, vanity stools and settee sofas for a fresh-squeezed punch to any room lacking color.
As Pulitzer says, "Lilly for a happy home."
4. Zara Home
Price range: $ – $$$
Finally! Zara Home has opened its doors in the U.S. (at least online) as of last month. The Spanish, fast-fashion retailer which boasts European, on-trend style for a fraction of designer prices, developed its home collection in 2007, but U.S. shoppers can buy it for the first time now. With its characteristic rapid turnaround, new items hit the website every week.
Zara Home covers the basics from solid towels and sheets on up to bejeweled holiday table settings. Fall for the Union Jack-themed home décor, budget-friendly accent furniture and pillow covers available in every fabric imaginable. Act fast. There is free shipping throughout the month of November.
5. H&M Home
Price range: $ – $$
Here is a sneak peek into the long-awaited H&M home wares and accessories line. The collection will make its online debut in the U.S. in early 2013, according to Women's Wear Daily. It has been available in Europe since 2009.
Keeping up with the spirit of fast fashion, H&M Home directly relates its goods to runway trends and turns over its stock four times per year. Surprisingly mature for the most part, the collection touches on multiple themes: southwestern, contemporary, linen and French. There is something to be had for everyone.
Collection highlights include sequined pillow covers in precious metal tones, dyed linen storage totes, lace tablecloths and Mickey and Minnie Mouse home items for the young at heart.
6. Diane von Fürstenberg Home
Price range: $$ – $$$
From the woman who made the knitted jersey wrap dress a workingwoman's staple in 1974, comes an energetic, geometrical collection in another channel – the home.
Signature dress fabrics like chain link and batik reappear in her dinnerware, duvet covers and items that we sometimes overlook in our homes, like coasters and serving trays. Like the streamlined "X" silhouette of the wrap dress, angular lines make for uniquely shaped plates and flatware.
7. Christian Lacroix for Designers Guild
Price range: $$ – $$$$
Celebrating 20 years of haute couture, French fashion designer Christian Lacroix has collaborated with Designers Guild for exclusive home décor collections of fabric, wallpaper and home accessories.
Drawing on patterns straight from the runway, Lacroix has designed three collaborative collections with his expected panache. The latest, his AW12 home collection, consists of seven flamboyant, show-stopping pillows ($135 – $151). This adds to two previous collections of fabric and wallpaper: 'Arles' and 'Air de Paris,' which have gypsy, floral and baroque undertones that are so very House of Lacroix.
8. Jean Paul Gaultier for Roche Bobois
Price range: Price Upon Request
In 2010, iconic French designer, Jean Paul Gaultier, joined forces with fellow Frenchman, Roche Bobois, to create a collection of dreamy, contemporary furniture. The same man who popularized out-there ensembles, like Madonna's cone bra, is replicating his imaginative designs in home interiors.
Dipping into his distinctive nautical stripes and subtle shades of red, white, blue and pink, Gaultier invented a glamorous collection including beds, modular sofas, floor mats, silkscreened pillows, freestanding wardrobes and chairs.
9. Jason Wu/Canvas
Price range: $$$ – $$$$
Everywhere we look Jason Wu is teaming up to fortify his lifestyle brand – Target, Brizo, Swarovski, La Perla, Nordstrom – just to name a few. His collaboration with Canvas lengthens the list and branches into the furniture arena.
Like his runway collections, his 10-piece furniture line touts clean lines, midnight and vanilla colors and his signature leather and lace. Fawn over his handmade French lace pillows, welded steel constructed chairs and hand-dyed linen upholstered furniture.
10. MissoniHome
Price range: $$ – $$$$
If you could not get enough of Missoni's Target collaboration last year, this is for you. MissoniHome has been around since 1983, but with each passing year it becomes more and more recognized in the mainstream.
Designed by Rosita Missoni, the collection encompasses everything from beanbags to outdoor cushions to chaise lounges, all in Missoni polychromatic fabrics. The 2012 collection boasts several new kaleidoscopic patterns like chevron, pinwheel and botanic.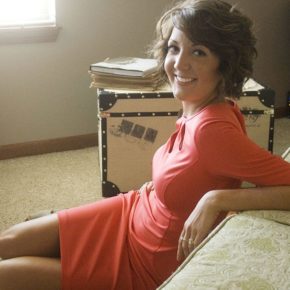 Brittany Stevens is a zealous antique hound, loves all things vintage and cannot get enough of HGTV. She is bringing her lifelong love of fashion to a new  realm – the home. Who says the décor we surround ourselves with shouldn't be as fashion-forward as what we wear?
Have a story you would like to see in Couture Décor? Contact Brittany here.