Upon meandering into Riffs Urban Fare for the first time earlier this week, we overheard the host letting the walk-in patrons ahead of us down gently—booked solid for First Bite Boulder, with at least a 2.5 hour wait at 6 p.m. Sunday. What these defeated women weren't in on: their wait time would have faded to a mere haze had they spent it at the bar, swilling in style.
Drink your Dinner, Dear
Luckily, I took my own advice and arranged a reso. Even luckier, Riffs was pouring a just-renovated farm-to-bar menu. Manager Greg Kostuk walked us through some of the most creative cocktails I've come across, which he crafted with inspiration from his former NYC home.
First out in a bevy of inventive beverages was the sour beet. Built on Breckenridge vodka with red beet purée, orange, lime, egg white and house-made bitters, Kostuk lit the potion afire at our table for a burst of citrus flame that unleashed an orangey aroma. The egg white lent an attractive frothiness to this well-balanced drink that was only trumped by the one it came out with: the aphrodisiac.
Bright green and as lovely to taste as it is to look at, this house-infused peppercorn gin, cucumber, ginger, finger lime, agave and tonic-water-splashed revelation is worthy of every one of its nine dollars. The only evidence of gin in there was the warming relaxation that rendered every nuance of ambiance more amusing, yet harder to articulate. Buried within the aphrodisiac's fruity but not-too-sweet elements, I'll bet most haven't had the pleasure to try this particular lime varietal; my drink was flipping me off, and I was loving it even more for that.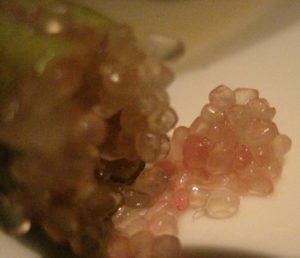 That curious nub protruding from the glass' lip is the finger lime—a flavorful experience enhancer that begs to be squeezed and run 'round the rim. When you do, you'll find juicy bits of pink and white pulp, beautifully sour as they burst between your teeth. Pinch every last caviar-like bead you can out of this fun little fruit as it's said to be a rare treat to find outside of Australia.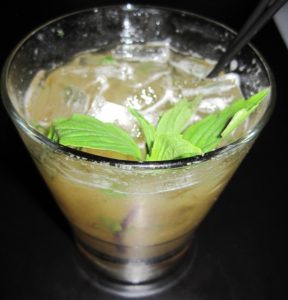 Both the sour beet and aphrodisiac are as colorfully concocted as something out of my juicer, and with fruits and veggies to boot, may make your day-after remorse more tolerable. We also dabbled in the cornucopia, a Thanksgiving-reminiscent drink of rum and squash purée; the up in Smoke, a tea-infused tequila mélange; and the pearl street cider, a bourbon warmer that's sweet enough to save for dessert.
If and when you get to this point in your fluid adventure, never mind those judgy looks from other tables…their jotally tealous. Order that last one you've been eyeing. I promise these liberally spiked libations won't disappoint. In fact, the day they debuted on the menu, Riffs raked in its highest liquor sales to date; a tribute to Boulder's daring drinkers in true foodie spirit.
On the Solids Side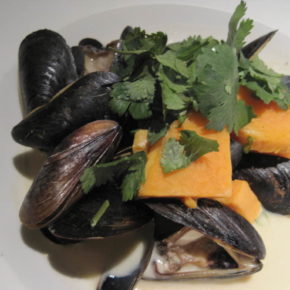 And oh yeah, we ate there, too. Offering a four-course First Bite Boulder selection alongside its regular and specials options, our waiter informed us that inter-menu substitutions were allowed and invited.
The "liberal appetizer" portions are prime for family-style sharing, what we like to call "splitzies" for those of us "indecizies" who refuse to choose. After we tore into the bread and white bean purée, my curried mussels arrived, spicy and substantial. Save some Denver Bread Company boule for the scallion-swimming mussel sauce; it's undoubtedly dip-worthy.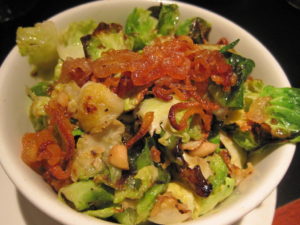 The must-try show stopper came during the third course in the form of Riff's flash cooked Brussels sprouts, a dish that, once sold out, has been known to be a deal-breaker for some diners, according to our waiter. With each leaf flaked off and served up in brown butter with hazelnuts and crisp shallots, I can't say I blame the bailers. Across the table, the roasted beets and queso de mano disappeared with nearly the same gusto.
It was the cedar plank organic salmon for both of us, fourth course, though we immediately regretted our duplication the minute our order was in—why settle for salmon alone where there's gold potato gnocchi to try? It may have been the right call, after all, as the buttery fish and woody Hazel Dell mushrooms pleased both palates.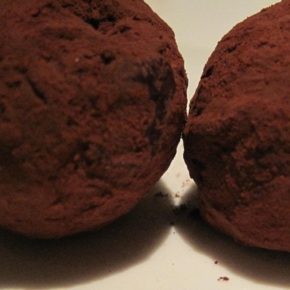 At our waiter's suggestion, we indulged in one final mouthful—the bittersweet chocolate truffles. I've always subscribed to the idea that no matter your level of satiety, a new stomach chamber makes itself available for dessert. Offset by a hint of chili, I can't think of a more perfectly sized, ideally sweet and subtly rich treat than this truffle to fill that spot.
Just outside its first year in business, Riffs is sure to be a Pearl Street mainstay where those in the know can come for the bold beverages and stay to sober up on the food.