"One for All, All for One," she whispered under her breath as silent tears welled in the corner of her eyes. He had been away on deployment for too long; but then, even just one day overseas seems like too long. She recalls breathing a sigh of relief when he messaged her saying he would be coming home, but, she remembers more vividly her anguished heart when she realized it was due to an injury and her family would not be able to visit him. Her tears welled higher, and slipped down her cheek as she thought of how much she would like to hold him once again.
And, she would.
She gasped when she heard the news — out of joy and quite frankly, disbelief. Someone in her community felt her pain and longing –   that "someone" was her DaVita family, who arranged for a private jet in order that her family may visit their beloved serviceman. As she gazed out of the jet's window at the blue sky, she whispered DaVita's mantra under her breath, "One for All, All for One."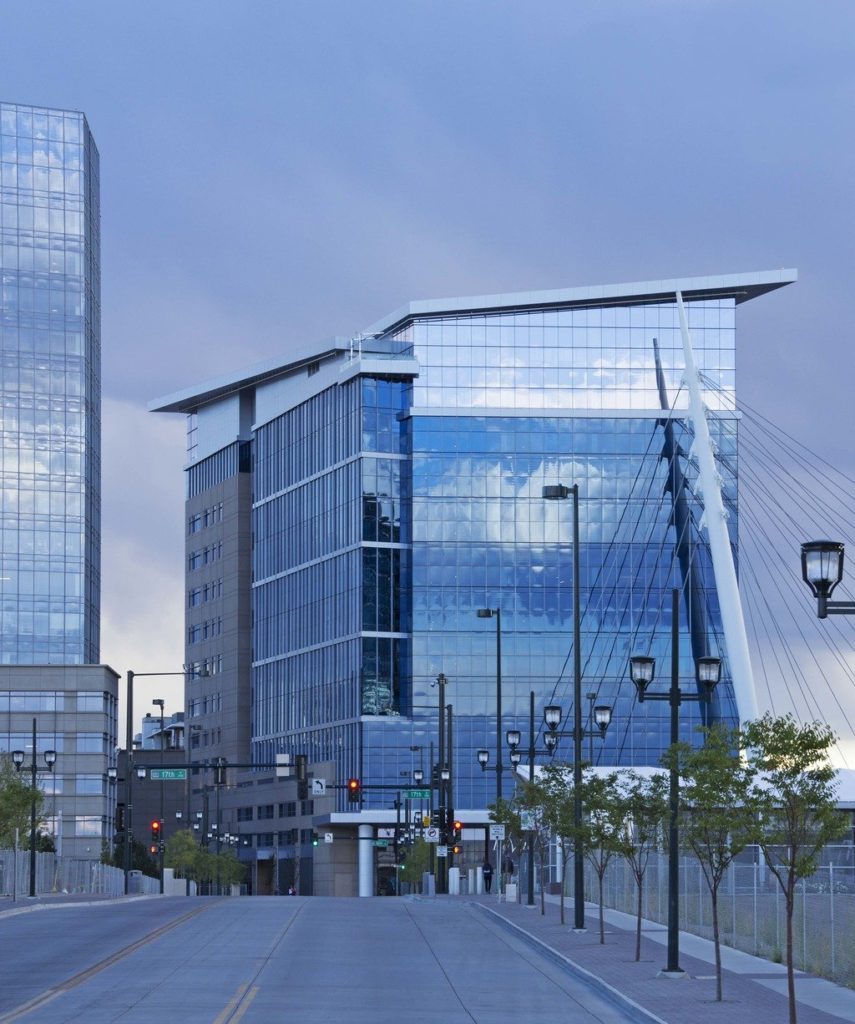 DaVita Inc. ("DaVita") is a Fortune 500 company and a leading health care provider in the United States. Focusing on kidney disease, DaVita emphasizes an attitude of giving. "The DaVita Villages is a unique community focused on the Trilogy of Care: for our patients, our teammates and our world. When we choose to become 'citizens' of the DaVita community, we make a decision to engage our head, heart and hands for the greater good of those around us." When DaVita chose to relocate its World Headquarters to Denver, it relied on these guiding principles of community and care to carefully the select the architecture and design of the building that would serve as an iconic enhancement to Denver's skyline. As the design competition commenced, DaVita's CEO, Kent Thiry, perceptively said, "Whoever gets it, gets it."
The design competition began with a group of twelve firms bidding for DaVita's approval. DaVita short-listed this group down to three contending architecture firms, including the would-be winner, MOA Architecture and their interior design partner, Acquilano Leslie, Inc.
MOA Architecture
MOA Architecture ("MOA"), founded in 1981, focuses on commercial office space, mixed-use and retail, healthcare, educational, and industrial projects. One of the founding members of the firm is of Choctaw Native American heritage, therefore much of the firms design influences stem from Native American principles. Among these, the MOA community, like Native American communities, emphasizes a social consciousness. As such, MOA  undertakes projects that help communities in positive way. A number of MOA's projects are in partnership with the Bureau of Indian Affairs. "It's some of the most rewarding work we do," says MOA principal and DaVita Project Director, Jere Eggleston.
We want to do the best we can for the communities we live in… to be culturally relevant… to be meaningful in the world.
Embracing this socially conscious mindset, MOA often attempts to fuse its designs with the community the it serves. For example, while designing Standing Rock Elementary School in North Dakota, MOA integrated symbols of cultural relevance into its plans. Acknowledging that Mother Earth and Father Sky remain important elements, and constellations have their own distinct meaning for this Sioux tribe, MOA integrated a "tepee" design that prominently projects relevant constellations at the solstice, providing an aesthetically pleasing work of art and integrative teaching tool. Reflecting on this design experience, MOA principal and DaVita Director of Design, Jack Mousseau, comments, "We want to do the best we can for the communities we live in… to be culturally relevant… to be meaningful in the world."
MOA's projects are abundant with examples like the one above of creatively fusing culture and design to promote growth and community. It was precisely the firm's focus on and experience with culturally strong projects that secured them as the strongest competitor in the DaVita design competition.
The DaVita Building Design
DaVita chose Denver for its new Headquarters building with quality of life for teammates among its highest concerns.  The majesty of the
Colorado Rockies, the clear blue mountain skies, the fresh air, and the 300 days of sunshine a year were all compelling advantages of a Denver location.
Originally, DaVita considered three potential sites for the building in Denver. The final site, located along 16th Street Mall adjacent to the Millennium Bridge and the new Union Station hub, represents an "iconic" presence in the Denver skyline. The building's close proximity to the Millennium Bridge creates a striking architectural composition that serves as a prominent focal point in the downtown Denver community. The bottom level of the building also provides gathering space available to the community and the outdoor plaza was intentionally designed to be converted into an impromptu stage for the surrounding community.
In addition to embracing the Denver community, DaVita emphasizes a welcome and uplifting message of hope and support for its patients and family. MOA integrated this cultural concept into the building's design through "uplifting structures" that serve as DaVita's roof. Whereas most buildings in Denver have flat roofs, the sloping roof of DaVita, angled at 90 degrees to the slant of the Millennium Bridge spire, "points" toward the mountains while another portion of the roof embraces scenic downtown Denver. This design creates a sense of reaching out to the community and reaching out to Denver's scenic views.
The DaVita building was not designed by a committee; it was built by a community.
Another important cultural element of DaVita remains its desire to be a community first, and a company second. As illustrated by the opening passage, DaVita considers itself a family of peers and teammates. In order to conceptualize this in the design of the building, MOA did away with the standard of putting restrooms and mechanical spaces in the middle of the building, and instead created blocks of two-story open spaces. This allows teammates to look up, or down, or across the building to actively engage with others. Additionally, each teammate floor incorporates a "front porch" – a space with comfortable lounge seating positioned on the west side of the building – promoting socialization and togetherness. The design also provides an abundance of conference rooms, comfortable "contemplation rooms," open collaborative work areas, and "oasies" (break areas) to support the teammates.
Additionally, MOA incorporated the DaVita Marketplace – a large gathering / dining space for all DaVita teammates. While the top floor of a building is usually reserved for the highest up on the corporate ladder, the 14th floor Marketplace serves the entire DaVita community, also providing a warm and inviting fireplace Inglenook and several private dining rooms for small groups.  The Marketplace can accommodate more than 550 teammates in a variety of settings for dining, DaVita Town Hall gatherings, DaVita family movie nights and other internal events.  The Marketplace is also made available for community events.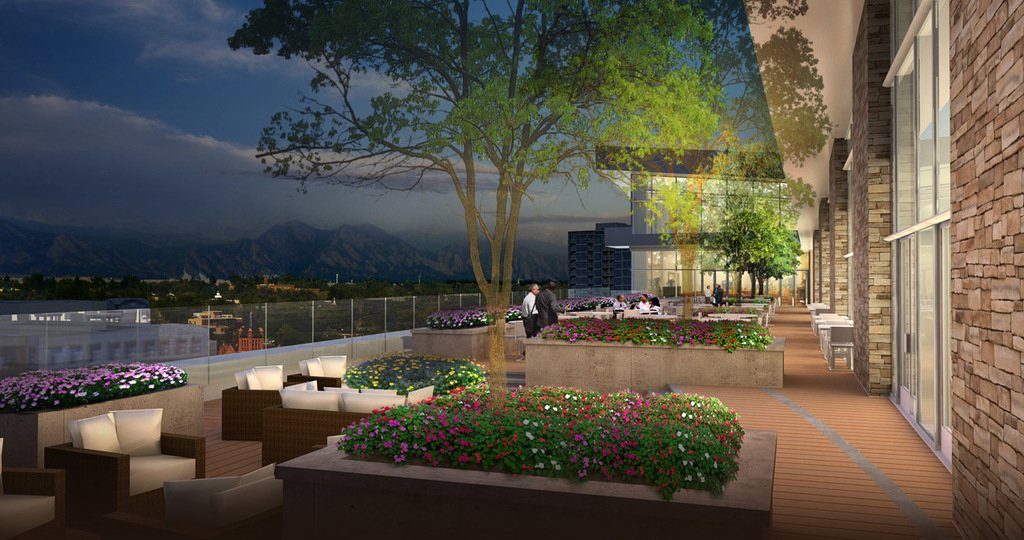 Finally, DaVita CEO Kent Thiry emphasized the importance of achieving a connection to the outdoors and highlighting the qualities of Colorado's environment. This includes both acknowledging the advantages of Colorado's outdoors and contributing to Colorado's environment in a positive way. MOA brought its unique insight as a Native American owned design firm, understanding the sustainable life-giving connection of earth and sky, of light and water, to the built environment  As a tribute to the connection between DaVita and its new Colorado environment, MOA incorporated three seasonal gardens, including a two-story water feature, towering aspen trunks crafted out of recycled steel, and a suspended ski gondola, which doubles as an informal meeting space.
Further, the building includes three separate outdoor terraces. The largest of these, and the largest in the central business district stretching 5,000 square feet, offers outdoor dining, comfortable lounge seating surrounding a fire pit, and spaces for teammates to plant gardens, as well as one of the best outdoor views in Denver. The view captures the essence of Colorado, showcasing the entire Rocky Mountain Front Range, from Pikes Peak to Longs Peak. A second terrace is also located on the 14th floor at the northeast corner, offering expansive city views including the entire length of the 16th Street Mall.
Sustainability in mind, MOA designed the building to achieve "Leadership in Energy and Environmental Design" ("LEED") Gold certification. Boasting 25 LEED Accredited Professionals, MOA provided DaVita an enhanced ability to realize its potential for sustainability. Specifically:
the site is located at the main downtown Denver transportation hub helping to promote alternative transportation such as buses, light rail, biking, and walking;
energy modeling helped the design team to make the most energy efficient choices for the building design;
the building utilizes high efficiency mechanical, electrical, and plumbing systems;
its white roof with high reflectivity helps cool the building in the summer heat;
it integrates high performance glazing providing daylight and views to all teammate floors while limiting heat gain into the building;
low VOC interior finishes create a healthy working environment;
the design uses recycled and local materials such as beetle kill wood, local concrete, etc;
DaVita has purchased Renewable Energy Credits (RECs) to ensure that 70% of the new building's energy is replaced on the electric grid by renewable sources; and
DaVita implemented a high efficiency recycling and composting program.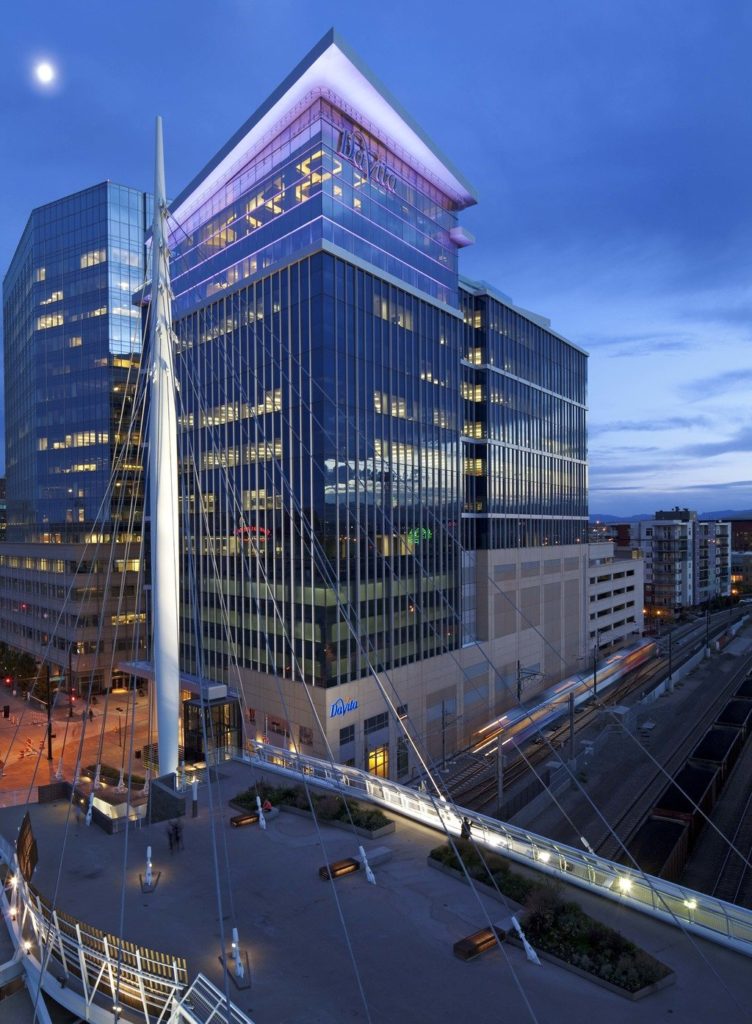 Big City Lights
Upon completion, a passerby gazed upon the DaVita building and said, "We finally have a building in Denver with "Big City" lighting." Standing 14 stories tall and occupying 450, 000 square feet, the DaVita building provides a welcome addition to Denver's prestigious skyline. Aside from the commitment to community embodied within the building, perhaps the most noticeable element of DaVita's design is its attractive exterior. Boasting 4,319 pieces of glass (approximately 50,000 square feet of windows), the DaVita building's blue "skin" and LED lights offer a refreshing big city feel to downtown Denver. The color of the glass reflects the signature DaVita brand and symbolizes Denver's extensive blue skies. The glass itself changes color depending on the the light of the day, reflecting and interacting with Denver's versatility. The glass also provides sustainable features by allowing an abundance of daylight.
We finally have a building in Denver with "Big City" lighting.
The creative and collaborative partnership between DaVita, MOA Architecture, and Acquilano Leslie has consciously contributed in a positive manner to the Denver community. Incorporating elements of design inspired by Denver's outdoor scenery and environmentally conscious mentality, coupled with the cultural values of a growing, prosperous company have not only provided Denver an iconic new building; but, their commitment to community, an attitude of caring, and sustainable practices inspire a city poised to embrace those principles and continue to build upon them.
MOA design team members who worked on the DaVita project include Jere Eggleston, Project Director;  Jack Mousseau, Director of Design; George Feathers, Senior Project Manager; Eric Vogel, Senior Project Designer;  Brian Konczak, Project Architect; Greg Martin, Project Coordinator; Kevin Vrba; Loc Nguyen; Nathan Martin; Michael McDonald; Michael Monthan; Rick Arriaga; and Kevin McMahon, Laren Sakota, Christine Teichert, and Try Ly.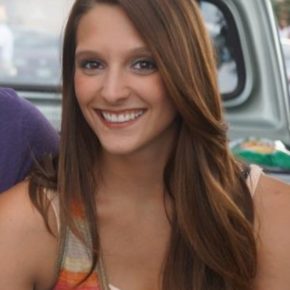 Kaelyn is the 303 Health & Sports desk editor. She is an avid Colorado sports fan, a reckless ski bunny, and a yogi-lovin' Denver enthusiast. Follow her on Twitter.