What can you do to artistically challenge yourself when you've already collaborated with modern art galleries, local bands, poets, and visual artists blasting crazy '80s video games on a backdrop? You rewind a few hundred years to the 1600's.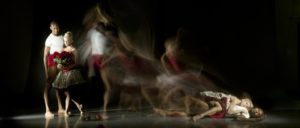 Ballet Nouveau Colorado is pairing up with the Baroque Chamber Orchestra of Colorado for A Dangerous Liasion, presenting the unlikely combination of contemporary dance with music that is usually associated with high falutin fair. In fact, it's likely you will need a fainting couch from badass overload, as is standard of any BNC performance.
I was invited by dancer Meredith Stratmeyer to attend a BNC rehearsal a few weeks ago – she knew I'd be seduced by the steamy air of the studio, that particular, creative energy that exists only by those who use their body as their form of expression. And it worked. Artistic Director Garrett Ammon, who appears to prefer more of a  refreshingly collaborative, rather than domineering, stance with the dancers, is really lovely to watch in action, especially since audience members don't get to watch the man behind the madness move on stage. He's warm, funny, and quick witted with his corrections as he massages the choreography: "Don't sacrifice counts for fashion," he urges, as the men practice an entrance that requires them to catch a hat.
Ammon explained that the partnership with the Baroque Symphony Orchestra was the initial brainchild of Frank Nowell, Artistic Director of the music group. "Frank and I had an initial discussion where we just shared ideas, visions, looked for common synergy between our two art forms and how we could play off of that. The thing that's so great about baroque music is that during it's time, it was very avante garde, very forward thinking. It was played in private, in the homes of the very wealthy and the very open minded, so it doesn't have a background that lends itself to the 'slow' reputation that it has today."
"What's interesting is that the pieces of music we chose for this performance were originally only set for the violin and the harpsichord, and BSO has had to build out the rest of the music for this performance. What's also sort of a unique tidbit is that some of these instruments were strung with cat guts – so this music really couldn't be played for very long before the instrument was worn down. It's really great to be able to resurrect this type of music and see the similarities between the contemporary elements of the past and of the present."
Ammon's work will highlight the second half of the performance, with the first half belonging to BNC dancer Sarah Tallman. Tallman has showcased pieces of her choreography for past BNC performances, but this will be Denverites' chance to experience a full course meal. "Being a dancer in the position of the choreographer is an eye-opening adventure. Suddenly, all of the details we worry about as dancers fall away, and I find myself  processing movement and the interpretation of the music in an entirely different way. My imagination becomes extremely vivid and the various compartments of my brain are dissecting what the movement might be saying if we were all just talking. I find myself obsessing over the landscape of the piece, lighting, costumes, characters, etc. I find I ask different questions of myself as certain demands are created throughout what becomes a bit of a natural process. Choreographing feels like a natural progression to me as a dancer, just with a different set of tools, " Tallman says.
Although Tallman was unfamiliar with Baroque style music at the beginning of the choreographic process, she says that with time, she found a different type of inspiration and direction with her obscure Vivaldi score. "I have found so many delicious intricacies that exist; my perception of the austerity during the time of Baroque music was completely shattered. The music is a pure representation of the excess of the times. I have found a certain counter culture that is also represented in the music that I was especially drawn to. The funny thing that occurred to me throughout this journey is how modern Baroque music really sounds.  There is a very free aspect to it that allows the melodies to weave in and out of each instrument that sounds extremely improvisational."
Only BNC could make something so old and dusty sound so chic.
Open your mind, rewind and check out the remaining performances this weekend. Tickets start at $19, with dates and times as follows:
Friday, November 9, 2012; 7:30pm
Saturday, November 10, 2012; 7:30pm
Sunday, November 11, 2012; 2pm
Performing Arts Complex
at Pinnacle Charter School
1001 W. 84th Avenue
Denver, CO 80260