Vesta is the Roman Goddess of hearth and fire, and a fitting name for a restaurant that's obvious priority is making everyone who walks through its doors feel at home. Vesta Dipping Grill, located on Blake Street in the Lower Downtown district of Denver, is not only a memorable place to take a date due to its ambrosial ambiance and its mouth-watering entrees, but also an ideal spot to take out-of-town guests so you can truly display some Denver hospitality. In my time at 303, I have been to a lot of stuffy, upper class restaurants (and I have even worked at a few) that greet a patron in skinny jeans and a thrift store-bought shirt with huffiness and apathy.
Not Vesta.
Upon walking into the vacant warehouse turned spacious restaurant, my first thought was, "Here we go again." However, you can't judge a sophisticated,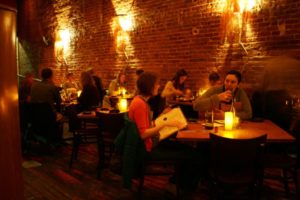 urban book by its cover. From the welcoming hostesses to the informed server my friend and I had the good fortune of sitting with, the staff at Vesta makes their guests feel as though they had been there a hundred times before. All questions (and, trust me, with over 20 different sauces there are many of them) are answered with patience, and pairing opinions are tolerantly offered to those who can't decide between the delicious dipping choices.
Now, of course, the food.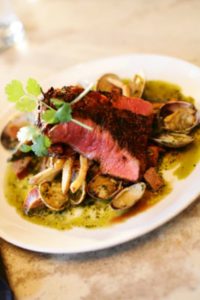 Vesta is not only famous for its unfathomably tasty food, but for the bevy of dipping sauces they offer for each course ordered. Half the fun at Vesta is choosing which 3 sauces you think will go best with your madras grilled Venison or ginger chili seared tuna. Vesta has a flavor that will ignite any gourmand's palate, and even those with more selective tastes can find a sauce that will keep them going back. Not sure what a sauce may taste like just by the name? Vesta even offers you a sauce glossary (complete with heat index) that gives in-depth definitions of what each sauce tastes like so you do not have to waste your time wondering (just get right down to ordering and eating). I highly suggest the three pepper grilled flatiron steak. Served with Manila clams, pommes frites, linguica sausage, chimichurri butter and charred tomatoes, the three pepper flatiron steak was honestly one of the best flatiron steak dishes I have had in a while. To say it was full of flavor would be an understatement. The 3 suggested sauces for my entrée were the spicy ancho, the red pepper rica rouille, and the smoked Habanero salsa, but, all 3 being too spicy for me, I chose:
black pepper aioli (made with garlic mayonnaise and ground black pepper).
sweet chili ginger (that included soy sauce, ginger, rice vinegar, sweet chili sauce, and sesame oil).
pineapple peddy marmalade (that consisted of pineapple, bacon, white wine vinegar, paprika, coriander, and chili powder).
Each were simply faultless. I could go on and on about how delicious everything at Vesta is, but it is best if you just check it out yourself, as words do not even do it justice.
Go. Go now. 
On to the atmosphere.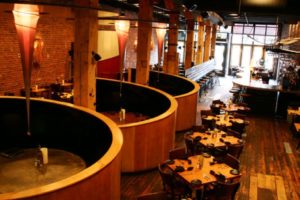 Have you ever had a dream where you walk into an earthy, yet urban fortress placed on a cloud sensually lit with dim, golden orbs and decorated with industrial sculptures? Yeah, that was Vesta. Try to snag one of the comfortable and curvaceous booths if you are looking for a more intimate night out, or enjoy the wooded tables next to the warm brick walls that will make you feel as though you are dining in a downtown loft. Everything about Vesta is perfect. From the innovative concept to the serenely ethereal design to the delectable food, Vesta is a Denver must. It is surely a memorable night out fit for a God/Goddess.