There are a handful of events occurring this weekend in and around Denver that I will be missing due to my commitment to Denver Fashion Weekend — wait for Friday's headlines that read, "303 Magazine Managing Editor Falls on Runway," — and it never ceases to amaze me just how plentiful the fashion and beauty events just really are here.
One such event that I'm sorry to miss will be Matthew Morris' Broadway Blender – a spine tingling GRAND OPENING event of awe-inspiring local eats, breath-taking fashion and riveting revelry (according to eye-catching space invasion inspired invitation I received).
On October 13 at 7PM, Matthew Morris  (www.matthewmorrissalon.com), the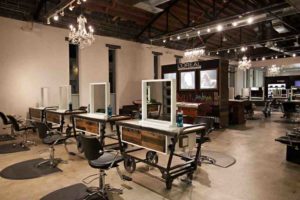 Colorado-based celebrity stylist known for his work on Bravo's Shear Genius and backstage at New York Fashion Week and the Victoria's Secret Fashion Show is pulling out all the stops in celebration of his new salon space. Dubbed the "Broadway Blender," the soiree will bring together South Broadway's most popular eateries including Deluxe, Beatrice & Woodsley, Go Fish, Dougherty's, Walnut Room and The Spot, all of whom will prepare their most popular dishes for guests to taste. Revelers will also imbibe with signature drinks from SilverCoin Tequila, Cupcake Wines, Breckenridge Distillery, Coors Light and Blue Moon.
The new salon space is described as highly innovative, boasting uses of re-purposed materials at every turn. There has been
mention of airplane wings, railroad carts and reclaimed Colorado beetle kill wood. I'm most intrigued by the living wall of succulents, cactus and other xeriscaping rounds.
Though I won't be able to join in on the festivities on Saturday, I am lucky enough to have squeezed my way in to a chair there tomorrow for a blowout and style – I've got a hot date with some girlfriends and a very handsome actor (a recap I'm sure you will find on the 303 blog soon).
Ticket's for the Broadway Blender are $50 and include open bar, food, gift boxes and runway seating.  Proceeds will benefit Denver's District 4 Police Department and tickets may be purchased at www.mmsalongrandopening-eorg.eventbrite.com. An after party will be hosted by the nearby Irish Rover.