Hair stylist Erica Kis used to shop for handcrafted furnishings at Denver's Room&Board and had never stopped to ponder the virtual indestructibility of a piece before purchasing it. That was before life happened.
Now, she said while chopping vegetables in her kitchen, "You've got to be fashionable, but functional with kids."
Three years ago she settled into the "solid bones" of a 1960s-era, brick, ranch home with her husband and two daughters in the niche neighborhood of Normandy Estates in Littleton.
The five-bedroom, 3,000-square-foot house maintains the perks of an older home – a wood-burning fireplace, mature landscaping, wide streets and homeowner retention. The half-acre lot backs up to the anchor of the entire neighborhood, Normandy Farms and Stables, Inc., a 100-year-old private stable.
When families move into this neighborhood, Kis said, they never want to leave, "Everyone helps each other out, looks out for each other – it's just kind of old school."
Kis, owner of A Kis Salon (www.kissalon.com), specializes in cut and color, yet her passion is to "update a client's look, a makeover;" this knack for ingenuity has carried over to her home.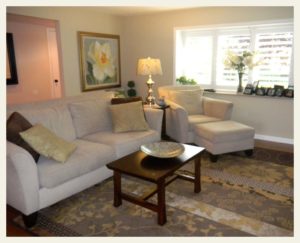 Despite the pleasures of owning an established household, there were aspects of the retro, mid-century ranch not worth holding onto like sterile white carpeting and Pepto-bismol pink walls. The couple refinished the home to their liking adding bamboo floors, a fresh coat of paint and a statement front door.
Although Kis has altered the quality she seeks in home furnishings due to her family's needs, she has held true to her taste for coupling modern and vintage in the same space, just as she has with her personal boho-chic sense of style. While finds from Anthropologie, Francesca's and Buffalo Exchange line her closet racks, décor from Sweet William Market, HomeGoods and Cost Plus World Market grace her rooms.
While she leans toward feminine styling, Kis has prevented what she says her husband might call "a chick house," by incorporating strong, wooden pieces like the Asian-inspired dark wood dining and coffee tables
alongside softer décor like a floral motif rug or a collage of family photographs.
Where Kis was able to fly her feminine flag was in her youngest daughter's nursery. Kis captured the essence of shabby chic by combining modern and vintage pieces in vignettes around the room. Here she breathed new life into her own childhood apparel by dangling baby shoes and ruffled outfits on hooks. Vintage tin canisters of baby products line shelves and a vintage dresser has been transformed into a modern-day changing table.
While femininity, softness and flow reign from room to room, Kis' biggest concern in designing the home was comfort – that cozy feeling where guests "want to come in and stay."
ARTFULLY AUTUMNAL OR JUST PLAIN CORN-Y?
Having a family makes decorating for the holidays a near necessity. Kis has decorated her home for the fall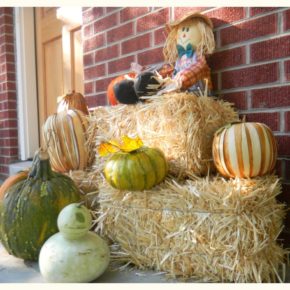 season
without sacrificing her eclectic style. To do this, she has intermixed her own pieces like plants and candles with seasonal items like cornucopias and pumpkin varietals, while shunning knick-knack clutter and yard inflatables.
How can you add holiday spirit to the home, without falling a little too hard for fall?
Andrea Monath Schumacher, a friend of Kis' and owner of Allied A.S.I.D. O Interior Design, Inc. (www.Ointeriordesign.com), imparted her wisdom for getting festive without bordering into kitschy.
"Decorating for a season can be cliché, but blending a mix of fall colors (bold oranges, deep reds and yellows by way of throw pillows, art and blankets/throws will establish a more inviting and sophisticated space," Monath Schumacher said.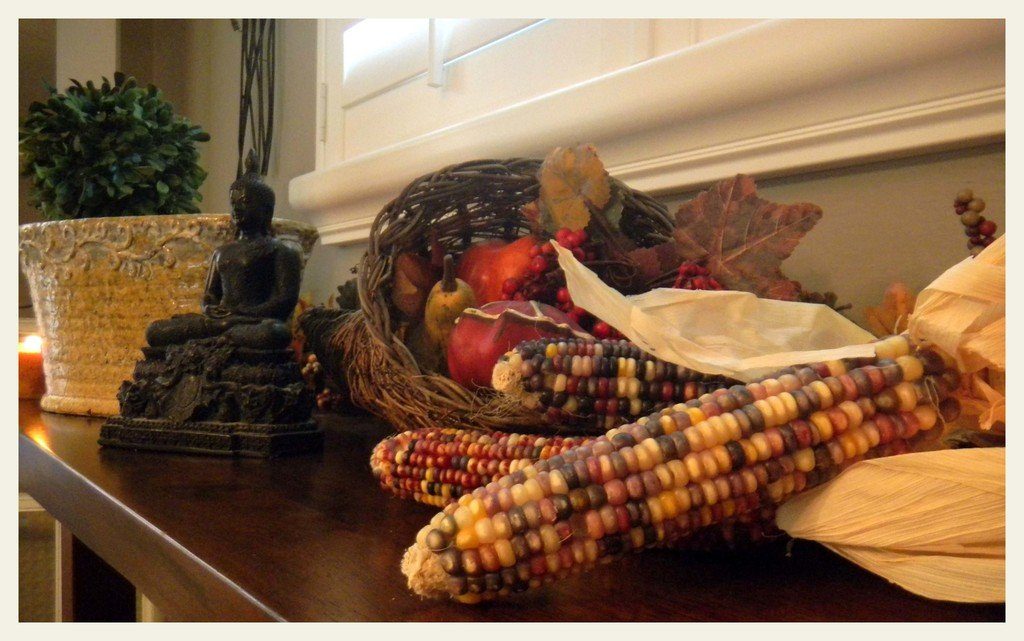 This season, terrain (www.shopterrain.com), the home and garden counterpart to Anthropologie and Urban Outfitters, has a unique selection of autumn décor. If you would rather opt for fresh fall flora, instead of the Styrofoam options out there, terrain has them. Purchase a crate of fresh pumpkins or an assortment of dried gourds, each set for $68. terrain suggests lining them up on a mantle, filling a hurricane vase or hanging them on suspended twine.
Pottery Barn might also spark inspiration with its seasonal decorating ideas: a hurricane vase filled with cranberries and ringed with gold maize, gothic-looking lanterns stuffed with string lights and twigs or a front porch decorated with a medley of elements gathered from a good, old nature walk.
D.C.Y. (Do Couture Yourself) – Mod-Vintage Tips from O Interior Design's Andrea Monath Schumacher
"In order to blend vintage and modern styles, you must use an interesting juxtaposition of furniture pieces and accessories.
Shop flea markets or antique stores for vintage accent pieces – as in side tables, coffee tables or lamps. For example, dress up vintage lamps with a modern, clean-lined lampshade.

Toss a modern throw pillow on a vintage chair.
Pair a round pedestal dining table with contemporary chairs in bold fabrics or colors.
Hang modern, pendant light fixtures flanking a vintage mirror in a powder room.

Stick to a modern style for larger pieces of furniture, sofas for instance – unless of course you find a beautiful vintage sofa that you love, in which case you can recover it in a simple modern fabric.
Combine furniture styles so your home is a mix of things you love – so it doesn't appear to be a room pulled straight from a home furnishing catalog. We always tell people to buy things they love – the most interesting spaces are those that combine a variety of styles, patterns, and color.
Keep to a simple color palate in each room, but use rich, inviting colors."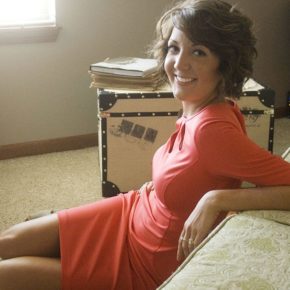 Brittany Stevens is a zealous antique hound, loves all things vintage and cannot get enough of HGTV. She is bringing her lifelong love of fashion to a new  realm – the home. Who says the décor we surround ourselves with shouldn't be as fashion-forward as what we wear?