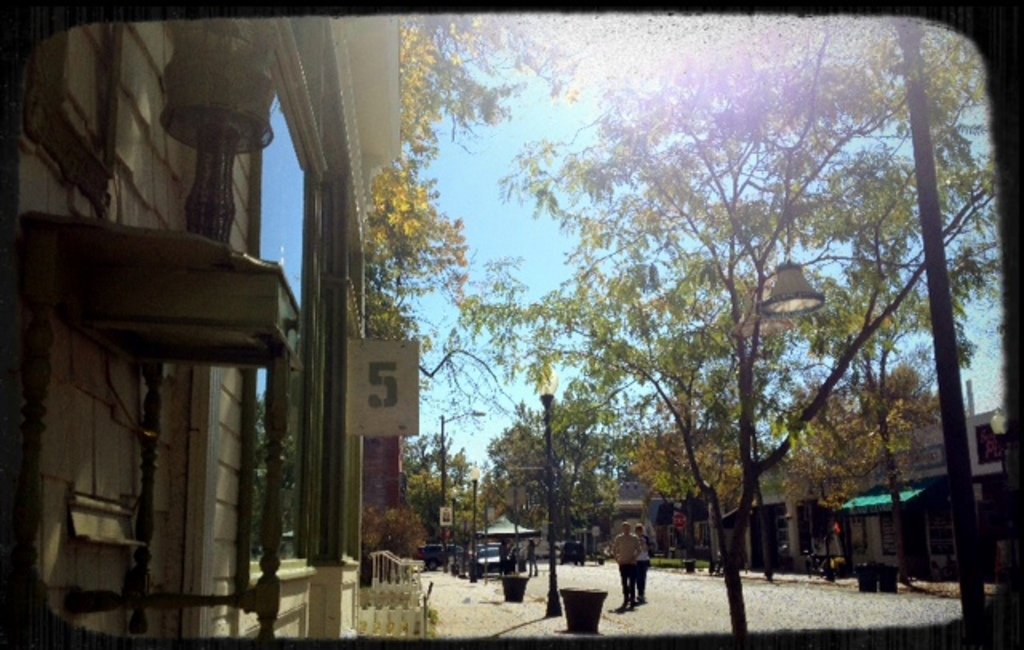 Charlotte Elich, a petite, brunette, nose-pierced 59-year-old and I sit at a distressed robin's egg blue table in what looks to be a greenhouse off Pearl Street. Skylights and floor-to-ceiling windows give the one-time potter's studio slash doll emporium slash barber (you get the idea) an illusory feeling of being outside in the property's gardens.
It is all I can do as we talk to not glance about the room – upside-down parasols dangle from the skylights; vintage Jolly Chimp toys and rubber chicken heads line the bookshelves; and framed vintage prints of hauntingly beautiful, unknown persons hang on the walls.
And this is just her office.
If it were not for the towering boxes, piled order forms and scattered look books, the space could be mistaken for a continuation of Elich's museum-esque store, 5 Green Boxes (www.5GreenBoxes.com).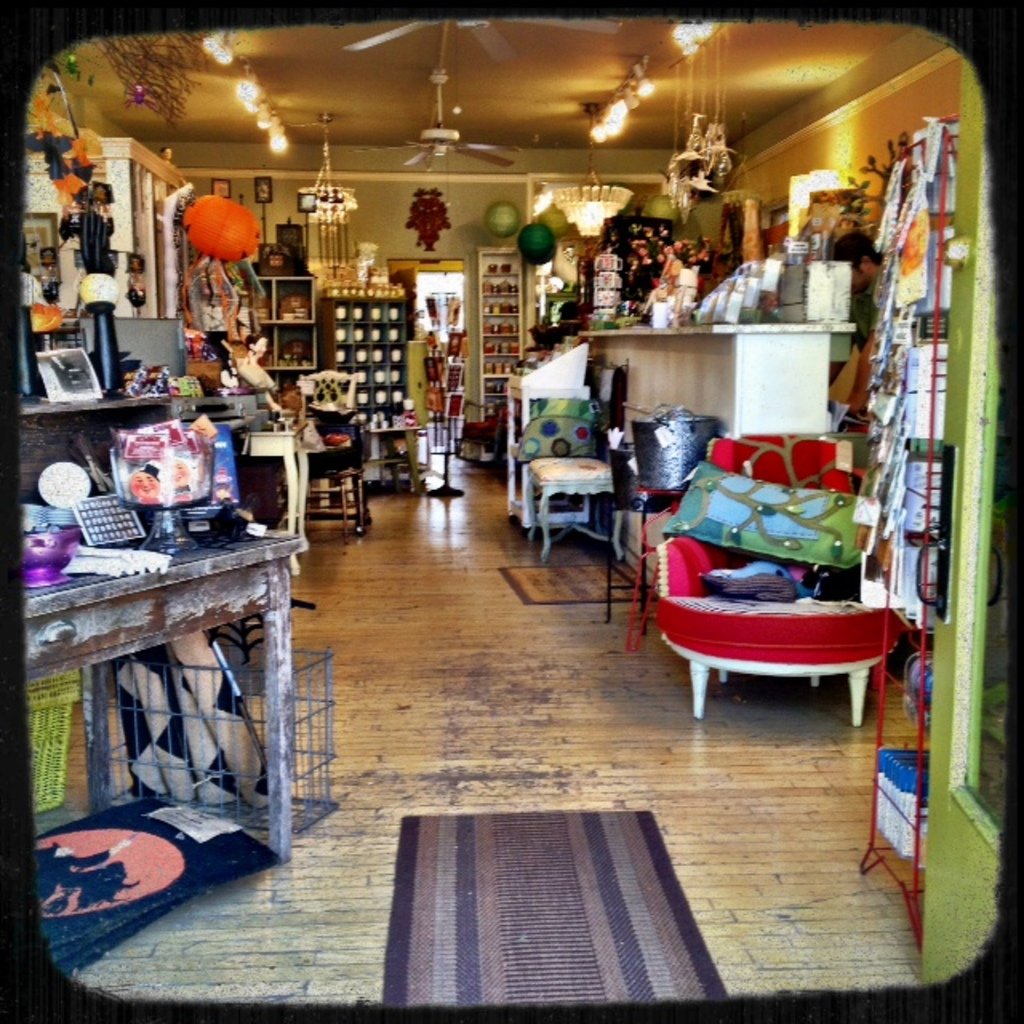 Her business, which claimed the "green" label back in 1999 before it was cool, is made up of 'The Big Store,' which sells home décor, upcycled furniture and wacky gifts (1570 S. Pearl) and 'The Little Store' (1596 S. Pearl), better known as the "girly store," which offers vintage-inspired womenswear and accessories.
Elich has had a presence on Pearl Street since 1977, when she opened Skyloom Fibres, a yarn retailer. After 23 years, she wondered, "What else was there?" That is when 5 Green Boxes was born.
Although, her love of wool fiber carried through. With the transition she began crafting eclectic, boiled wool upholstered furniture, which she remains famous in the area for today.
A FURNITURE RESCUE SHELTER
The furniture the shop repurposes is "hunted," – or as Elich prefers to say, "rescued" – from flea markets, thrift stores and estate, yard or garage sales.
Each original piece is then hand painted to imbue it with a "new personality," then the upholstering begins.
Elich orders her pre-knit, pre-shrunk wool from Austria, a country celebrated for its boiled wool jackets. She then dyes it seasonally in the backyard of the shop using a giant cauldron and propane burner.
When Elich sits down to make a new creation out of an old piece of furniture she not only breaks it down to its "bare bones," she designs everything – right down to the very hues.
"It's a real holistic way of creating when you strip it down and start from there," said Michele Strascina, a 5 Green Boxes employee.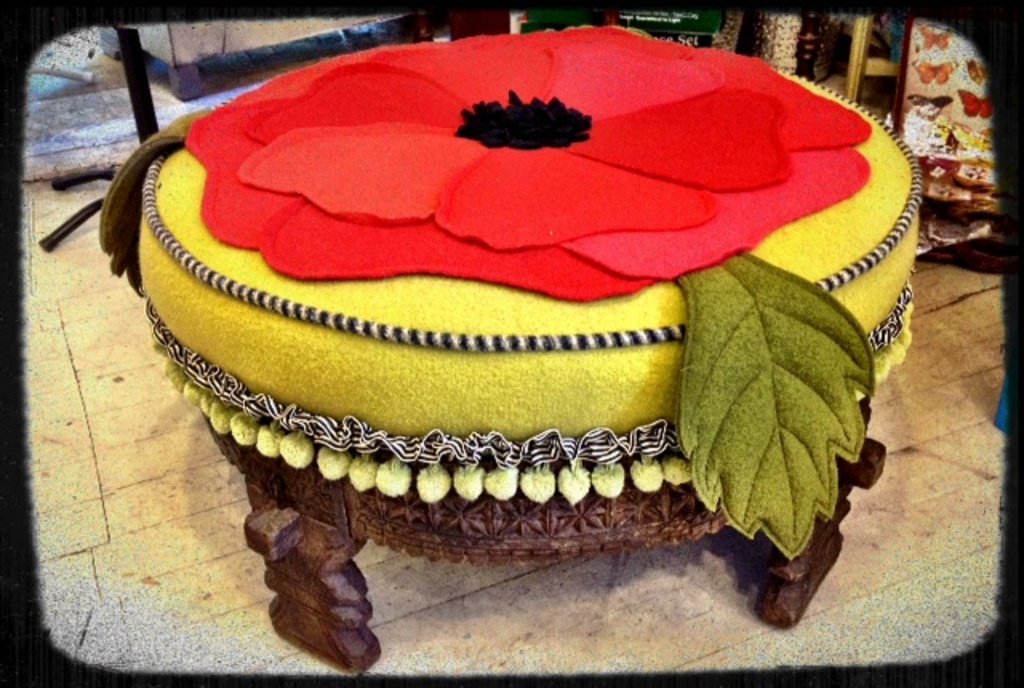 Boiled wool, versus ordinary wool, needs three elements: hot water, agitation and detergent. The mixture causes shrinking, which is the interlocking of individual wool fibers. It has an appearance similar to felt.
"Let's say you had a wool sweater and it fit you great," Elich said. "Then, you threw it in your washing machine by accident, and then it would fit your Barbie doll and your one-year-old – so that whole process."
Although many people would not think of using wool in their interiors, its properties make it ideal to do so:
Dense
Resists staining and tearing
Durable
Easy to clean
Fire retardant
Insulating properties
Noise absorbing
Water retardant
Retains shape, yet can stretch
Natural
"We love it because its got a richness about it – the way we can color it, the way we cut it and appliqué on it and re-cut it and stitch it again, like a quilt."

– Charlotte Elich, Owner
Although many of Elich's creations begin with wool, they do not end with it. Toward the end of the process buttons, trims, ribbons, stenciling and other embellishments are added.
Painted furniture is also the store's forte. Painted tables can go for $100, while a refurbished wingback chair can sell for $3,000, albeit the latter could take up to 20 hours of upholstery labor.
5 Green Boxes also tenders custom work. Customers can bring in pieces to be repurposed by Elich and her team – truly bespoke.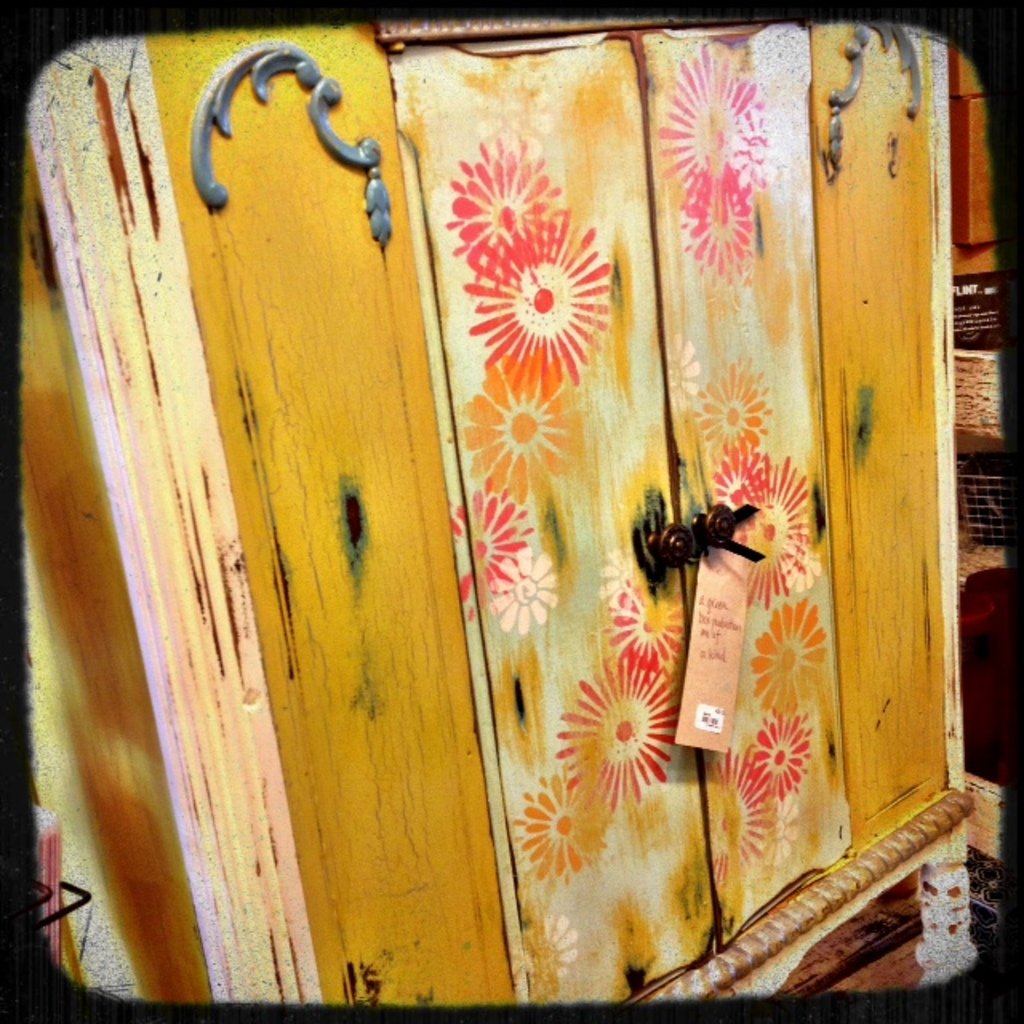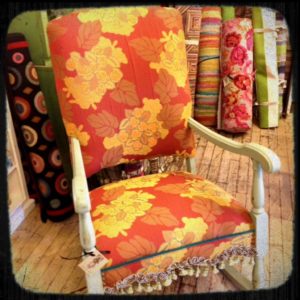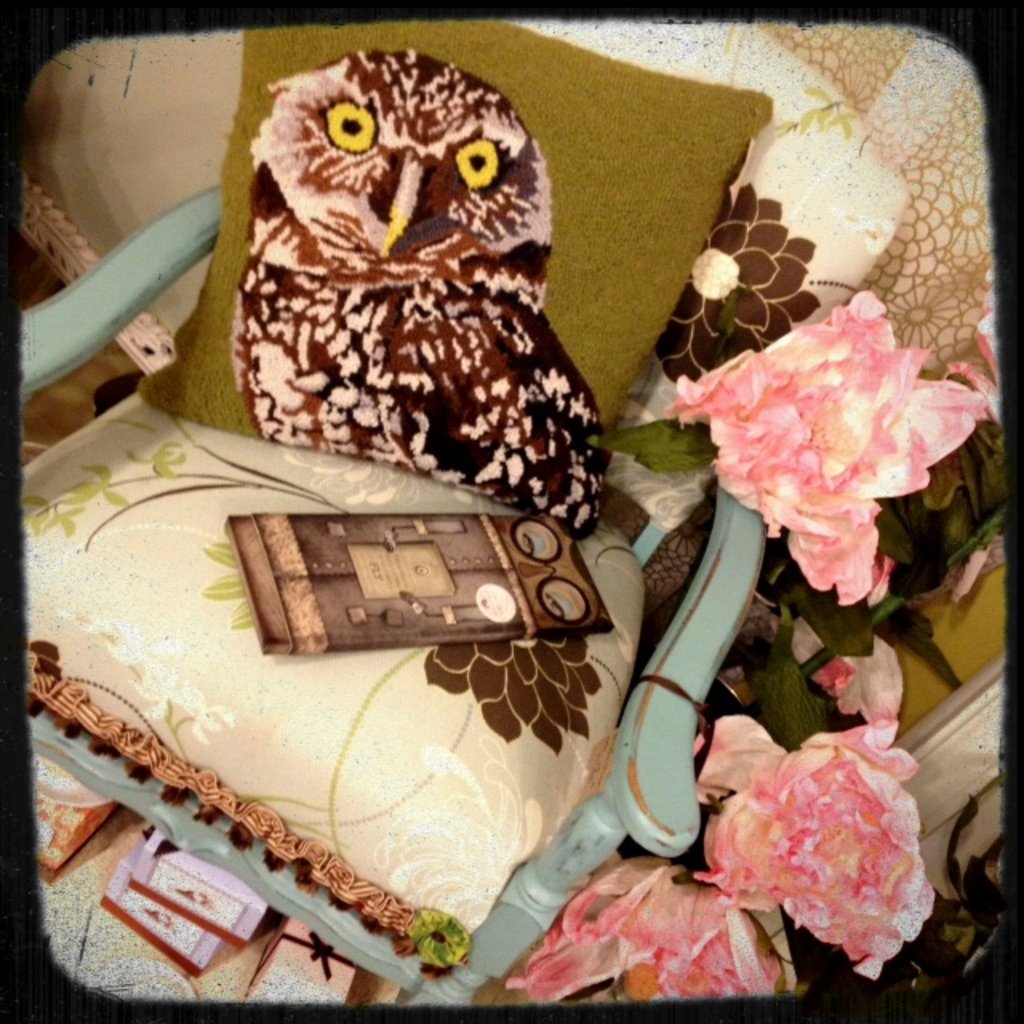 "I always love walking in here and the one-of-a-kind pieces are very unique … I like to do fiber art myself, so I sometimes will come in and get ideas – get inspiration."

– Diane Anderson, Shopper
'GAL FRIDAY' BY YOUTH, 'ONE WOMAN SHOW' BY ADULTHOOD
For Elich, inspiration simply strikes. She looks to antiques, old photos, color, nature and Facebook for ideas; ideas she interprets in furniture, merchandising and award-winning window displays.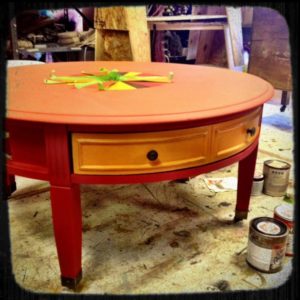 Though she calls her work "little statement pieces, little art pieces," Elich reluctantly calls herself an artist.
Elich hails from a family of creators – a father who barbered and crafted out of the same shop, a mother who was a seamstress and extended family who taught her to work with fibers, yet, Elich's path has not been a direct one.
After a piano scholarship went awry, Elich dropped out of college, worked as a gal Friday in the automotive industry and then on a whim decided to open a yarn store at 23 years old, learning business as she went.
"It's a way of seeing things that I guess I've just learned in a way," Elich said.
Although Elich spends much of her time with her nose in the books working, she has picked up a hobby – taking out her 1956 canned ham camper.
"What I love about the little trailer – it's because it simplifies my life and I get away from here," she said.
If you can't find her hidden among the boxes on Pearl Street, you can catch her riding off into the sunset in her "12 feet of simpleness."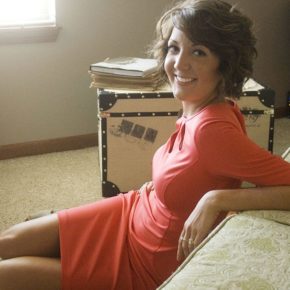 Brittany Stevens is a zealous antique hound, loves all things vintage and cannot get enough of HGTV. She is bringing her lifelong love of fashion to a new  realm – the home. Who says the décor we surround ourselves with shouldn't be as fashion-forward as what we wear?
Have a story you would like to see in Couture Décor? Contact Brittany here.