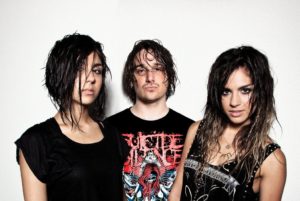 Chicago will forever be known as the city where house music originated, but it won't be long before Chi's West Loop natives, Krewella, highlight the city's underground hard electro and dubstep scene.
The trio, sisters/vocalists/lyricists Yasmine and Jahan Yousaf and producer Rainman aka Kris Trindl, burst onto the EDM scene earlier this year with the release of their debut video for "Killin' It." The video immediately went viral, racking up Facebook likes and spreading like wildfire via Twitter. The group will spend their fall on tour with legend, Benny Benassi, and just inked a deal with Columbia Records. Fresh off their much-buzzed about performance at Electric Zoo last weekend, Krewella returns to Colorado tonight to play alongside Savoy at Red Rocks Amphitheatre.
303 Magazine spoke with Jahan about Krewella's rise to the top, her favorite EDM performers, hanging with Steve Angello, and what fans can expect from the group's performance tonight.
303 Magazine: You guys have had a quick rise to the top. You released your first single about a year ago and now you're getting ready to open for Benny Benassi this fall. What has the past year been like for you?
It doesn't feel real! I don't think it has hit us yet because every day we're just so busy going from one city to the next. We haven't had time to really sit down and think about what actually has been happening. It's incredible how quickly everything happened after releasing our first single. We had so much fan and blog support, it's amazing.
How did you three meet and when did you decide to make this full-time? You and Yasmine are sisters but how did Kris come into play?
I met Kris in high school. We hung out after school and went to metal shows together. It started out as a hobby. We wanted to form a group and tried out a few other people, but my sister Yasmine ended up being a perfect fit, especially since she and I have similar writing styles.
Did you always plan on working in music? Did you have a plan for a career outside of music before Krewella blew up?
We all come from really musical backgrounds and have always been passionate about music. We were all studying different things. I was studying communications at University of Illinois at Chicago. I was studying things like mass media theory, which I thought was interesting, but none of us are office people. None of us would be able to sit in a fluorescent-lit office every day. All three of us are really creative people and we want to take advantage of that.
What advice do you have for people who want a career as an artist?
It's funny – in the society we live in, working as an artist is always depicted as this intangible dream. I think since a lot of people are pushed to go to college and get degrees, they can't really focus on their art.
You have to work every single day, all day. I'm not encouraging anyone to drop out of college, but you really have to weed out all the other distractions in your life and focus on what you want to achieve. Networking is so important, too. Meeting our manager really helped us transform this into a business and showed us that this can be a lasting career.
Networking with other artists must be helpful, too. Who are some of your favorite artists you've met while touring? Any good stories?
Some of the bigger names in EDM, like Steve Angello and Wolfgang [Gartner] are actually the nicest guys! We love the Knife Party guys, too. They are so funny and chill. At Global Dance Festival in Kansas City, Steve Angello stayed and watched our set, even though he had no idea who we were. He stayed around after and talked to us and was so nice and humble. It was really funny though, Steve Angello got Kris really fucked up that night and was like, pouring vodka down his throat. By the end of the night, Kris couldn't walk [laughs]. So now, every time we see him, it's a running joke that we have to seek revenge.
A lot of DJs and producers don't seem to pay much attention to what they wear on stage, but fans on blogs are always commenting on your style. Do you worry about what you wear on stage?
It's so funny you brought that up because we were just at Electric Zoo and there were so many fashionable dudes there! These guys were tatted up, rocking chains, vests and Italian shoes. Kris doesn't care, he wears the same shit over and over again. Jasmine and I used to be really into fashion, but when you're on the road so much, you kind of have to abandon being girly.
We're part of the five percent in the industry who are female DJs, so you think we would be all dressed up, but we are so poorly dressed! We don't put a lot of effort into getting dressed, but I think that comes across as genuine. We're not trying too hard. We wear a lot of stuff fans give us. I recently wore a shirt a fan gave me that said "We troll hard." Jasmine recently wore a shirt a fan made for her in Miami. We wear a lot of free shit. And men's clothing. We'll cut stuff up and make it our own. It's all about convenience, comfort, and whatever is the least slutty.
When you were developing your stage presence, which front men and women inspired you?
As far as the EDM scene goes, I love to watch Rusko and see the way he performs. He is so energetic and you know he is the man behind the music with the way he moves. On the other end of the performance spectrum, I love Nero. You have artists like Rusko and Steve Aoki who are so energetic, but Nero is really mysterious and captivating. They have a really untouchable, ominous vibe, which is really cool to me.
You guys are from one of the biggest hubs for EDM – Chicago. In a city that has always been recognized for house music, how were you guys able to craft such a different sound?
It's so weird, because I feel like we've never really been in the scene in Chicago because we always isolated ourselves and did our own thing. Also, for a lot of our career, we were underage, so we couldn't get into clubs. Kris and I had fake IDs, but we spent most of our time at metal shows and bars. I would say the places we hung out influenced our sound more than the music scene did. There's an old metal bar called Cobra Lounge that had dubstep nights. We would play there sometimes and we were really inspired by the vibe. It's super grimy and raunchy – there are no rules. We love that "fuck you" attitude.
The last time you played in Denver was a few months ago for Global Dance Festival and the Sub.Mission after party at Beta Nightclub. What did you think of Colorado's EDM fans and what can they expect from your performance tonight at Red Rocks with Savoy?
That whole day was a dream! Partially because we hadn't slept in three days. We played the side stage and did not expect to have it so packed. We weren't sure how our music was going to go over in Colorado or if we would fit into Colorado's scene, but people were singing along to our songs and going crazy.
We're so excited to come back. We love Savoy and we've been huge fans for a long time. We're dropping new material at Red Rocks tonight and testing out some new songs. We're really excited to move from a side stage and play the main stage at Red Rocks this time and see what the audience's reaction is like. It's an honor to play at such an amazing venue.
—
Catch Krewella open for Savoy tonight at Red Rocks with Dirty South and Robotic Pirate Monkey. Doors open at 6 p.m. Show starts at 7:30 p.m.