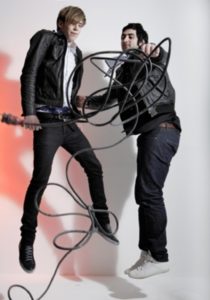 Known for bringing cutting-edge, up-and-coming dubstep, glitch and trip-hop artists to Colorado and the Bay Area, Denver/San Francisco based promoters, Euphonic Conceptions (EC), surprised fans this summer by booking electro favorites like Simian Mobile Disco, The Magician and Plastic Plates. EC will continue to bring some of the best electro acts to the Denver and Bay Area markets this fall, kicking things off with German electro duo, Digitalism, at Cervantes Masterpiece Ballroom tonight.
Digitalism, or Jens "Jence" Moelle and Ismail "Isi" Tüfekçi, formed in 2004 in Hamburg. The duo set themselves apart with their live instrumentation and vocals, leading the way for other nu-disco/new wave electronic artists and DJs. Moelle says Digitalism's songs are about "social interaction and attraction, with distorted baselines and thumping rhythms comprising the punctuation." Digitalism's trademark rebellious beats and basslines translate perfectly in their DJ sets, as well, which is what fans will be treated to tonight in Denver.
The pair pioneered the indie-dance and dance-punk movement in the early 2000s and released their first full-length album, Idealism, on renowned Kitsuné Music (Boys Noize, Tiga, Holy Ghost!) in 2007. Since then, Moelle and Tüfekçi have remixed dozens of tracks for artists like Daft Punk, Depeche Mode and Cut Copy, put out a follow-up album (2011's I Love You Dude ), played most major music festivals like Coachella, Bonnaroo and Ultra Music Festival, and most recently, recorded a mix for the legendary DJ-Kicks series.
303 Magazine spoke with Jens "Jence" Moelle about Digitalism's rowdy fans, the new DJ-Kicks mix, recording in an abandoned World War II bunker, and what he sees for the future of electronic dance music (it's not what you think).
303 Magazine: You once said that musically, whenever you do something for too long, you tend to do the opposite next. Your last album was song-driven, and this album focuses more on production. What do you think you'll next project will sound like? Have you started thinking about new material?
Moelle: That's true, we're bored easily. Doing the DJ-Kicks mix was a great honor for us, which took us back to our roots as DJs – that's how we first started. We were able to drop new tracks on it that are more club-oriented. Two of the songs actually were already a bit older, but they didn't fit into the context of our last album, so it worked out perfectly. Now, that we've released our second album and this DJ-Kicks mix, we feel pretty much free to do anything, which is really exciting. But we don't want to talk about it too much – we'll let the music speak when it's time.
Speaking of your DJ-Kicks mix, you combine new material with tracks from artists like Tiga, Vitalic, The Rapture, and several others. Were there any artists you considered remixing who didn't make the cut?
All of our choices and remixes ended up on the DJ-Kicks mix. There were maybe two or four tracks that we originally wanted to put on there, but it was too hard to get the license for them. But four out of the hundred that we did get licenses for – that's an incredible ratio! We didn't think it'd go that way.
You started Digitalism 12 years ago, so you've seen firsthand how much EDM culture has changed over the past decade. What has been the biggest trend or change in the EDM scene, in your opinion?
The biggest change was the hotspot shift from Europe over to North America! A couple of years ago, clubs and festivals in the US would import a lot of artists from France, the UK and Europe because back then they were the forefront of a new wave of electronic music. Now it's the opposite: US artists are massive worldwide and play everywhere, and they're bringing their take on electronic music with them. It's cool to see things changing, nothing ever stands still.
You guys record in a WWII bunker in Hamburg. What is your recording process like and what is it about the bunker that allows you to be at your most creative?
It's a very dark place with artificial light only, and because the walls are 3 ft. thick, you don't know what time of day or what season it is outside. You're very isolated in there, and that's what makes it a very creative space. You don't get distracted and the void in there makes your thoughts travel. RZA from the Wu Tang Clan wrote a chapter about "Islands" in his book, describing how you need a little isolation from everything else from time to time in order to create and come up with something unique. The bunker is probably our "island" in that sense
When we record we usually jam around with our gear, and once we have a little idea that we like, we make a whole song out of it. The music always comes up first and then we see what it inspires us to write about.
What do you think the EDM scene will be like in several years?
That's hard to tell, but there will be a time where DJs won't be the gods of music anymore – it will go back to bands. It's always been like that. It's all going in cycles.
During your live performances, you use a ton of equipment, such as Behringer BCR2000 and BCF2000 MIDI controller, a set of Roland V-Drums, and various other synthesizers. What's your advice for fledgling producers who want to learn how to use this kind of equipment?
Learn each piece of equipment individually, one after the other, and know the basics first before doing anything else and pressing any "auto" buttons.
You've played toured extensively throughout your career and played some major music festivals like Coachella, Ultra Music Festival and Lollapalooza. What's your favorite setting to play in?
We just played Paradiso Festival at The Gorge in Washington. That must be one of the most beautiful settings for a show, ever. We played a side stage and had time to run around and check out some other artists. The main stage is right in front of a huge canyon.
You just embarked on your Fall 2012 US tour. How have the crowds been so far? I heard your show in San Francisco was especially fun.
Yeah it's been great so far! We started off in Chicago at North Coast Music Festival, then played west coast gigs, which have been a lot of fun. It does get a bit rowdy sometimes – we had to stop a fight in San Diego, but that's just what happens sometimes when people get overexcited.
In five words or less, what will your show in Denver be like?
Party time!
Digitalism plays at Cervantes Masterpiece Ballroom tonight with The M Machine, Dynohunter and K Mac. Tickets are still available at the box office. Doors open at 8 p.m. Show starts at 9 p.m.