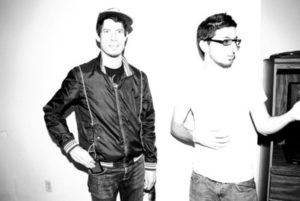 "We spent all summer playing in front of thousands of people at music festivals, but Red Rocks is something totally different," says Dominic Lalli, saxophonist and one-half of Big Gigantic. "It's like playing in front of a moving picture. It's breathtaking. It's like magic."
It should be nothing less than magic when Big Gigantic transforms Red Rocks Amphitheater into "Rowdytown" this Saturday, as Lalli and drummer, Jeremy Salken, curated the event to be more than "just another show." The Boulder-based duo pulled out all the stops for their sold-out homecoming show, including a diverse, all-star lineup: local DJ/producer Raw Russ, 21-year-old music festival favorite, GRiZ, Mad Decent powerhouse, Dillon Francis, and rising rap/hip-hop artists, Macklemore and Ryan Lewis. Big Gigantic will also be the first act in history to use projection mapping at Red Rocks, projecting mind-blowing visuals on the walls of the natural amphitheater.
For Big Gigantic, it's all about living up to their name. Over the past few years, Lalli and Salken have proven their work ethic is as big as their sound. The duo sold out an impressive 88% of shows on their tour last winter, and their most recent album, Nocturnal, peaked at number two on iTunes' electronic charts, despite being available as a free download. They spent their summer playing nearly every major music festival, and just embarked on their fall Uprising Tour, making stops in 46 cities nationwide.
Lalli spoke with 303 Magazine about featuring MCs and vocalists on their next album, how Colorado's fans and music scene influence Big Gigantic's work, and what fans can expect at Rowdytown this Saturday.
303 Magazine: You guys released Nocturnal earlier this year, so you've had time to play the album live on tour and at music festivals this summer. What kind of response has the album received?
Lalli: It's been incredible. We're so excited about the response we've received from everyone at shows. We're still really stoked about this album and we have a great time playing it live. It's gotten us excited to get back in the studio to start working on our next album, which we started recording last month.
Creatively, you and Jeremy took a different route when recording Nocturnal than you did with your previous albums because you wanted this album to represent a cohesive "Big G" sound. What was your plan of attack for creating new material while maintaining your signature sound?
We really wanted to take everything we had done on the previous three albums and give it an updated sound. We took the earlier, funkier hip-hop tracks and the newer dub-influenced sounds and put everything together to create a new, fresh sound. We ended up using a lot of the same "Big G" sounds, but just took them to a new level.
How have you started to conceptualize your new album?
We're still working on a lot of the concepts, but there are a few ideas we already have in the works. I really want to work with a singer on a few tracks and I would love to get an MC on one of the tracks. We want to keep things diverse, so we'll definitely still have the funkier, hip-hop stuff, but also more dance tracks. We won't stray too far from what we're doing now, but we do want to update the sound.
You guys don't seem pressured to stick to one particular sound. Do you think living and producing in Colorado's diverse scene has anything to do with that? What do you think about the music coming out of Colorado?
That's a great question. It's hard to pinpoint, but I would say the awesome fan base has a lot to do with the success of the scene. People support such a diverse spectrum of music, from String Cheese [Incident] to Skrillex. On any given night, you can see a sold-out show at Red Rocks or at the Ogden [Theater], and so many different kinds of shows are playing, like Yonder [Mountain String Band] at one spot and EOTO at another. There is so much going on and nearly everything will sell out because the fan base in Colorado is amazing. That's a huge thing.
I think that diversity definitely plays a part in what we play. Jeremy and I are fans of all different kinds of music. I used to play in The Motet, for instance. I like really hard-sounding DJs but I also like classical music. We keep an open mind about what we listen to and what we create, and I think fans in Colorado are the same way. There's something in the water here, I think [laughs].
How did you get into livetronica, specifically?
I have a Masters Degree in music, so doing this is a dream come true. I had wanted to play music professionally for so long. I started playing with The Motet and doing other projects, and I just really focused on doing what I wanted to do. It's gotten better and better over time but I never really thought it would turn into anything electronic.
My first introduction to livetronica was probably STS9. Those guys have been a huge influence on our growth and development, getting things kicked off for us in Colorado and taking us on tour with them. That was also when I started listening to DJs and Pretty Lights came out and it changed everything. I knew I had to figure something out. I'm having a great time, though and I feel so blessed to be able to do what I do.
You and Jeremy have been really successful setting yourself apart from other livetronica bands. What advice do you have for up-and-coming livetronica acts and who are some acts to keep an eye on?
The Malah is a great up-and-coming band that's doing a similar thing and are really great. I think bands really have to focus on setting themselves apart. A big part of our success comes from being different. Also, it really takes so much hard work. You really have to be in it to win it. You have to work on it every day and you have to love what you do.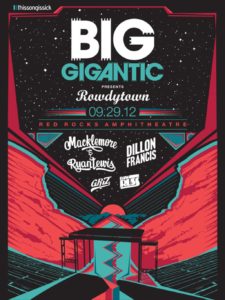 You have side projects and often make guest performances at shows. Who are some of your favorite Colorado-based artists to work play with?
Oh man, there are so many local bands we love. I played with The Motet for a while, so I obviously love coming back and playing with them. I just played with String Cheese at Electric Forest, which was super fun.
Big Gigantic has developed a pretty loyal fan base over the past few years. What are your fans like at shows?
We have great fans. Everyone is so nice and so sweet. I think some of the best shit I've heard from fans after a show is how great the vibe is at our shows. Everyone is just there to have a great time and everyone is there taking care of one another and there isn't any weird or bad shit going on. That's what I love to hear because at the end of the day, that's the kind of guy I am and that's where we're coming from.
You're pulling out all the stops for Rowdytown on Friday, including projecting visuals on the side of the rocks. What can fans expect at the show 
We are so stoked about this lineup and show. Our main goal was to feature a lot of up-and-coming people who would bring a good vibe and be as diverse as our sound. I think everyone is going to have such a great time, even if they haven't heard some of the artists. We're really excited and can't wait to see everyone there. It's going to be madness!
—
Big Gigantic plays at Red Rocks Amphitheater this Saturday with Dillon Francis, Macklemore and Ryan Lewis, GRiZ and Raw Russ. The show is sold-out. Doors open at 5:30 p.m. Show starts at 6 p.m.