Earlier this week I was given an address for a meeting somewhere in the middle of Denver. When I arrived all I found was a small brown office complex with an unmarked door. I thought I must be lost but after I walked through the entrance I immediately found what I was looking for, a little white plaque that read "Ethiopian Community Center Suite 219". This is where I was to meet Millete Birhanemaskel, a young and professional looking woman who is also the founder of this brand new community center. We arranged a meeting because I, not knowing anything about Ethiopian culture, believed this is where I should learn. She quickly reassured me I had come to the right place.
If you haven't noticed the booming Ethiopian culture in Denver already, you definitely will now. Within the last several decades Ethiopians have become ever visible in our community with new restaurants, markets and now a community center popping up around town. Millete told me they estimate around 50,000 Ethiopians live in metro area, which is a huge increase from the half a dozen families that lived here when she arrived in the early eighties. She explained to me that during these early years, growing up Ethiopian in Denver was not as easy as it is now.
"Ethiopia was known for war and its famines. I never told anyone about my heritage. But today we are known internationally for our supermodels, scientists, fashion designers…Now when I tell people about myself, I say oh did you know about my heritage?"
 Millete told me that many Ethiopian's are thriving in the U.S. and especially Denver. It is one of the reasons why we see so many restaurants and other Ethiopian owned establishments. It is also why I chose to profile Ethiopia because it's the one community that seems to be making Denver a little less bland and a little more cultural. Its giving us one distinct and unique culture to really boast about in Denver, because who would have thought you could come to the middle of the U.S. and be able to have a true Ethiopian experience? Usually people expect that from New York or other coastal cities but look it is right down the street. However so many people only view it from the outside and don't take that first step in. Well here are a couple of helpful ways to get you over your nerves. I think you'll quickly find that you will enjoy it and will be coming back for more…
Do: The community center, although they just opened this month, already has a fantastic website and a full schedule of activities. Here you can come to learn one of the four Ethiopian languages they teach, take a cooking classes or participate in other events such as a coffee ceremony. She explained to me that the center is all about spreading Ethiopian culture and letting people know more about their community and that the center is not only for Ethiopians. Rather they host a variety of members from different backgrounds including many inquisitive people such as ourselves. So come here to learn about this culture from the source, get some truly authentic cooking skills and meet new and different people.
Eat: along with my trip to the community center I also received a couple of restaurant recommendations. Cafe Africana is a interesting little place located on east colfax. Outside you'll see large paintings of famous American performers from Elvis to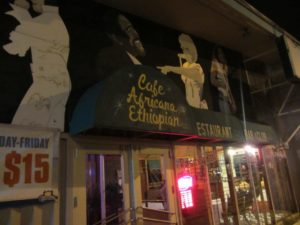 Madonna (maybe?) placed above their awning. It definitely has a unique feel that adds to its "cafe" vibe. However despite the oddly placed mural the food, according to Millete is authentic and delicious. I would have to agree with her on this, at least on the delicious part because I know nothing of Ethiopian cuisine, in fact this was my first time. The manager recommended a couple of plates, mainly the meat and veggie combo's. She also suggested Ethiopian "honey wine", which I embarrassingly asked her how to spell until I realized what she was saying. *ugh*. Nevertheless they were kind and accommodating to this first timer and helped me through my embarrassing mistake. The food they brought out was unlike anything I'd seen before. The meal consisted of brown spongy pancakes that bounced as she placed it on the table and a large platter filled with colorfully spiced food.  I was intrigued and slightly unnerved by the spongy flapjacks called Injera, but after tasting it immediately I realized there was nothing strange about it.  Rather it closely resembles that of a crepe and tastes a little like sourdough. The waitress told me that instead of silver ware you use the injera and a pinch and scoop method to eat your food. Sounds messy, but really it wasn't because the bread soaks up all the wonderful spices. It was a fantastic experience and I definitely recommend the place!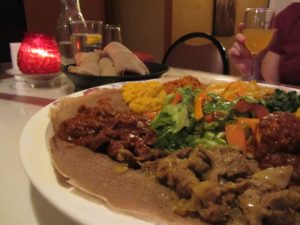 Make: Because Injera is such a huge staple in Ethiopia ( being both utensil and main dish) of course we should learn how to make it. You can buy the main ingredient Teff at the International market on Havana or at Abyssinia Market in Park Hill. Here is an easy recipe but forewarning although simple to make, it does require extra prep time:
1 1/2 cups ground teff (180 g)
2 cups water
salt, to taste
vegetable oil, for the skillet
Directions:
1
Mix ground teff with the water and let stand in a bowl covered with a dish towel at room temperature until it bubbles and has turned sour; This may take as long as 3 days, although I had success with an overnight fermentation; The fermenting mixture should be the consistency of a very thin pancake batter.
2
Stir in the salt, a little at a time, until you can barely detect its taste.
3
Lightly oil an 8 or 9 inch skillet (or a larger one if you like); Heat over medium heat.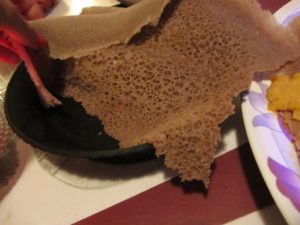 4
Pour in enough batter to cover the bottom of the skillet; About 1/4 cup will make a thin pancake covering the surface of an 8 inch skillet if you spread the batter around immediately by turning and rotating the skillet in the air; This is the classic French method for very thin crepes; Injera is not supposed to be paper thin so you should use a bit more batter than you would for crepes, but less than you would for a flapjack pancakes.
5
Cook briefly, until holes form in the injera and the edges lift from the pan; Do not let it brown, and don't flip it over as it is only supposed to be cooked on one side.
6
Remove and let cool. Place plastic wrap or foil between successive pieces so they don't stick together.
7
To serve, lay one injera on a plate and ladle your chosen dishes on top (e.g., a lovely doro wat or alicha). Serve additional injera on the side. Guests can be instructed to eat their meal without utensils, instead using the injera to scoop up their food.
Recipe courtesy of  http://www.food.com/recipe/authentic-injera-aka-ethiopian-flat-bread-96980?oc=linkback