I don't know about you, but as much as I love getting new clothes, I really do not enjoy the actual shopping process. I used to. I loved going to store after store and spending hours looking through every rack and trying everything on until I found exactly what I was looking for.  But now, I do not have the patience for it. I tend to shop like a guy. I want to walk into a store, find what I want, buy it and be on my way. Online shopping—even better. If I can just click and have the items appear at my front door where I can try them on in the comfort of my own home–under more flattering light–is ideal.
Online shopping can be met with its own set of pitfalls, however. Every single day, I find my inbox flooded with emails from every store I've ever purchased anything from, as well as the more personalized shopping sites that think I "might like this" since I once clicked on a certain designer's items. If you are thinking that there must be an easier way, well, there now is. The online shopping experience is about to change—enter Hukkster.
And the best part is, Hukkster sends you alerts when the products you've "Hukked" go on SALE!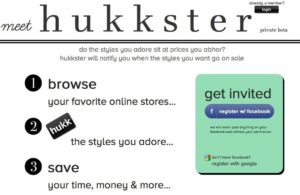 Creators Erica Bell and Kate Finnegan describe Hukkster as, "The new essential online shopping tool for fashion and beyond." Hukkster is going to make shopping online for bargains a lot easier. Once you join Hukkster by first requesting an invite, you then simply shop at your favorite online sites. The Hukkster tool sits in your browser bar and when you see a specific item that you are interested in, you "Hukk it" similar to the way you would "pin" something on Pinterest. Hukkster stores the products you love and you can visit them at a later time, like when you have more time to really shop. It gives  you time to consider how much you really need (want) something and helps you avoid the dreaded impulse buys that you end up sending back. And the best part is, Hukkster sends you alerts when the products you've Hukked go on SALE! You can choose to get alerts via text or email. You're only alerted on the exact items that you chose. It does not suggest other items that are similar to the ones you Hukked. So maybe you're feeling a bit torn about buying that dress that you are coveting, or you think that you shouldn't spend quite that much money. Well, Hukk it, and then you can not only consider how much you actually want it, but you can be notified when the price goes down. You can get the dress, without the guilt. Go to Hukkster's site and then see everything you hukked all in one place. When you decide to buy, it simply takes you to the store's website and you purchase your item just as you normally would.
Prior to creating Hukkster, Kate Finnegan and Erica Bell, were buyers for J. Crew and consultants. They were used to getting a nice employee discount on their fashion purchases. When they changed careers and no longer received their employee discount, they were stunned at the retail prices. They decided there had to be a better way to get access to good deals.Their idea was born  in December 2011, and it is now a reality. Though they are re-branding and re-launching the site in September, you can sign up for the service right now. There is an added incentive through Facebook to anyone who signs up through the platform (Facebook). They can be entered to win one of three pairs of Christian Loutoutin shoes. Just go to www.facebook.com/hukkster and click through the giveaway tab to participate.
Hukkster is not only for fashion, you can use it for beauty products, sports equipment, electronics, home items and more. There are literally hundreds of sites you can visit and use Hukkster, and they are adding more sites all the time. The amazing thing is, there is no cost for the service. Erica and Kate said,"We want to provide the best product and experience for users." This is why it is so important that the service is free. I love the idea that there is someone keeping track of sales for me! I don't have to keep checking back and I don't have to have the buyer's remorse of purchasing items at full price. How did we shop online so long without Hukkster? Sign up with Hukkster and get Hukking!