It requires nothing short of courage to pursue your passion after twenty years of doing something completely different. For artist Kelly Berger, a chance run-in with a couple of friends brought a suppressed talent back to the surface and redefined her career path in the process.
One day, an acquaintance approached Berger with the proposition of opening a PR agency together. After having worked in the public relations field for twenty years, this seemed like a viable option. That same day, she ran into another friend raving about a new art studio. Suddenly, instead of excitement over branching out on her own in a field she was already accustomed to, she felt a different tug on her heart.
"It was as if a light bulb went off. I signed up for a painting class that day," Berger says. "I had always dabbled in art growing up, but I began painting with a vengeance after that moment."
Walking into Brushstrokes Studio Gallery on Old South Gaylord Street, it is difficult to comprehend that Berger's painting career is relatively young. It was only three years ago that the opportunity to turn her passion into a lifestyle came around. Since then, she has quit an old career in lieu of painting full-time, assisted in opening a gallery, and moved into the coveted fourth painter spot in Brushstrokes.
While working in another gallery on Gaylord Street in the Washington Park neighborhood, Berger became acquainted with John Harrell, Kit Hevron Mahoney and Anita Mosher, a trio of highly decorated artists at Brushstrokes Studio Gallery just across the street. The four formed a connection, discovering Berger's painting style was complimentary of their own. Soon after, she was soon invited on as the fourth partner at the studio.
Berger attributes much of her quick success with finding her voice early on. "I am drawn to strong colors and unique vantage points. I paint many of my scenes from very high or low perspectives." She also believes that her years spent in the field of marketing adds a more graphic quality to her acrylic pieces.
Berger's exposure to painting happened early on. Her mother was a watercolorist, and Berger herself painted off and on as well as took a few drawing classes when she was younger. It wasn't until that day three years ago that she made a solid commitment to her art.
Before her start at Brushstrokes, Berger assisted fellow artist and friend, Amy Dixon, with opening a gallery. Dixon was supportive of Berger's work from the beginning, encouraging her to keep at it even when inspiration was low.
"Amy would tell me to 'shut up and get messy with paint'." Berger laughs. "I've found that there is really no substitute for time with the canvas when it comes to improving."
Not only does Berger spend hours painting in Brushstrokes, she also attends a studio class with Mark Nelson weekly to work on developing her talent. Berger credits Nelson, a celebrated Denver artist, with assisting her with her creative process. Painting in the studio alongside John Harrell, Kit Hevron Mahoney and Anita Mosher also adds to her maturation as an artist.
"It has been completely transformative working in this high-energy, creative laboratory with three very different and accomplished artists," says Berger. "In a way, I received my defacto MFA painting with them."
While some may prefer to create in solitude, Berger thrives on the energy of working alongside other artists. Brushstrokes Studio Gallery is a working gallery, blending the artists' workspace and showroom into one colorful space. Watching the artists at work exposes browsers to a more personal connection with the pieces on the wall as they view the creative process firsthand.
"Brushstrokes defies the odds as a ten-year-old gallery with a national reputation," Berger says. "It produces beautiful art that people actually want to hang in their homes and workplaces."
Brushstrokes welcomes even the most novice art lover to enter the studio and take in the color. Pedestrians strolling through the historic Gaylord neighborhood may observe pieces coming to life in front of their eyes as they chat with the artists while they work. With the studio prominently located toward the back of the gallery, it's as if the painters themselves are on display as well.
"Brushstrokes is a unique place. We are not a co-op, but a fully functioning studio inside of a gallery. We welcome everyone to come through the doors and simply enjoy our art," says Berger.
Stop by Gaylord Street's First Friday Artwalk on October 5th. From 11a.m. to 8p.m, Brushstrokes will celebrate the opening of its fall show, Define/Describe. From October 5th through November 16th, pairs of paintings utilizing two different art styles to portray a subject are on display. For more information, visit www.brushstrokesstudio.com or call 303-871-0800.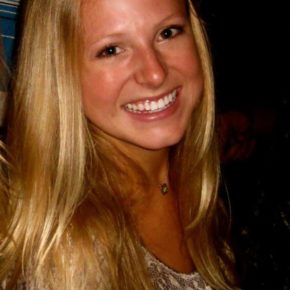 Avery Johnson is a 303 Magazine intern for the Arts & Culture section. She is a Colorado native currently majoring in English and Communication Studies at the University of San Diego. When she isn't writing, she's all about gettin' active outside or baking up a storm. She rarely leaves the house without a good book. Click here to follow her blog.