Rock stars seem to exist on a separate plane than us non-musically inclined. They have a certain spark that ignites, an immortal presence, a way of moving people. I don't know one person who hasn't, at some point in time, wished they could snag a taste of fame and jam out on the guitar. That said, how many of us really learn to play anything more than "Stairway to Heaven?" Admit it – you, too, envy the rock star and feel your social life is a bit lukewarm in comparison. Luckily, a hip new answer to all your problems exists, and it comes in the form of two words – Strum & Sip.
After an evening of sipping tequila and strumming with friends, music producer and master guitarist Christopher J. Bloom had an epiphany and, thus, the Strum & Sip Guitar Class was born.  Initially, it broke onto the scene as a small gathering of friends for cocktails and music, but since has morphed into a social phenomenon. Fresh off its first anniversary with over a year's worth of buzz, Strum & Sip is already in high demand, known for its out-of-the -ox approach to guitar at the bar. Bloom explains, "My goal as a teacher has always been this: my students making music on their guitars as soon as possible. I teach a specific technique that will not only give you the basics and proper skills, but will encourage you to play music on your guitar in the time it takes to down a couple of cold ones."
Instant gratification while sipping your favorite bev and mingling with like minds – sounds like a formula for some serious stroking. In fact, it is possible that stroking could be your first lesson. I happened upon one of Bloom's classes and never realized how even the most basic strumming patterns have the ability to completely alter a song. I quickly found that this class is much more than picking up a skill. Heated debates ensued, from pinning U2 against The Beatles for top five bands of all time, to poking fun at one another's love lives, and yes – I hesitate to say – agonizing over Adele's Someone Like You or Set Fire to the Rain as an upcoming piece to cover.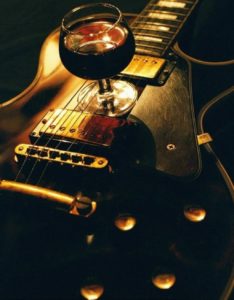 Amidst the intimate brick enclave of Jonesy's Eat Bar, Bloom sat with me and spilled about the class, his career and the loves of his life over a glass of Velvet Devil. Donning a basic gray tee, designer jeans and an edgy array of man-jewelry, Bloom fittingly resembles that rocker persona, but it's his clever wit and dexterity — with his instrument — that make him legit.
303: When did you first discover the guitar and how has it impacted your life?
CB: I picked up the guitar at the age of 15. I've spent the majority of my life as a full time musician…so I guess you could say it was somewhat life altering. I basically was self taught and then ended up studying privately for several years. I spent five years with a guy named Doug Mann back in Phoenix. His teaching propelled me to where I am now.
303: What is Strum & Sip? Where did this idea come from?
CB: I was teaching a friend of mine guitar lessons. He's a big Tequila drinker, so every week he would make me try a new kind of Tequila, and then we thought…wow. This is so much fun. Maybe we should get a few more friends together. And, we did…..
303: Why should people take this class and what can they expect to get out of it?
CB: First of all, this class is super fun. I can't think of a better way to spend a week night than with a few friends over some drinks. On top all of that, you actually get to learn a skill and can take it with for the rest of your life. I mean all of us deep down, at some point in our lives, wanted to be a rock star right? Well, here's your chance, I suppose…[laughs]
303: What is your teaching style and what genres of music do you cover?
CB: My main focus is allowing my students to make music as soon as possible. With that in mind, I try to keep everything we do musically focused and enjoyable. Practice needs to be fun….keeps us coming back. We cover everything from top 40 to oldies and everything in between.
303: What is your number one recommendation for a beginning guitarist?
CB: Stick with it. Guitar, like learning most things, has a threshold. Most people don't stick with it long enough to really get over the hump. What they don't realize is if they had just given a few extra minutes a day or had stuck with it a bit longer, they would be at a completely different level. Staying committed to whatever we do in life is really the difference maker.
303: What is most rewarding about facilitating a class like Strum & Sip?
CB: I really enjoy meeting new people, but the most rewarding thing for me is watching a student take what they've learned and then with a big smile on their face, playing a piece of music. Very cool.
303: I hear rumors of expansion due to high demand. Can you share some of your Strum & Sip goals for the upcoming year?
CB: Really, this is in high demand? People love what we do. Fifty percent of my students end up taking additional classes. In fact, the very first class I ever held is still together. Crazy. They're like family…literally. Every week we meet, have a few drinks, tell some stories and learn a little guitar. A year and a half later, they're still coming. We're expanding to three sites as we speak and hope to be at six by the end of summer. Coming soon to a bar near you…seriously.
303: I know you are a producer as well. Tell me what projects you are currently working on.
CB: Currently doing some work with a band called You Me & Apollo. Every once in a while, a band comes along that's pretty special. These guys are just that.
303: What skills do you believe are necessary to be a good producer?
CB: The obvious thing is having a vast understanding of music and arrangements, but honestly, that's just a small piece of it. What really makes a great producer is having the ability to bring out the best in those around you. Stretching them just enough, pushing them beyond their comfort levels without breaking them and putting them in the most creative environment possible.
303: How often do you write or collaborate on music and do you play live shows yourself?
CB: A goal of mine this year is to do a lot more writing. I am currently co-writing with a handful of artists right now and very excited about what's going to come from that. But, even more importantly for me, it's just being in that creative space that gives me so much fulfillment…cant' get enough. I don't get out to play live as much as I used to but still manage to get on the stage once or twice a month.
303: How do you spend your free time?
CB:  I love spending time with my daughters. They are incredible. I know everyone says that about their own kids, but if you ever get the chance to meet mine…you'll say the same. They are the most sweet, adorable, beautiful and talented girls on the planet. I feel so blessed.  Obviously, in Colorado, I love the outdoors. Lots of snowboarding in the winter and really enjoy golfing in the summer. And, occasionally breaking out my roller blades.
303: How has being a single father shaped your life?
CB: It definitely has its challenges. Being a parent comes with a lot of self -sacrifice, and being a single parent presents even more challenges, but I wouldn't trade it for the world. Being a parent is an amazing gift like no other.
303: Speaking of being a father, are your girls musical?
CB: They are…they both sing. Olivia, my oldest, plays piano and guitar, and I'm trying to convince my seven year old, Summer, to play drums. I've always dreamed of having a family band. You know, even if it was just jamming in the living room…whatever. Maybe I need to have a few more kids…yikes. [Laughs] Too old for that.
303: Who or what inspires you?
CB: There are actually two things in life that give me goose bumps and send chills up my spine. They are music and being in love. Guess you could say love and music are my inspirations.
303: What is it that you really want people to know about Strum & Sip?
CB: People are going to leave here knowing how to play guitar and will have a great time doing it.
Can Strum & Sip make you smarter, better looking and more talented? The verdict is still out, but one thing is for sure– this is a place to see and be seen in the Mile High. Not sure if you can hack it? Don't fret. Bloom's class offers a relaxed environment at a fraction of the cost for all levels of play. With personalized attention, extra guitars on hand and evening sessions starting at a mere $75 for four weeks, it's almost impossible to find an excuse not to attend. Don't miss your chance to experience the guitar class that is taking the Denver social scene by storm – one strum and sip at a time.

www.StrumAndSip.com
303.257.7922