I don't look like one of the cool hipsters that ride bikes around town. First of all, I'm often wearing wool dress pants, a work shirt and a big, white helmet. I don't even own a v-neck shirt. Then there's my bike, which has multiple, unfixed gears. I had a mustache briefly, but it fell off under the weight of its own irony.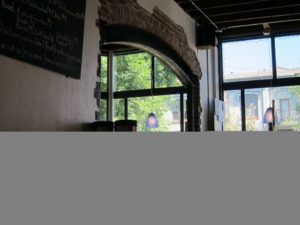 Still, as urban cyclists we have some things in common. Yes, there are the close encounters with cars, but I'm thinking of something else, and as usual it's a place to drink beer. The Denver Bicycle Cafe is a nexus of bikes, beer and coffee for cyclists, hipsters, working stiffs and everyone in between. Besides being a great place to drink beer, it's also a damn fine coffee shop. So if you want to perk up before a ride or just need a place to get some work done, they've got you covered.
The Denver Bicycle Cafe is making a name for itself in the local beer circuit with its focus on the newest local breweries, featuring brewers like River North, Renegade, Arvada Beer Co., and Strange that are rarely found on tap even at the most venerable beer-loving institutions. Because they rotate taps continuously, there's always something new and interesting to try. They also carry a great selection of cans from craft brewers like Oskar Blues and Wynkoop. For instance, on a recent visit, I was able to try Ice Cream Clone Stout, a vanilla-packed adventure by Bull & Bush, and Arvada Beer Co.'s 59'er Schwarzbier, a German-style dark lager. Then I washed that down with a Deviant Dale's tallboy from Oskar Blues. Genius! Or least I felt that way by the time I left.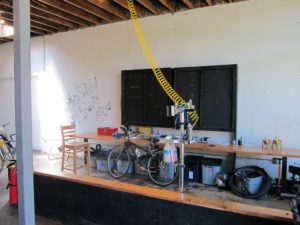 Now hold on a second. You might say all this talk about beer is just fine, but how do the bikes fit in? Well partner, Denver Bicycle Cafe also features a bike mechanic. And what's really cool is that the mechanic's station isn't hidden in the back somewhere. Instead, they've got the whole thing set up in front so you can watch your bike getting tuned up whilst drinking a delicious local beer or coffee. They also feature bike maintenance classes and offer a free air compressor if your tires are getting a little splashy.
So pedal on over to the Denver Bicycle Cafe, located at 17th and Lafayette in Denver. And for the love of God, bike hipsters, you don't have to weave through traffic on 17th to get there! 16th has a sweet bike lane.