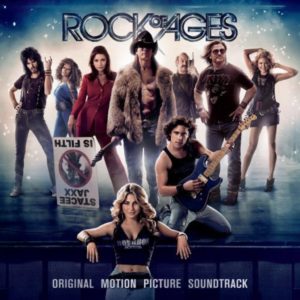 Based on the Tony nominated Broadway hit musical, Rock of Ages hits the big screen (June 15th) in a "Glee" inspired way. The film is part musical, part comedy, part rock concert and follows two star-crossed lovers – a wanna be rocker named Drew Boley who works at a Hollywood night club where he encounters Sherrie Christian ("Oh, Sherrie!"), a waitress and aspiring actress.
Together, the two pursue their romance and dreams in the big city. And along the way, belt out dozens of 80's cover tunes from Bon Jovi to Whitesnake, Night Ranger to Twisted Sister. And yes, even Journey's "Don't Stop Believin."
In speaking with the show's creator, Chris D'Arienzo: "The music for 'Rock of Ages' wasn't necessarily the music I was seeking out when I was that age, but it was definitely the music to my first dance, my first kiss, etc. And was the soundtrack of my life and the time that I grew up."
"I thought it would be really funny to write a Busby Berkeley MGM type musical and put Whitesnake in it!"
Like any successful Broadway show, music takes center stage, helping to relay the story through song and lyrics. And here, Rock of Ages does a seamless job, integrating well established rock classics like "Sister Christian," "Harden My Heart," and "Rock You Like a Hurricane."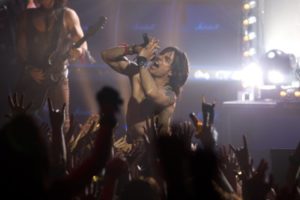 The soundtrack features vocals from Tom Cruise, Julianne Hough, Diego Boneta, Russell Brand, Alec Baldwin, Catherine Zeta-Jones, Mary J. Blige, Paul Giamatti, and Malin Akerman.
And the question on everyone's mind is:
Can these actors really sing?
In short, the answer is yes. Almost surprisingly well.
First out of the gate is Tom Cruise, who takes on Guns N' Roses' "Paradise City" with bold, high pitched velocity. This is no easy task, mind you, considering the one-of-a-kind performance put on by Axl Rose that carries an almost seething, squirming quality. Cruise is adequate here, but not nearly as effective as the gritty chops he displays on "Wanted Dead or Alive," the arena heavy vibe captured on "Pour Some Sugar on Me," and the soft finesse of Foreigner's "I Want to Know What Love Is." Oftentimes unrecognizable, Cruise, aka Stacee Jaxx, holds his own.
Equally up to task are the film's young stars – Diego Boneta and Julianne Hough. Boneta is a Latin music star with two solo albums under his belt before landing Rock of Ages and Hough, a country music star, was recently seen and heard on Footloose.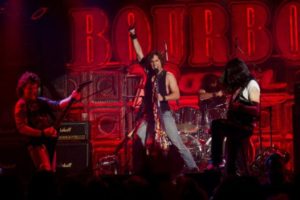 Boneta is especially effective, showing remarkable diversity throughout, nailing the smoothness of "Waiting for a Girl Like You" before belting out "I Wanna Rock" with glam rock prowess. And even enters boy band territory with "Undercover Love," a cheeky distraction that perfectly aligns with a NKOTB tribute, but feels out of place on a predominantly rock soundtrack.
As for Hough? She excels on numbers like "Any Way You Want It" and "Harden My Heart" where she hits the high and low notes with supreme confidence and doesn't have to resort to the childlike restraint evident on "More Than Words."
Additionally, there are a handful of mash ups and chorus numbers. Some that work extremely well, like "Juke Box Hero/I Love Rock n' Roll" and others, like "Here I Go Again" that feel forced and with a large ensemble, a tad messy.
Fortunately, Rock of Ages landed Mary J. Blige – a veteran powerhouse who connects the dots and delivers the finest vocals on the soundtrack. "Any Way You Want It" is the pinnacle, an abbreviated but energetic track that crescendos through a chord change before breaking the sound barrier. Then, when Blige is paired with Hough again on "Shadows of the Night/Harden My Heart," she makes the most of the duet, rocking out in true 'Beyond Thunderdome' fashion.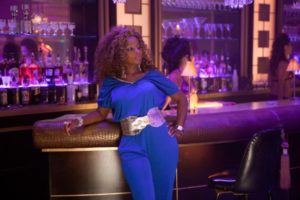 It's amazing, powerful stuff. And a shame Blige wasn't allowed to embrace her inner rock a little more.
Purists, of course, will no doubt prefer the originals. There's really no comparison. But as a true fan of the 80's, it's great to see all of these amazing rock classics brought back to life, big hair and all.
For samples and a complete track listing of Rock of Ages, check out Amazon.com.
Mark Sells, "The Reel Deal"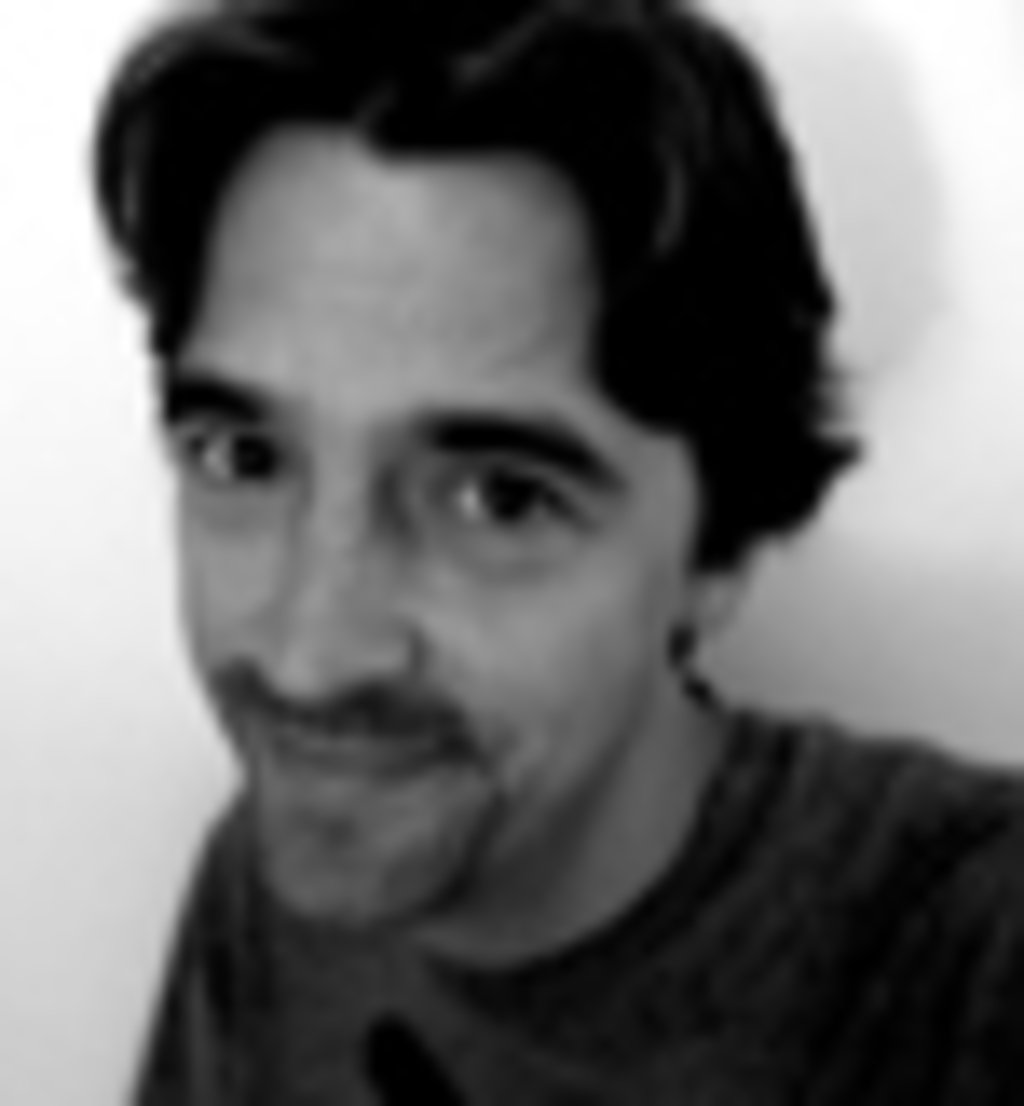 Mark Sells is a nationally recognized film/entertainment journalist and Critic-at-Large for 100.3 FM The Sound (Los Angeles). In addition to his blog on 303, you can follow The Reel Deal on YouTube, Twitter, and Facebook for the latest entertainment news, reviews, and interviews.
ROCK OF AGES (Trailer):
LAST WEEK'S PICK: