Seeking a way to cool down this summer tops most other priorities for Denver dwellers. Some find relief sitting half-naked in front of a window AC unit watching National Treasure, others over-inflate a friendship with that person who has a pool, or the more fashion-impaired exaggerate the tank top trend by wearing them far too often. Whatever your method to beat the heat madness, I invite you to take solace in wakeboarding.
As glaciers melted or moved on over the years, they left hints of their presence in the form of lakes.  Lakes have become the preferred destination for those looking for hot July relief.  Generations of water sport enthusiasts preach that wakeboarding conquers all in the summer refreshment ring.  Sunday, 303 Magazine presents an opportunity for all to discover a new way to revive you this summer.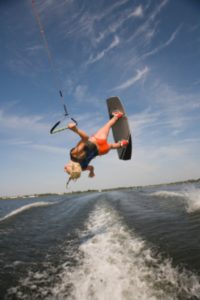 Cable wakeboarding allows new riders to experience the thrill of making turns out on the water without the overhead. The introduction of the cable system has allowed the sport to grow rapidly while making it more eco-friendly. No maintenance, no air or water pollution, or gas, betters the sport and broadens the appeal. Cable wakeboarding, compared to the more traditional method of being pulled behind a boat, allows riders more hangtime in the air because of the greater angle the cable provides.
Looking for a Red Bull sponsorship or a date next Thursday night? Hit some features and show off. Apparently, the DanceFloor (think terrain park box) and a few different kickers around the lake provide the most excitement for anyone looking to make a lasting impression on the crowd or their body. If the idea of unlimited Red Bull for the rest of your life or unrivaled accolades from your peers doesn't leave you over-stimulated with sudden thoughts of wakeboarding immortality, then raise your cocktail from the beach and enjoy the show.
Grab your board shorts, favorite sunglasses, and make a splash.
Connor Grant is the outdoor columnist at 303 Magazine.  He enjoys Mad Men, polarized Ray Bans, big mountain skiing, a good Old Fashioned, anything outside, and reading.  When he isn't rubber necking gear at REI, you can find him frequenting shows at Red Rocks, uncovering new electronic music, or discovering new tapas bars around town.  The journey is the destination. Try and keep up by following him on Twitter.