Count down for the 303 Pool Party is down to mere hours. In order to prepare you for the hottest pool party of the summer I put together a list of packing essentials to make sure you go to eleven. Beverages, food and fun will be provided.
Let's begin with the obvious-a beach bag, towel and sunscreen. If you weren't planning on bringing those to a pool/beach party I would suggest it. Otherwise, you will be the one walking around with a sunburn and sand in unmentionable places. Enough said.
Next would be your primping items. Sweat, water and heat are the triple threat of melting makeup. If you followed my tips for 'Avoiding Makeup Meltdown' this won't be too much of a problem. However, you will want to pack a few key items to keep yourself looking fresh and adorbs.
M.A.C. Demi-Wipes
These makeup wipes are perfect for packing. Designed with being portable in mind, they are just right for toting around. Plus, avoiding raccoon eyes at a pool party is a must. Once you leave the water make a quick swipe under your eyes with one of these Demi's and you will be looking gorgeous, no beer goggles needed.
Jane Iredale 'Powder Me' SPF
I'm sure you will spend a lot of time getting ready for this event. Don't pretend that you won't, because let's face it, we go to these parties to look good and have a good time. Who wants to mess up the time spent applying makeup by reapplying messy sunscreen? Instead, skip the mess and get yourself a dry sunscreen like the Jane Iredale 'Powder Me'. Applies easily and won't smudge or smear your makeup. Problem solved.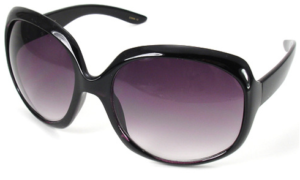 Some Sunnies
It comes down to this, the socially acceptable 'mask' of oversized sunglasses. They'll hide any flaw or imperfection you might incur during the party. They'll make you prettier, thinner, taller and smell better. Forget the last three but they'll definitely help you look your best because oversized glasses are the signature of the ridiculously good-looking.
If you haven't already RSVP'd for tomorrow's pool party you better hop on that band wagon. Follow these tips and this could be you: "Baby goes to eleven." – Superdrag