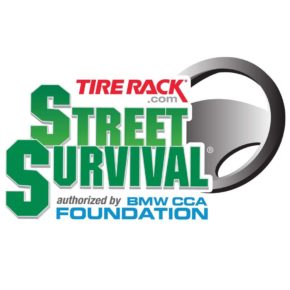 EVENT DATE: Saturday, June 30, 2012                       8:30am – 4:00pm
Six months after getting my driver's license, I did $5,000 worth of damage to my dad's car. It was an adorable two-toned 1987 Acura Legend complete with a sunroof and tape deck. Upon impact, the hood punched upward like a tent and I gave one hell of a scare to the people I hit in front of me. Whoopsie? Nobody got hurt, thank God. But, the Acura was my dad's baby, and this was the first time I recall seeing my tough-as-nails Italian father almost tear-up. And it wasn't because I was okay.
My lesson with stop and go traffic was in real-time, but teens these days can prevent this and other potential nightmares from happening with some common sense and a little preventative training. Tire Rack is hosting a Street Survival behind-the-wheel training for new drivers to gain some street smarts. Participants learn to safely deal with real-world driving situations and avoid distractions which keep us from being smart. Vehicles are provided for registrants to use, while in-car instructors teach handling lessons for drivers to employ in order to stay in control. The event dials-in on behaviors I refer to as screwing around, like checking text messages while driving, which, is not only illegal, it's idiotic.
A safe environment is provided for new drivers to learn how to use the brakes fully to stop while steering, and teaches emergency avoidance driving, like unexpected quick turns. Automotive basics are also addressed: how to properly inflate tires, along with the value of looking far enough ahead to anticipate stupid decisions made by other drivers on the road. The Street Survival training takes place at Sports Authority Field on June 30th. The course is $75 and people can sign up online at motorsportreg.com. A certificate of completion is awarded to graduates at the end.
The National Highway Traffic Safety Administration says drivers are 23% more likely to crash if they text while driving. They also say young drivers age 18 to 20 have the highest incidence of cell-related of crashes. In Colorado it is illegal for drivers aged 18 and under to use a cell phone (hand-held or hands-free) while driving. Meanwhile, it's illegal for drivers of any age to text while driving in Colorado. With this in mind, wouldn't it be nice to go back in time, before an accident, and see how a what-if situation would play out, without having to experience an accident? What if I cut this guy off? So what if I check my phone at 65mph? The event even provides a mock-situation of what it would feel like to tap the person in front of you using an independent seat-belted contraption to simulate a 5mph impact.
When my accident happened, I clearly wasn't anticipating having to stop. Programs like this one help drive the message that driving requires full attention and that staying observant is always a good choice. Man, do I wish I had access to this when I was 17.
WHAT:  Tire Rack Street Survival training comes to Denver
WHEN:  Saturday, June 30, 2012 from 8:30am – 4:00pm
WHERE:  Sports Authority Field at Mile High, 1701 Bryant Street Denver, CO
COST:  $75.00
INFO:  Streetsurvival.org
REGISTER:  motorsportreg.com/index.cfm/event/register.trss/uidEvent/EAD48D4D-DF8D-4B75-71EFF9D4D9E2D1E0