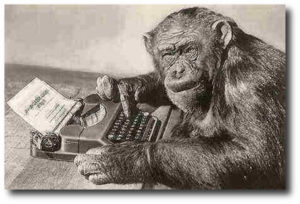 A man who names his wine after a probability theorem claiming that a monkey hitting random keys on a typewriter for an infinite amount of time will almost inevitably write the works of Shakespeare must be nothing short of brilliant. Add that to an idea to create a wine using principally locally grown grapes out of a converted Quonset hut located in a back alley in Denver, and Ben Parson could be considered one of the most resourceful men in wine making. The Infinite Monkey Theorem, Parson's clever wine creation, has become unfailingly popular and now demands an even bigger urban winery to keep up with demand of its offbeat and unique wines. The Infinite Monkey Theorem's July move from its original location on Santa Fe to its new 29,000 square foot building at 3200 Larimer will allow the company to double production to 29,000 cases this year, while also making room for exciting new amenities.
The winery's new location on the corner of 32nd and Larimer will now hold a concept restaurant, a custom winery growler program with newly patented technology, and private dining and tasting rooms available for those who are not only interested in trying the Infinite Monkey Theorem's eclectic wine selection, but also seeing how it is made (with some tours even being led by Ben Parsons himself). Most excitingly, the space will provide a new canning production line for its line of wines-in-a-can, and will launch the first keg-filling station ever in Colorado, which will allow wineries, distributors, and importers the ability to custom keg wine destined for those participating in the wine on tap program.
If you are a major fan of The Infinite Monkey Theorem's "First Friday's," have no fear; the monthly open house event that boasts top DJ's and wine tasting will be continued in the new warehouse's large outdoor vicinity, along with outdoor movie screenings and barbeques. Parsons also plans to begin accommodating farmers' markets where Colorado producers can showcase their goods from around the state, which will inevitably strengthen our local community and economy (this guy just keeps looking smarter and smarter, doesn't he?). If that isn't enough to make you check out The Infinite Monkey Theorem's new space, perhaps that Parsons is creating a large roof-top garden for local chefs will pique your interest and get you on the phone reserving a wine tasting appointment. 
The Infinite Monkey Theorem has high hopes for its new winery in the heart of the River North district (located just north of Downtown Denver). The RiNo area is rapidly developing into a haven for many creative businesses, and The Infinite Monkey Theorem can now proudly say it is part of Denver's innovative scene—not that it couldn't before. I mean, making wine out of a Quonset hut decorated with graffiti of a giant monkey and located in a back alley on Santa Fe and 5th is nothing if not modern, but now The Infinite Monkey Theorem has outgrown its humble beginnings and is ready to start its new life supporting local Colorado businesses and taking over the palates of thankful wine lovers everywhere.