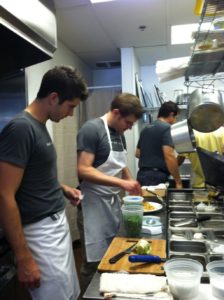 If you've been looking for a fresh Italian eatery and market here in Denver, then look no further than DiFranco's. This new 1,400-square-foot restaurant, located at 955 Lincoln St. in the old Deli Zone space at the Beauvallon, opened to the public on May 23 with a focus on using simple, seasonal and locally sourced ingredients.
"I've wanted to open my own restaurant since high school," says owner Ryan DiFranco. "I wouldn't say it was this exact concept, but I knew I wanted to be working with food. My father, who owned multiple souvenir stores in Niagara Falls, N.Y., and his own real estate company when I was growing up, taught me many useful business traits. So, business was first, and then the passion for food came from the whole family – mainly because we love to eat. But I can really thank my mom for cooking a meal for us every day and then passing on her love for cooking to me. There was an opportunity in the Italian food scene in Denver, so I jumped on it."
And jump, he did. DiFranco studied business in school, but he also worked in restaurants along the way. It was then that he realized he preferred restaurants to an office job. "After school, I became a manager-in-training at Hillstone Restaurant Group in Los Angeles," he says. "I continued to manage after training and then came to Denver to open Houston's in Cherry Creek. After spending more than two years at the company, I was anxious to start my own restaurant. I went to Italy for what I called a 'cultural immersion' where I learned the language, and ate and drank at every town I visited. I took a few culinary classes, but I really learned the most in the kitchen with my friend Giorgio and his mother, Patricia DiCarlo. Upon returning from Italy, I got a part-time job as a bartender that allowed me to turn this concept into fruition."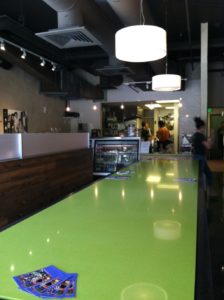 Breakfast offerings at DiFranco's include coffee paired with fresh Italian pastries (ranging from olive oil cakes, cookies and small panna cotta parfaits) and breakfast sandwiches (one selection each day that could be a fried prosciutto mozzarella and egg sandwich on ciabatta, or a crispy pancetta with egg and pesto spread sandwich). Meanwhile, the 12-item lunch menu features fresh pastas (including a locally made gluten-free pasta, additional pastas that include a chef's choice of the week, a fresh lasagna, a few seasonal salads, and three or four sandwiches).
During my visit, I tried the vodka penne pasta with prosciutto and grana padana cheese. The dish features local tomatoes from H2Organic Farms, cream from Morning Fresh Dairy Farm, prosciutto di Parma (DiFranco hopes to soon start working with Il Mondo Vecchio to cure his own prosciutto), basil from Osage Gardens, parsley from Grant Family Farms, and, of course, a little bit of vodka. Needless to say, the dish was very fresh and light – and bursting with flavor. DiFranco also offers the sauce for sale so you can make your own dish at home.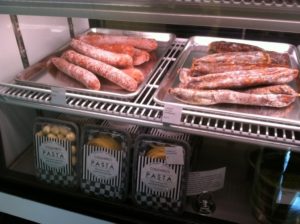 In addition, DiFranco's also offers a deli case filled with locally sourced fresh meats and cheeses. Examples include Windsor Dairy beef and lamb (when available), Il Mondo Vecchio cured salumi (hot coppa, sweet coppa and sopresate) and Margherita pepperoni (which DiFranco says he had to offer because it's that delicious and something his dad would be proud he carried). Cheese offerings include Windsor Dairy's nakhu, colona and McIntyre, which are aged raw-milk cheeses respectively similar to cheddar, Colby-Jack and Swiss. Eventually, DiFranco plans to also offer his own homemade ricotta and mozzarella cheeses. "I figured we wanted to expand our offerings beyond the menu," he says. "I felt that people could come in and get stuff they need for a party or for dinner in their own home while they are on their way out from lunch or on their way back from work."
The soft opening, which took place on May 21, included a 100-percent donation base going to Slow Food Denver in an effort to raise awareness of sourcing local and quality ingredients. "It was not only to support the local economy, but also to show the importance of fueling our own bodies with stuff that is good for us," DiFranco says. "I'd like to think that we are bringing some amazing Italian food to Denver. I can't wait to share it with the rest of the city." And, because the restaurant has free parking under the building, there's really no reason not to stop in.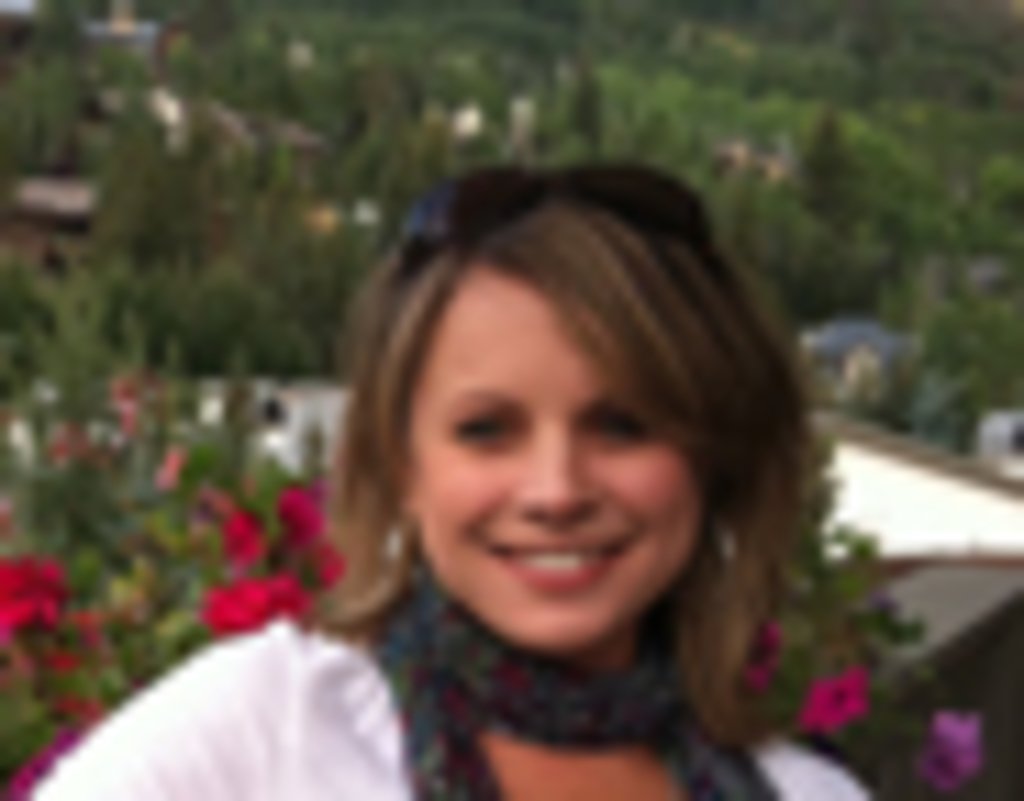 A true Sicilian herself, Misty Milioto knows a thing or two about Italian food. When she isn't covering fashion, she's most likely trying some of the best new restaurants in Denver.