Welcome to our brand new series, Hello Denver, My Name is… where we profile different people in Denver you probably don't know, but should. Get ready to meet painters, dancers, comedians, musicians, designers and just generally fascinating people that help make Denver awesome.
The most compelling style is often found at the point where pop culture and fashion collide — a fusion of ideas that can make the most avant-garde seem somehow familiar and approachable. Local designer, AldoElCreator's brand, DarkDenim, sits comfortably at that point where Supreme streetwear and Tim Burton movies meld to make visually stunning clothing. 
AldoElCreator scours thrift stores for discarded finds he can take apart and transform into something new, subversive and fashion forward.
"I always destroy stuff and then put it back together in a different way, so this jacket I made for this article is actually me. Edward Scissorhands is my favorite movie because he's just a weirdo and I've always been weird, even in high school. I ripped up a Winnie the Pooh shirt, added some 1920s article reprints and old-school horror films on fabric. I added a belt because no one really wears them so I will," he explained.
AldoElCreator's hand-painted, handsewn designs appeal to slow fashion supporters who look for upcycled items, sartorialists with daring style and even people who are simply attracted to rebellious messaging. 
Olivarez himself is a unique combination of traits. He is both enigmatic and charismatic at the same time, making him so fascinating he has a gravitational pull. Streetwear is a large piece of Denver's emerging fashion scene, and we're sure AldoElCreator will have an impressive seat at that table.
Denver, Meet Aldo.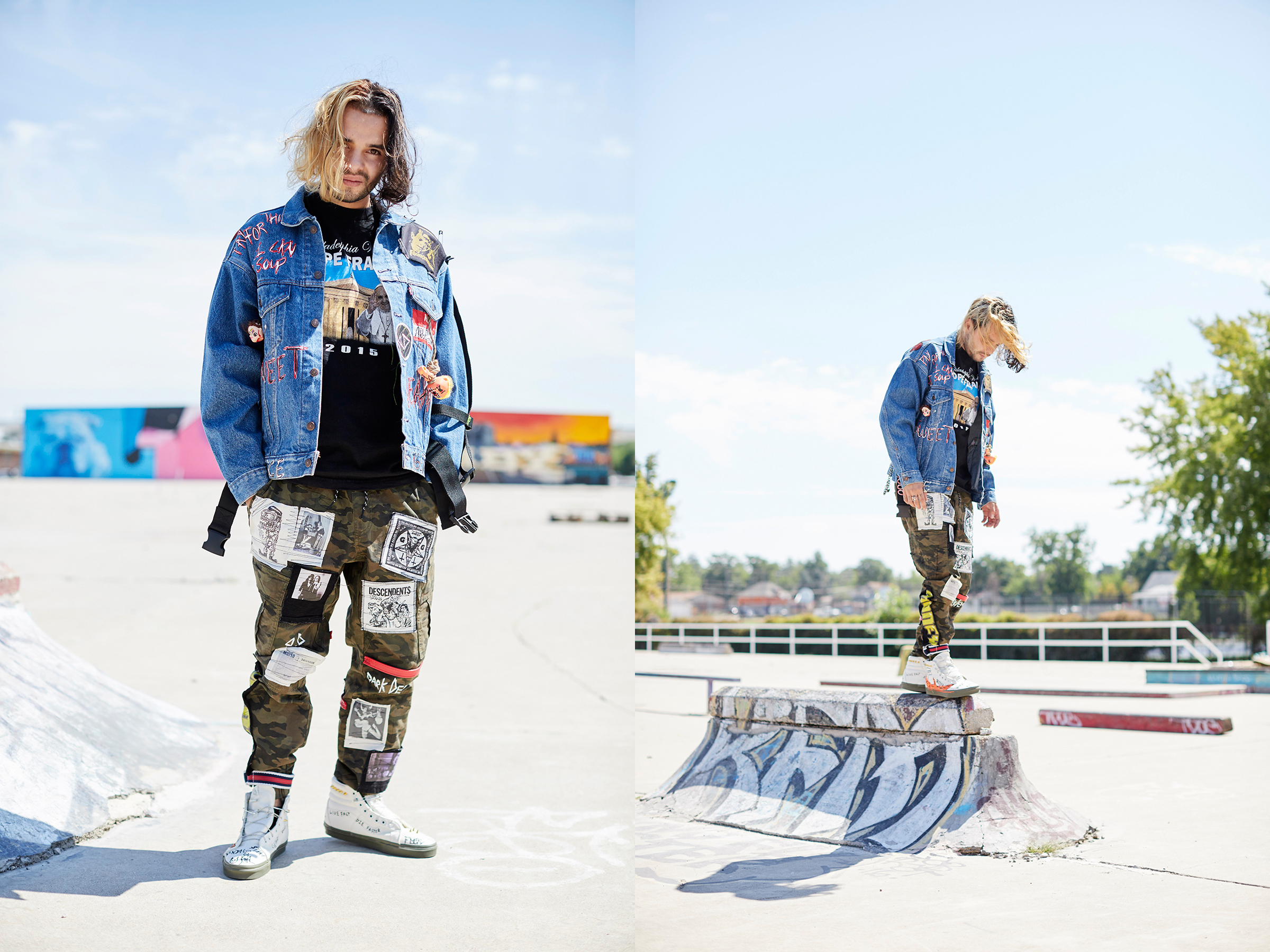 303 Magazine: Describe what you were like as a kid.
AldoElCreator: I was really serious and artistic. I liked creating and building things — I actually built my own bike out of parts from the trash when I was around seven or eight years old. My family didn't have much, so I was taught to work for what you want.
303: What did you want to be when you grew up?
A: I actually wanted to be a designer. When I was nine years old, my dream was to be Ralph Lauren.
303: What age did you start dressing yourself? What is the first outfit you put together?
A: When I was going to my first day of kindergarten, I picked out my own outfit. I picked a Harley Davidson t-shirt that was black with flames and a horse on the front. I also wore some black pants and a brand new pair of Nikes — all to impress a group of girls.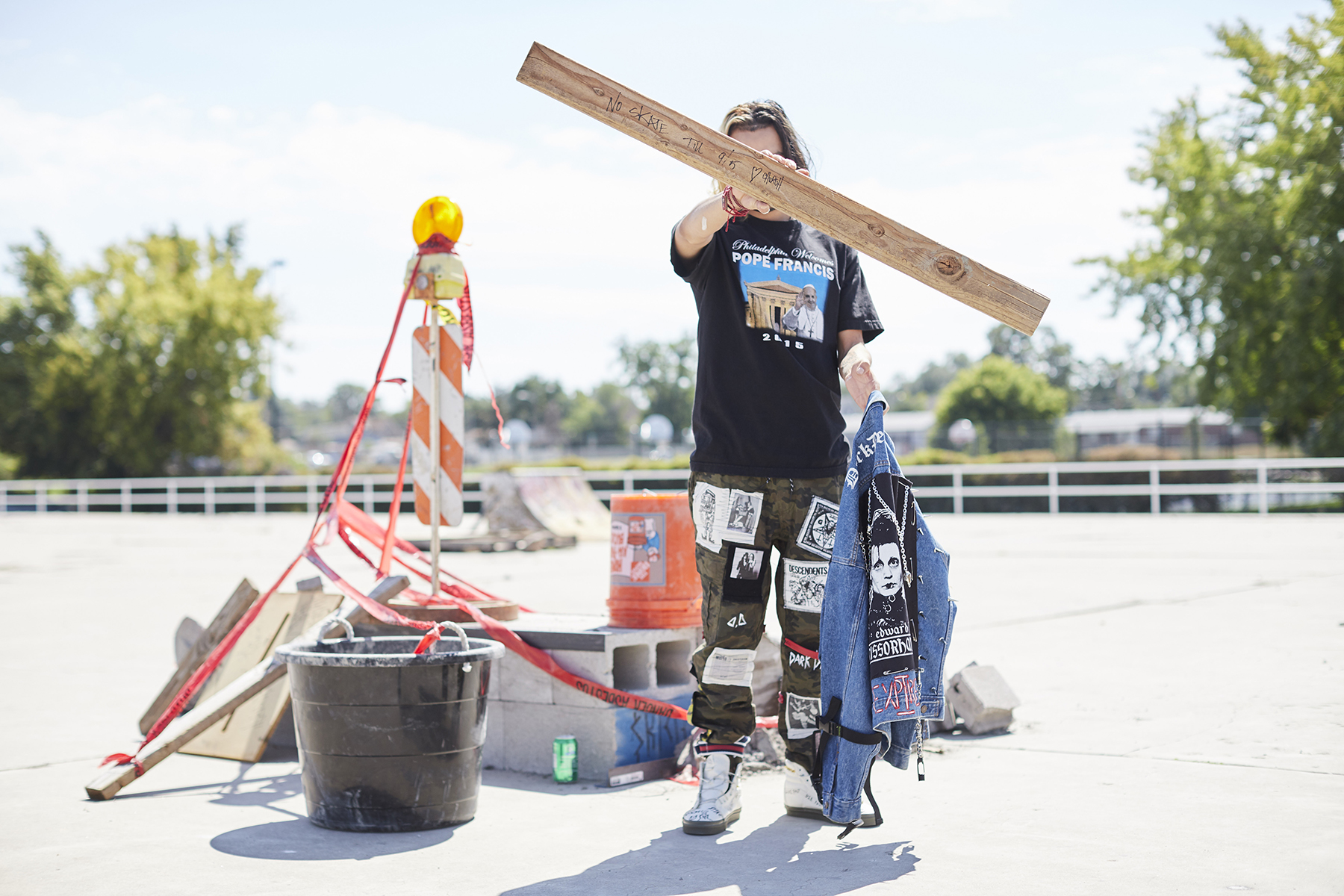 303: When did you become interested in fashion?
A: I became really interested in fashion and design in middle school. I really liked patterns and styling my outfits really nicely.
303: Describe the moment in your life when you first embraced your individuality.
A: When I was 16 years old, I thought I had a really close group of friends and it turned out that they were using me for money, my car, rides, etc. I learned that you could only truly rely on yourself. That's when I started investing my time in how I wanted to express myself.
303: Describe your style in a short phrase or motto.
A: Live fast, die faster.
303: If you were to write a fashion bible, what would be in it?
A: I would have six commandments but "muertements," which means like, death in Spanish" and they would be as follows:
1. Black only.
2. Keep it serious.
3. Express yourself to your full potential.
4. Don't hold back.
5. Use your surroundings and situations to innovate.
6. Keep it DarkDenim!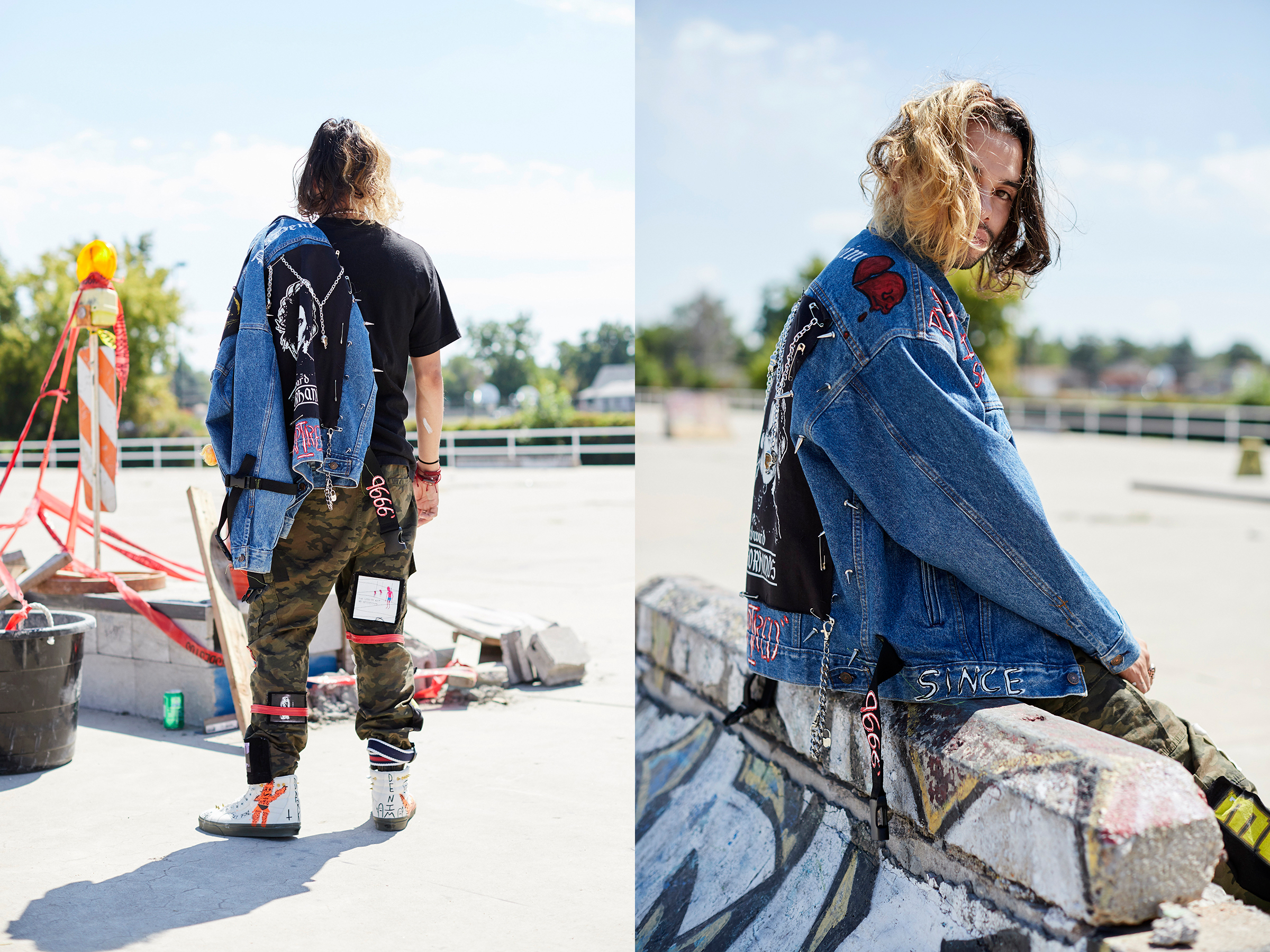 303: If you could only wear one outfit for the rest of your life, what would it be?
A: Black pope shirt, my Sunday money pants — aka anti-church — that I created, black Nikes, and my Edward Scissorhands jacket. 
303: If you were to create a crayon color, what color would you be and why?
A: It would be called "Shadow" and it would be blacker than black and would only let you draw creepy things.
303: Describe the relationship between art and fashion.
A: Art is trying to create something, and fashion is you wearing what you created. Fashion is like wearable art.

303: What can we expect from you in 2018?
A: A bunch of cool shit. I'll be traveling, doing different events, working on projects for artists in California, along with just growing and expanding DarkDenim on an international level.
303: This last question comes from our last interviewee, Ryan Wurst: If you had a perfect birthday party, what would it look like?
A: If I had the perfect birthday party it would be at a big outdoor venue with food, beer and live punk rock along with a car smash and a bunch of other local artists with their work.
All photography by Rebecca Grant, unless otherwise noted.