Thursday night's Denver Burger Battle took over the Tivoli Quad for three hours of feasting from some of Colorado's finest burger establishments. Seventeen competitors entered the ring hoping to prove that their take would prove to be the best. The burgers were judged both by popular vote and a panel of experts, the top three being crowned as the sun sunk behind the hazy mountain range. Everyone brought their A-game, with the real winners being the many enthusiasts who did their best to sample as many bites as they could muster. Craft beer and plentiful liquor helped to wash it all down, further fueling the debauchery.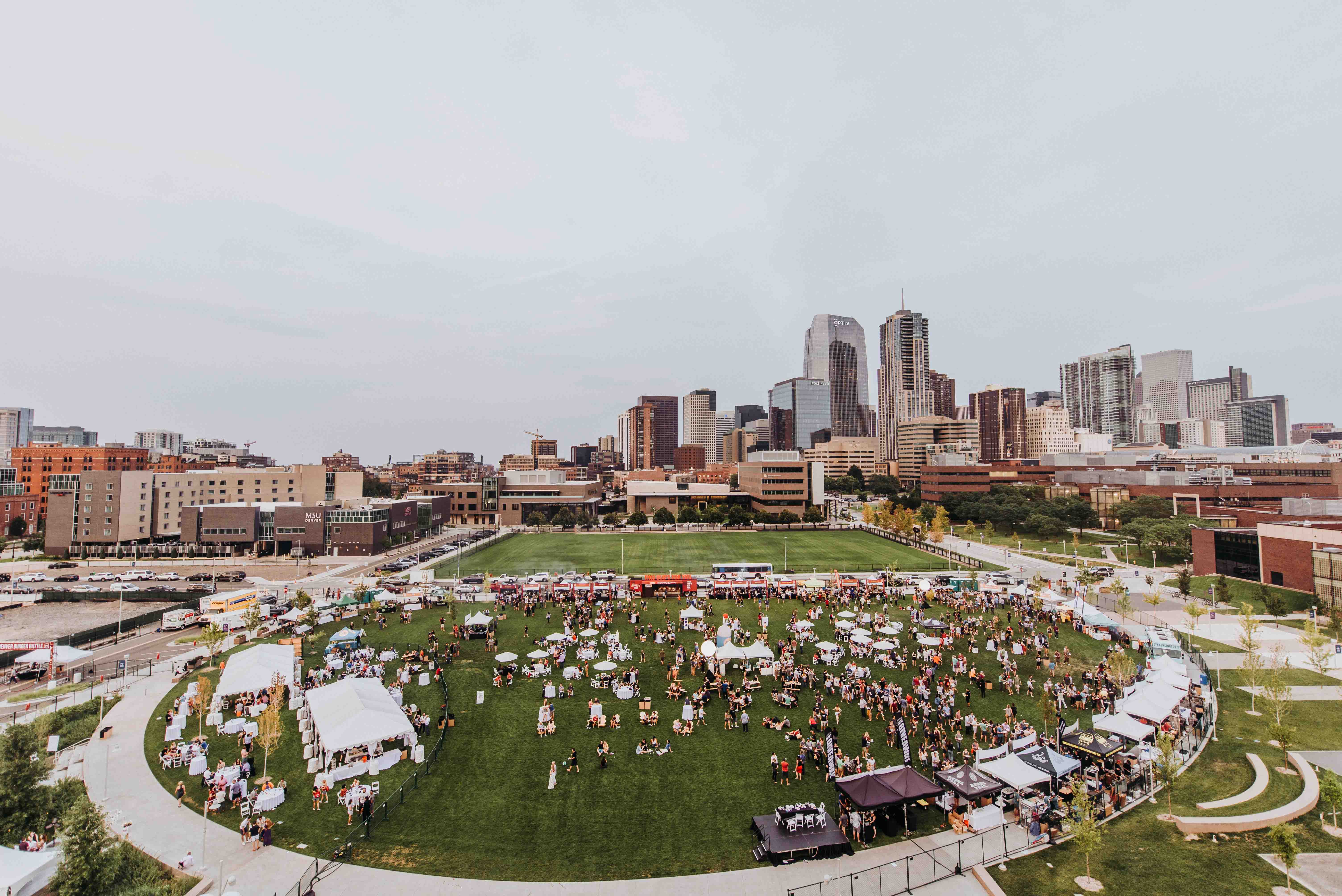 Most of the lineup was from Denver, but people came from as far as Carbondale and Telluride to represent their craft. Carbondale's Fat Belly brought extraordinary beef from their own farm in the San Luis Valley. In addition to their restaurant, they also wholesale the free-range meat to Whole Foods. Highland Tap and Burger, Old Major, Crave, The Cherry Cricket, Stoic and Genuine, 5280 Burger and others all set up booths surrounding the quad, allowing people to meander through sampling whatever was most tantalizing. Many people tried their best to try everything, but with each spot giving away sliders, quarters and even half burgers, the task at hand was daunting.
Some spots brought more classic burgers focusing mostly on the quality and preparation of the meat, while others brought innovative toppings that were wholly original. Highland Tap and Burger's relleno burger was a beef patty, a truffled crab and cream cheese relleno, heirloom tomato hollandaise and crunchy onions. The beast was both decadent and spicy, the peppers being perfectly in season for a strong kick. Everyone had a difficult time choosing where to drop their voting token, not a single entry was less than stellar.
This slideshow requires JavaScript.
Additionally, two clear geniuses decided to host their wedding at the event. Noah Slauson and Sean Precious held the ceremony before the main event and had a private section devoted to them and the wedding party situated behind the VIP area. The two burger lovers did away with having to worry about catering and a band and were able to enjoy an event they've been devoted to for years. The two grooms were clearly on cloud nine, roaming the grounds in elegant gray tuxedos. The two did it right, offsetting much of the stress that can come with a standard wedding. While some people were clad head to toe in burger-themed garb, the wedding party stood out in their well-tailored formal wear.
At 8:30 p.m. most of the stands had run out of burgers and it was time to crown the winners. The judges crowned Park Burger in second place with Stanley Beer Hall taking the gold. The people thought differently, voting 5280 in third, Crave in second and Hearth and Dram in first. The competition was good-natured and though the winners left with gaudy burger-shaped trophies, everyone involved surely felt a great deal of pride in what they brought to the table. The event was clearly a great success as many of those in attendance waddled towards their rides, having fully embraced a real feast.
All photography by Alden Bonecutter.
This slideshow requires JavaScript.