–
The Denver Museum of Nature and Science (DMNS) always wants to encourage exploration and now that goal has landed them a virtual reality arcade. The new arcade — which is only considered a "pop-up" at the moment — will give visitors a chance to immerse themselves in 10 different experiences that ultimately relate to the other topics covered in the museum in some way. The only requirement is putting on a headset and holding a pair of controllers.
Though entrance to the arcade requires a separate ticket from the rest of the exhibits, the DMNS believes that these new technological additions will only heighten anyone's enjoyment of the rest of the museum. And let's be honest — anything that can be learned with an interactive game is going to be retained a little better, even if some of us have an odd affinity for those life-size dioramas.
"We tested a VR experience for the past year that was very popular with our guests, so we are expanding the VR offerings," said George Sparks, president and CEO of DMNS in a prepared statement. "We hope this will surprise and delight our guests and inspire them to enjoy exploring wherever their curiosity leads."
–
–
The 10 games available to try are Google Earth VR, Beat Saber, V-Racer Hoverbike, Mars Odyssey, Plank Not Included, Eagle Flight, Job Simulator, Eleven: Table Tennis, Sea of Memories and Glider Island. To try one of the games, visitors will either use one of the six individual VR bays or form a team of four for the only group-oriented activity. Since the arcade only opened to the public on Monday, July 9 we can't say for sure what each game is like but we can say that virtual reality is an experience that is adventurous yet safe, fun yet informative and a perfect topping to the educational cake that is the DMNS.
Fittingly, the new arcade is located on the first floor near the Space Odyssey exhibition. Tickets are only sold on-site until further notice.
For more information, visit the DMNS website, here. 
The virtual reality arcade opened on Monday, July 9 and will be open every day from 10 a.m. to 5 p.m. at 2001 Colorado Boulevard.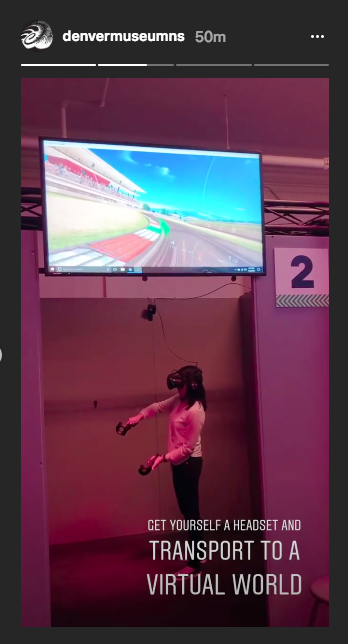 –