Local outfit Moon Magnet is hard to pin down. All at once a label, a house, a studio, an audiovisual collective and a group of like-minded friends and artists — the group approaches psychedelic-pop with a distinct air that is multifarious, infectious and delightful. On their fourth compilation the diverse sound is in full bloom, and despite the range of constituents, there is an uncommon unity. We spoke with co-founder Reed Fox about the group's history, the many moving parts and how they are all coming together at UMS.
303 Magazine: Can you tell me a little about Moon Magnet?
Reed Fox: I founded Moon Magnet with Megan Crooks, Anna Smith, Neil Lyons, Derrick Bozich and Cody Coffey from Ancient Elk in 2013. The dream always was to start a studio, record label and licensing company. After putting a ton of thought behind it we launched all of them at the same time. Moon Magnet is also the name of our house and artist collective. The label was a way to release our friends' and roommates' records and this compilation will be our 17th release. At the studio, I've recorded 36 albums or EP's and most of them have links for Spotify streaming on our site. Neil and I run the licensing side of it together and the Moon Magnet library now has 1,000 songs by artists from all over the world and most of them are local.
303: What's the group's audiovisual component all about?
RF: Jacqueline Sophia Cordova, Derrick Bozich and Kevin Netz are visionary graphic designers and have made most of the album art and show posters for Moon Magnet events. We've filmed quite a few music videos that you can find on MMTV (our YouTube channel). My roommate Jay Maike from King Eddie helps run DenVR. Moon Magnet's teamed up to throw a slew of events with them over the past year. We've also shot two seasons of a surreality television show that casts our friends as superheroes. It's called Cosmic Pineapple and the first season premieres at Alamo Drafthouse in October. The Moon Magnet Residency has been a fun way to book our favorite bands, meet new people and throw the strangest happenings imaginable over the past five years. It's at Alamo Drafthouse now — [it] used to be at Syntax and the residency began at Meadowlark. The Alamo shows are free and we get to pair bands with a movie of their choice. Moon Magnet is really all about creating memorable experiences and bringing people together. Oysters speak louder than words. Or…. I mean, livin' la vida luna!
303: What's your background? How long have you been playing?
RF: déCollage has been going for nine years now! It's our sixth or seventh UMS. We just released "Womb of the Dawn", the first song off our upcoming album. We've received seven remixes of it so far and one of them is on the comp. It's by Chris Kimmel (Slex Allen) from OptycNerd. What I'm really excited about at the moment is my new house/dance project under my name, Reed Fox. I've been DJing almost every weekend and finally got into making music that's danceable enough to spin. It's been an obsession and this is the first single, a half dozen more are set to release over the next few months! I'm psyched to have 303 Magazine premiere the first one: Heat Dish featuring Megan Crooks, Yonbre and Jeremy Averitt. It was super collaborative and Megan wrote and recorded all the vocals in three hours! She really is the best. Motion Trap just texted me a demo of their remix and it's totally mind-blowing.
303: Why the cassettes? In the digital age, what's your impetus?
RF: Through a crazy string of events we ended up getting a cassette label to pick up "Womb of the Dawn," the déCollage single, so I started brainstorming and dreaming about how cool it would be to not only release the single but release Moon Magnet Comp Vol. 4 on tape before the UMS. My roommates and other Moon Magneteers gathered up our favorite recent releases and put together 20 songs that are coming out on Spotify/iTunes July 27, the first day of UMS. The compilation is getting printed on 600 tapes that are coming out through Custom Made Records. They're pretty legendary and have been distributing tapes around the globe since 1992.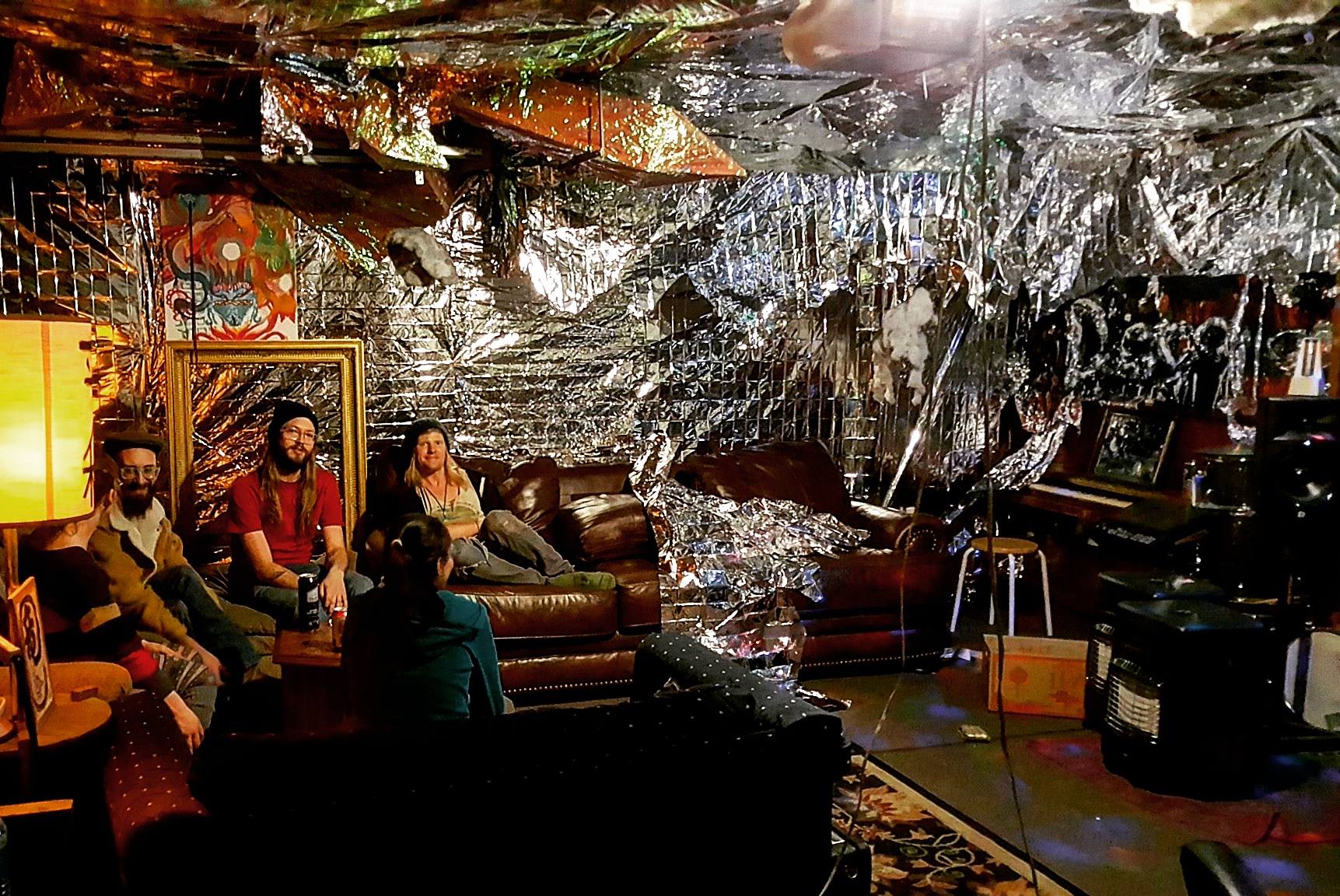 303: Who did the cover art? It's amazing.
RF: Isn't it breathtaking!? It's hard to take your eyes off of it. Ancient.Future is the multidimensional expression of Jacqueline Sophia Cordova. Each piece is a channeled vision and her work spans many mediums. She is an artist, designer, lightworker, theorist and muse. It usually surprises people that her collages aren't digital. She cuts out pages from magazines or prints out original artwork and most of them have fearless multimedia elements. Once you realize that her collages aren't digital, the symmetry really starts to boggle your mind. If you haven't seen her Instagram yet, buckle up!
303: Is everyone on the label Denver based?
RF: Most are. We're pretty selective about label releases and the majority of the albums have been recorded at Moon Magnet or written by a roommate. The main rule of thumb is that power chords aren't allowed. This compilation features Retrofette, Rubedo, Dandu, King Eddie, King Eddie, members of Esmé Patterson (Jeremy Averitt), Ancient Elk (Megan Crooks and Ryan Schlichtman (Space Jail)), Sound of Ceres / Candy Claws (Derrick Bozic) and OptycNerd's new side project Slex Allen. It also includes Reptilianaire (Mason Rothschild), who's the art director for Desert Daze and bassist for JJUUJJUU and Fever the Ghost. Mason's friend Tyler Parkford is featured on his track and Tyler's in Mini Mansions and Arctic Monkeys. There's also a song by DGTLTMPL which is the side project of Coleman Trapp from the band Coast Modern who déCollage toured with this Spring.
The Moon Magnet Compilation Vol. 4 will be available digitally Friday, July 27 with the cassette release to be available at their UMS party at The Irish Rover from 12 – 4 p.m. on Saturday, July 28. Preorder available here.
All photography courtesy of Reed Fox.