–
Imagine the Ogden turning into a mini house music festival — complete with a uniquely fabricated stage set, lasers shooting in every direction, a crowd dressed in costumes and a lineup of DJs that each bring their own personality — that was Desert Hearts on Friday night. Desert Hearts, a DJ and artsy collective started in 2012, has quickly become one of house music's most beloved acts, especially on the West Coast.
The core members and founders are Mikey Lion, Lee Reynolds, Porky, Marbs — all of whom performed on Friday (with the exception of Marbs). Self-described as "part boutique festival, part record label, and part globetrotting party brigade," Desert Hearts always hopes for their fans to fall in love with them — and when the DJs reciprocate that love like they did on Friday, the shared chemistry catalyzes an elevated music experience that is hard to top.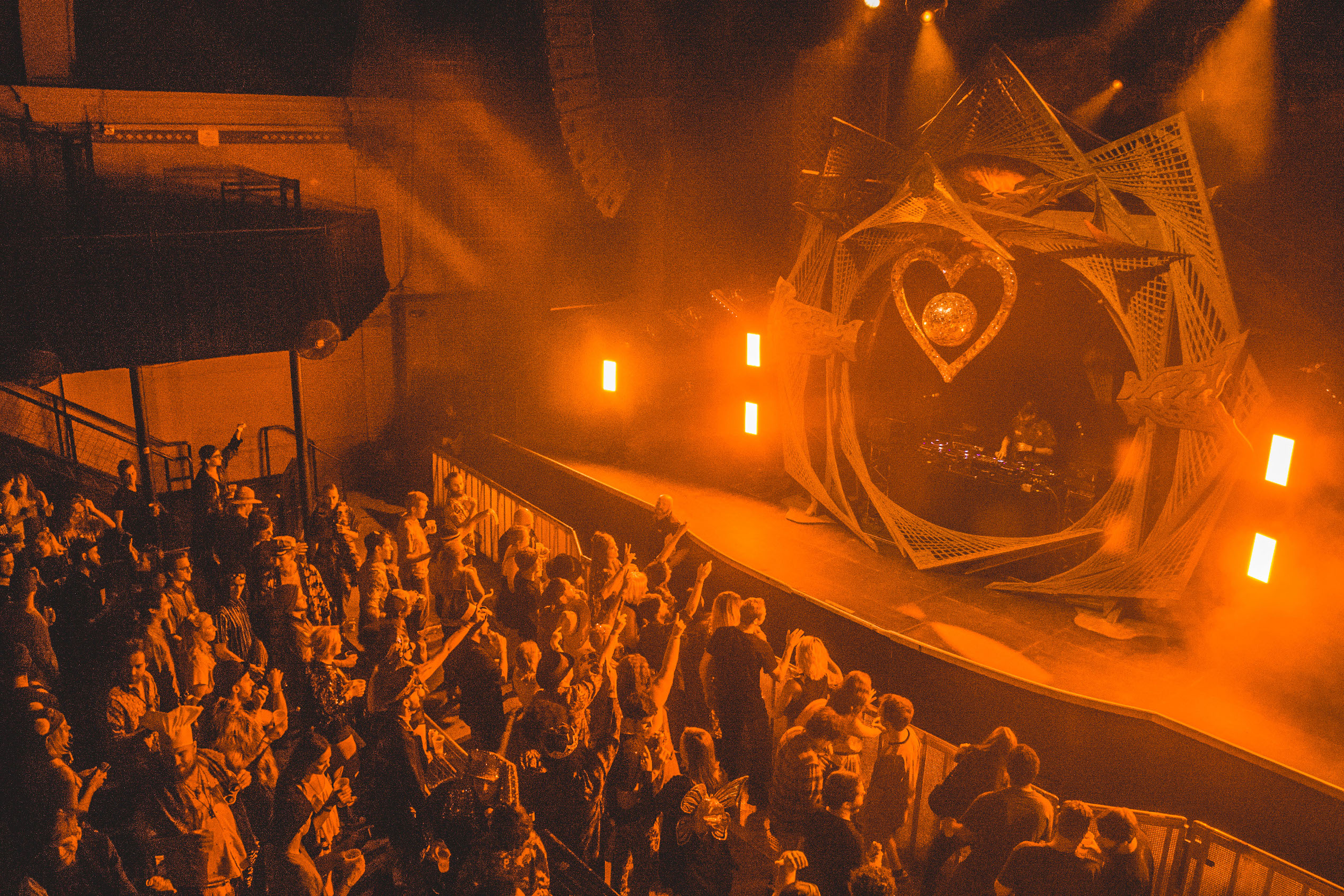 In line with Desert Hearts' ethos, their show enveloped their Denver fans in an intimate — and bumping — musical embrace. Unfortunately, Marbs could not make it due to flight cancellations and so the show started with a step-in DJ friend Andy Immerman (an easy thing to find in the intimate underground scene) who pumped up the sparse crowd until 10 p.m. when Porkchop took the stage. It's safe to say that most house concerts run on a later schedule, with headliners often taking the stage close to or after midnight. And though the crowd followed that timeline — with the majority arriving after 11:30 — Porky delivered a whimsical set that was worth arriving early for.
With syncopated backbeats and heavy-hitting bass, Porky mixed his way into a techno-lovers jungle. At times thunderous and deep, at others nimble and frantic, his set could have provided the soundtrack to a truly epic adventure (that we imagine would take place somewhere in the Amazon). It felt like each transition offered a new view of the forest — from the undergrowth to the flittering canopy — and every time the view changed, he teased us with moments of uncertainty. But there were no regrets, no missteps and his energy provided a fitting guide for the crowd to follow into the rest of the night — like a shaman introducing us to Desert Hearts' exotic island of house music.
One of the characteristics that differentiate each DJ within Desert Hearts is the light design that accompanies their style of mixing. For Porky, lasers that were synchronized with some of his samples flashed over the crowd, changing from separated lines to elongated triangles. Even the color choice of the lasers matched his music — flaring from radiant (but still natural) oranges, reds, greens to bright, unexpected and solitary blues — it was the palette of a jungle.
Throughout Porky's set, Reynolds flitted around the stage, occasionally taking over for Porky or interacting with the audience. At one point, Reynolds crouched down and spoke to members of the audience standing in the front row, even taking a few necklaces (of the Desert Hearts symbol) from one particularly excited fan. This camaraderie Reynolds displayed is quintessential to Desert Hearts — since the group is currently straddling the line between underground and mainstream — and it strengthened the bond for both the performers and the fans that night.
The musical-chair DJ situation between Porky and Reynolds produced a darker atmosphere where gut-wrenching bass and highly distorted transitions reigned until Reynolds officially took over from Porky right around midnight. The ambiance then changed again from mysterious adventure to heavy-hitting party. The lights followed suit, using neon and primary tones in faster sweeps across the venue as Reynolds sped up the beat. Where Porky led the audience, Reynolds commanded us. Much like a puppeteer, he managed to entice movement from even the most stoic of onlookers, aided by his favoritism of a constant tempo and persistent rhythm.
When Lion took the stage at around 12:30 a.m., it was to a full house that was more than eager to let him take over. Working in layers of staggered (but complementary) beats, Lion ardently mixed a set that felt like a love letter to his fans — with just enough sexiness sprinkled in. There's something persuasive and toxically alluring about Lion's style of DJing — as if his beats are candy that is easily devoured and undeniably addictive.  
To accentuate Lion's set, the lasers looked like a game of pick-up sticks above us, with samples of every color strewn haphazardly across each other in a tangled matrix. If that sounds lavish and indulgent, it was. And Lion has the respect and admiration to pull that kind of display off because when he decides to throw a party, he makes sure it's going to be one to remember.
But, to top off an already impassioned evening, Lion showed his true love for his fans by continuing to play several songs after his scheduled end time, eventually cutting it off a little after 2 a.m. As if to prove both the crowd's and Desert Hearts' devotion, the last Instagram story of the evening featured Lion in front of a still packed Ogden with a shrugging emoji and a caption reading, "we're getting fined for this."
All photography courtesy of Andy Immerman.