Denver couldn't have asked for a better way to end the 2018 Denver PrideFest than with a visit from LGBTQ advocates and allies Kesha and Macklemore. Both acts turned the Pepsi Center into a house of love, partying, acceptance and equality as they came through on the rainy Sunday night of June 18.
Kesha walked on stage and didn't give a fuck. Although that may read weird on paper, it's the truth. Kesha walked out to a screaming Denver crowd with confidence felt throughout the whole arena. Right out of the gates, Kesha took the time to embrace and lovingly call out all of her LGBTQ fans and friends before giving a big shout out to Pride. Her advocacy resonated in Denver as her words hit the ears of everyone there.
Kesha treated her performance as if she was a kid on a playground having the time of her life. If you're not a die-hard Kesha fan, you probably know her older music to be heavy pop-oriented dance songs. She didn't give us the over-produced studio quality songs, no — she added a live band and reclaimed her sound. What once was a pop version of "We R Who We R" became almost a rock rendition of the song as the distortion of an electric guitar filled the room. Kesha's set hit every area of her nearly decade-long career as she transformed older songs like "TiK ToK" and "Die Young" into heavy hitting pop-rock songs. Oh, and by the way — Kesha can rap like a motherfucker. When it came time for her to play "Timber" she pulled off Pitbull's rap verse better than he did.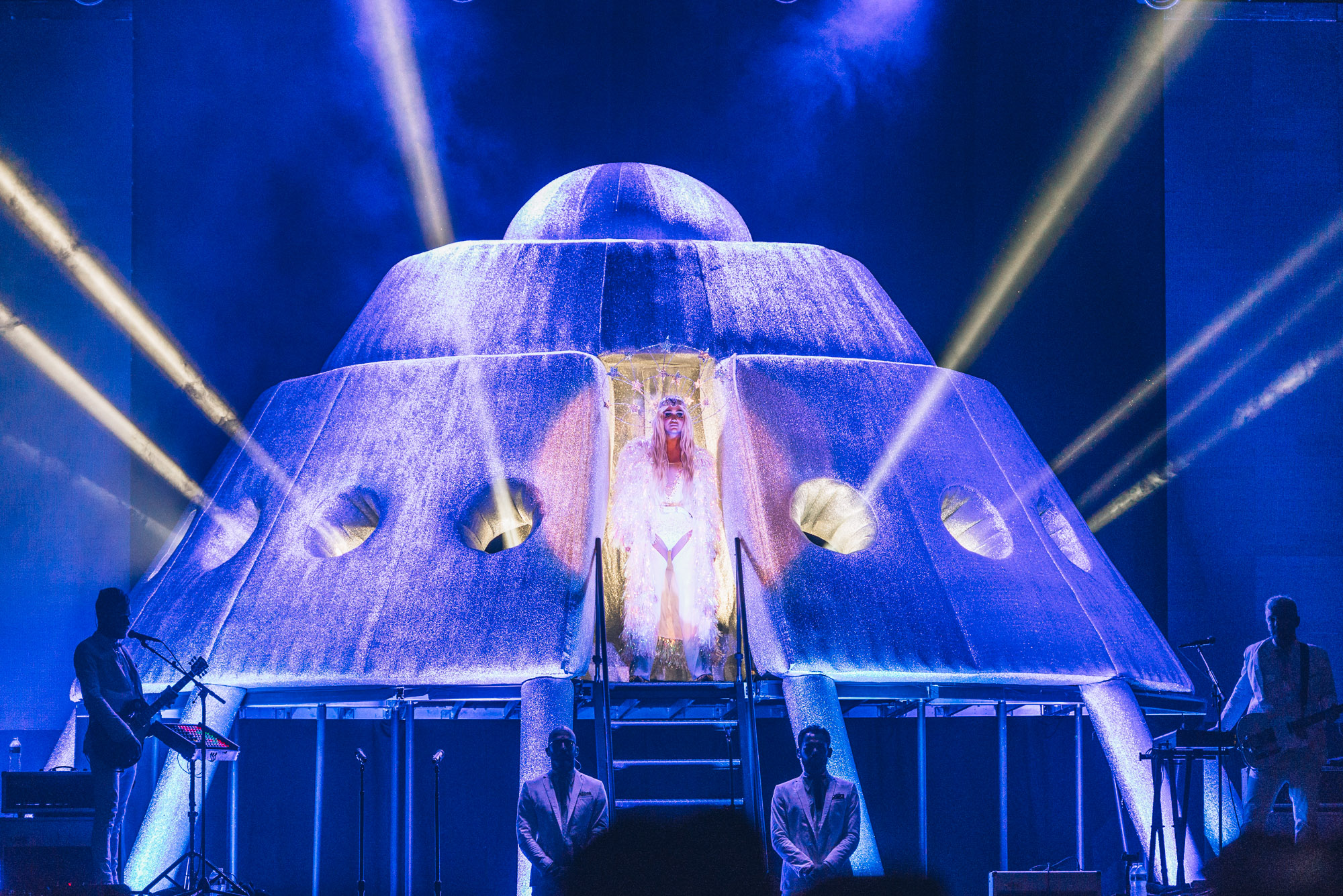 Behind Kesha and her ensemble stood a spaceship which the singer-songwriter would come in and out of throughout her set. This silver extraterrestrial stage prop was a reference to the artwork of her highly anticipated 2017 release of Rainbow. It was hard not to pay attention to the two male back up dancers accompanying Kesha on stage. From their energetic and in-sync dance moves to the fact that they never stopped smiling — they deserved every bit of attention they received. When Kesha spoke to her Denver fans, she spoke as if she was reconnecting with old friends. She wasn't nervous or scared, but instead, she seemed full of life with a sparkling personality (and outfit).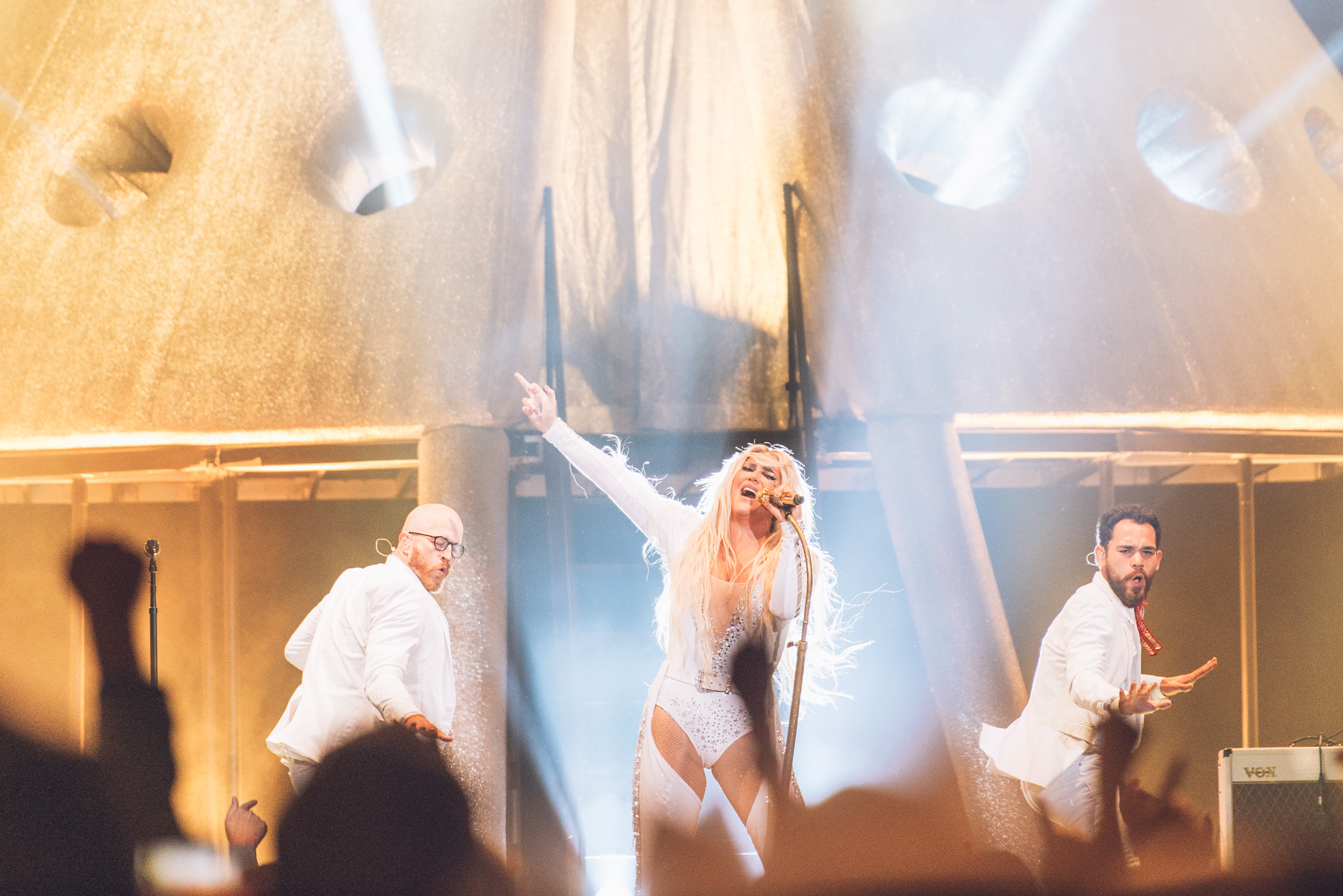 As soon as Kesha's spaceship took off from the stage (although not literally), a new, more tropical set design appeared on the Pepsi Center floor. What looked like a full island-style setup, complete with palm trees, a picnic table and patio lights, consumed the stage as the word "GEMINI" appeared on the two big screens hanging from both sides of the arena. The lights cut out, the screams came in full force and Macklemore's band charged the stage. Out of nowhere, singer Eric Nally jumped into the middle of the stage and began belting his powerful intro to Macklemore's "Ain't Gonna Die Tonight." Macklemore strutted out on stage, dressed classy as ever in some slick black slacks, nice shoes, a fresh black suede jacket and a white shirt. It was clear that Macklemore's agenda was to party with Denver and take us on an adventure.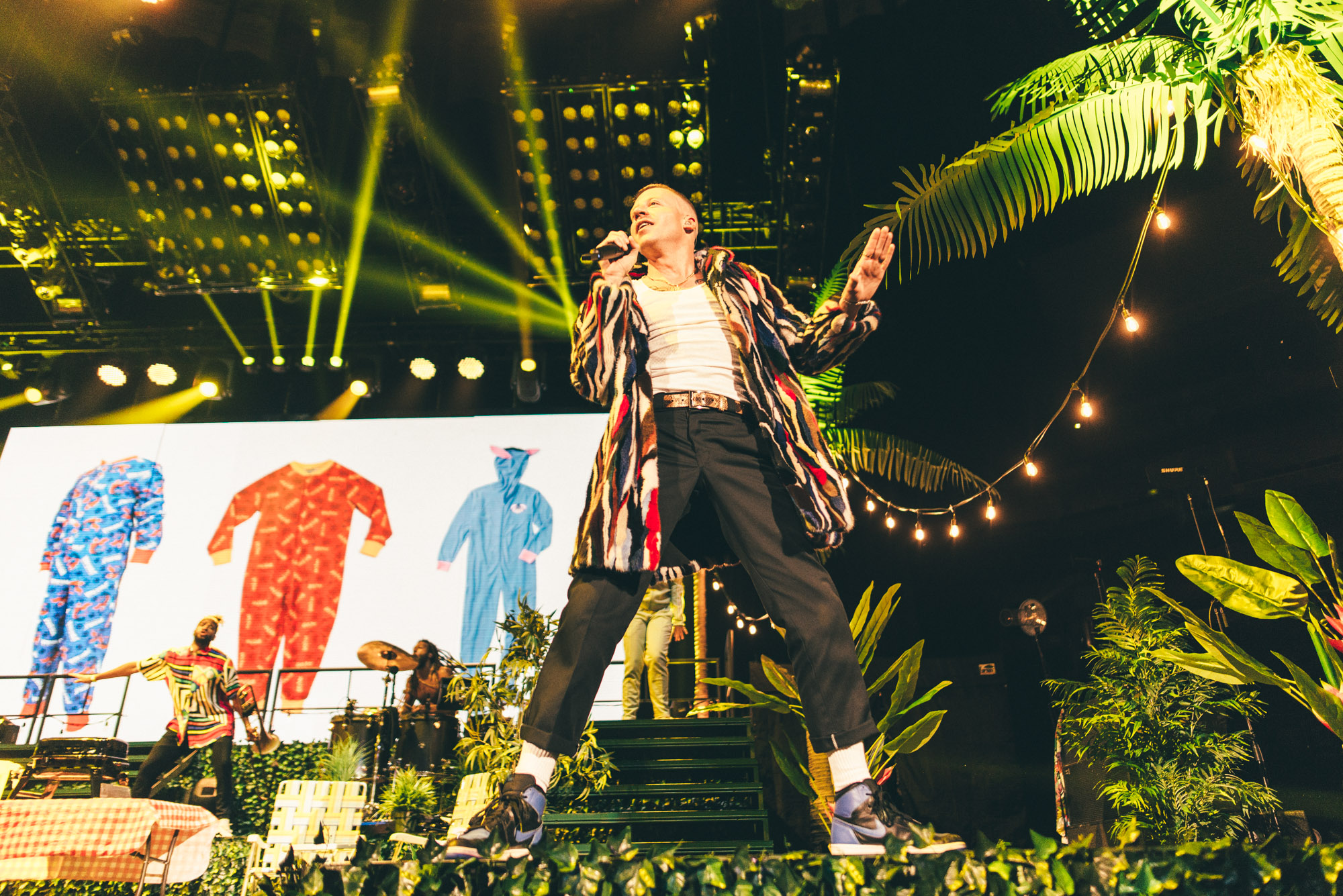 Hailing from Seattle, Macklemore has a close relationship with the Mile High City and the state of Colorado. The rapper told the Denver audience how Colorado was the first state that he ever came to when he left Seattle to tour on his music. Colorado holds a special place in the rapper's heart, and he certainly seemed to keep a special place in ours.
Macklemore's Denver performance was anything but generic. The whole set felt fresh from start to finish. In 2012, Macklemore & Ryan Lewis released their smash hit "Thrift Shop" which soared in popularity and topped the charts. Macklemore has performed that song countless times over the last six years, which might seem like it would get old to him. That was not the case at all. Macklemore busted out "Thrift Shop" as his second song and performed it like it was a new track he was showing Denver for the first time. Macklemore also took the time to embrace all of his LGBTQ fans as well as he monologued into his powerful hit, "Same Love."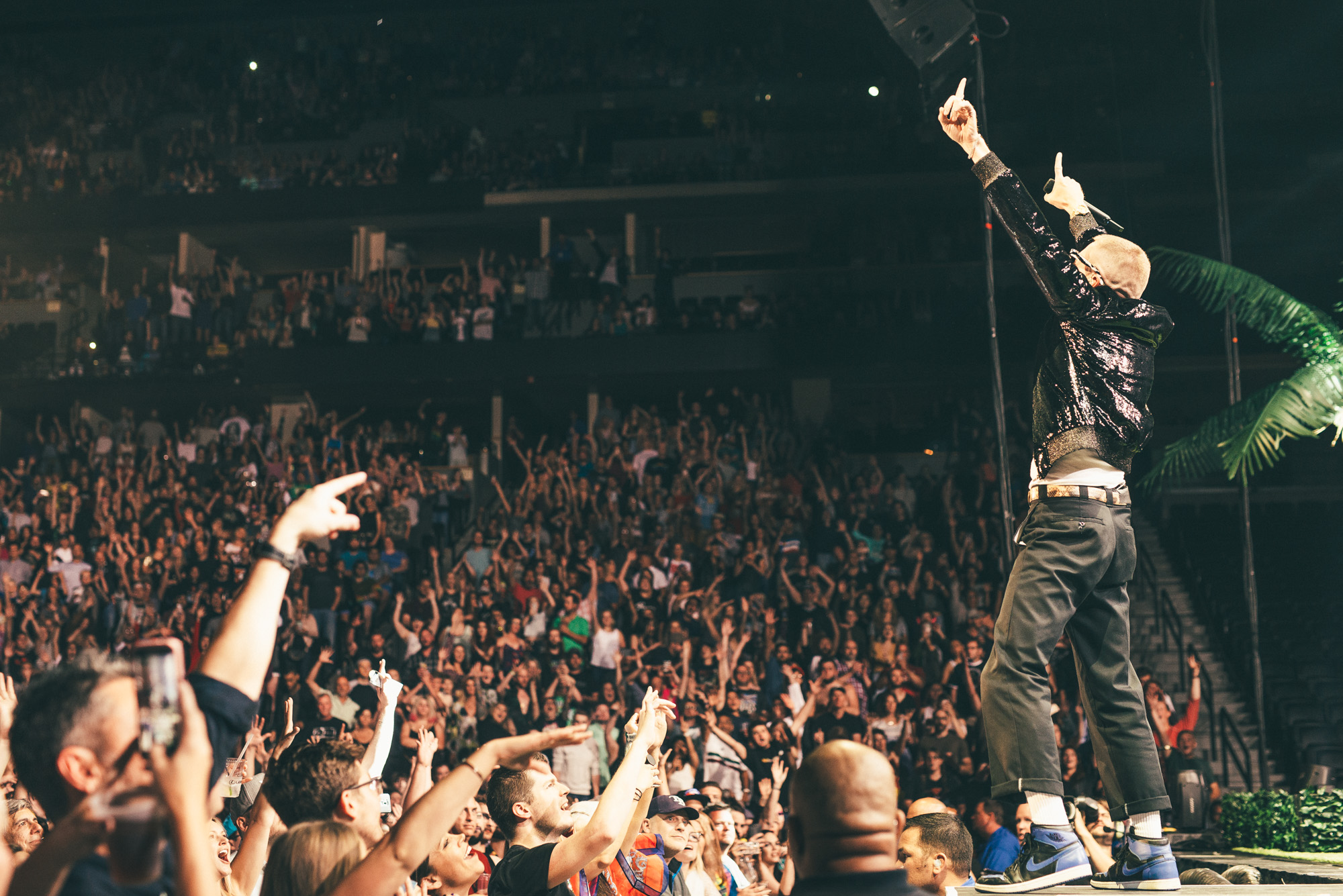 Macklemore is a diverse rapper. On one side of his spectrum, he raps almost as if he is a spoken word poet while on the other side, he can spit and chop like nobody's business. Macklemore's performances of "Otherside" and "Willy Wonka" demonstrated both sides of this talent spectrum respectively and Denver couldn't get enough of it.
It's one thing for an artist to interact with a crowd during a set, and it's another thing to chuck hotdogs across the arena or upgrade two fans with "golden tickets" so they can sit on stage and watch the performance from Macklemore's perspective or even bring two fans on stage to have an actual dance off while the rapper performed "Dance Off." All of these events happened during the set which kept the 10,000 fans engaged, entertained and heavily involved throughout the set. As Macklemore wrapped up his set, he brought out Kesha to perform their collaborative hit "Good Old Days" before Macklemore's encore. Macklemore sent his Denver fan base off with the rewarding accolade of being the best stop of the tour so far and a final performance of "Glorious" which was a perfect way to end a rainy night of adventure.