Last night, there was rain. There was howling at the moon. There were ballgowns and plastic ponchos. There were special guests galore. It was Elephant Revival's grand finale at Red Rocks, and they bid us a fond farewell in classic Elephant Revival style.
There was even cake, for it was Bonnie Paine's birthday. It was also Joe Cocker's birthday, so there were covers — "A Little Help From My Friends" spawned an all-out audience scream-along and literal tears of joy from many, who were aptly prepared for precipitation anyway. "Have A Cigar" by Pink Floyd was drippy and psychedelic, proving Elephant Revival's vast range of raw, genre-busting talent.
Each microphone stand was adorned with floral bouquets, adding some whimsy to the stage and complementing both Bridget Law and Bonnie Paine's stunning evening attire. Law glided out onto the stage like a mermaid emerging from an opulent clamshell (picture that scene in the beginning of The Little Mermaid when Ariel's sisters sing that "Daughters of Titan" song). Paine could've just walked down the aisle in her gown, but instead of reciting vows, she treated us to three straight hours of silvery tonal perfection. The men of Elephant Revival looked pretty sharp, themselves, but let's be real — part of the seductive appeal of the band has always come from Paine and Law and their robust femininity, their beauty and grace, their siren song luring us in, irresistible.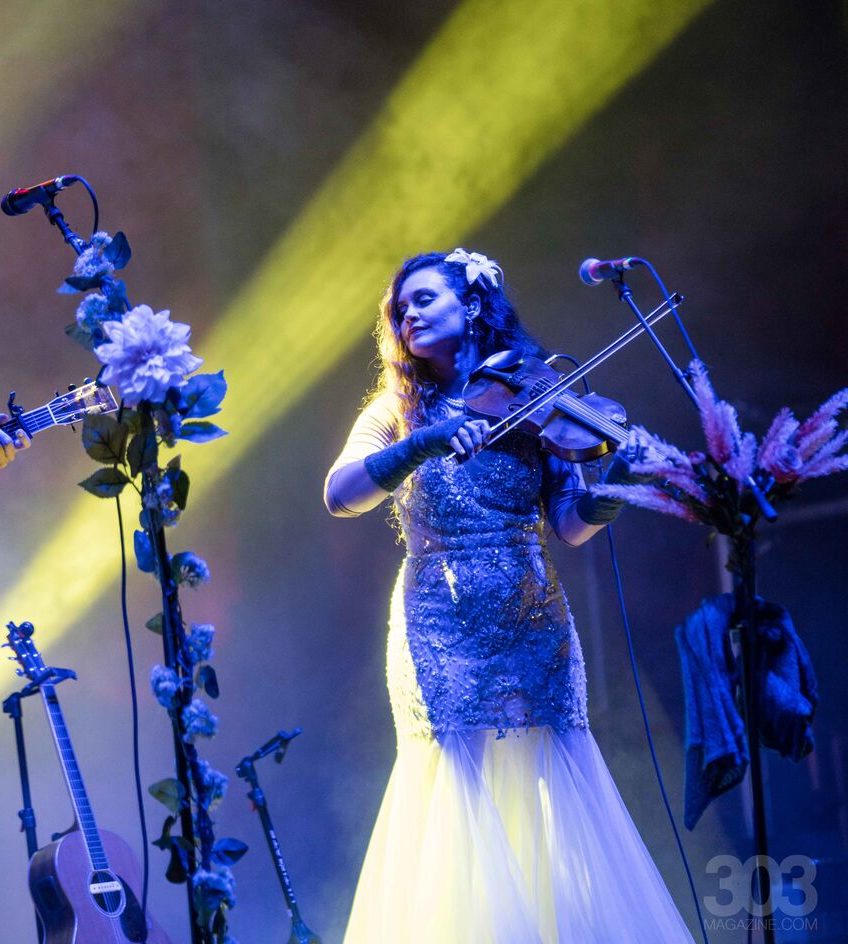 The magnificent way that Paine's voice dips and dives is always enthralling. She plays with her voice like it's a pressurized instrument. Her cool, rich signature sound makes careful use of dramatic timing and pauses, utilizing negative space to enunciate each lyric and note, leaving listeners hanging on every syllable.
Elephant Revival played for three straight hours. They played every song you wanted to hear and then some. Sage Cook — one of Elephant Revival's founding members who had left in 2015 to form his own trio, We Dream Dawn — joined them onstage for the latter half of the show. So did members of Fruition. And Bonnie's sister. Enion Pelta-Tiller, an old time friend and collaborator of the band, played fiddle alongside Law for nearly the entire show. The Wild Heart Dancers took the stage during an orchestral piece composed by Pelta-Tiller, adding some theatrical flair. Someone joked that maybe they'd start an "Elephant Collective." Law made the point that, although Elephant Revival was going separate ways, they were just "expanding their web," branching out personally and creatively. They're growing and hope we will continue to grow with them.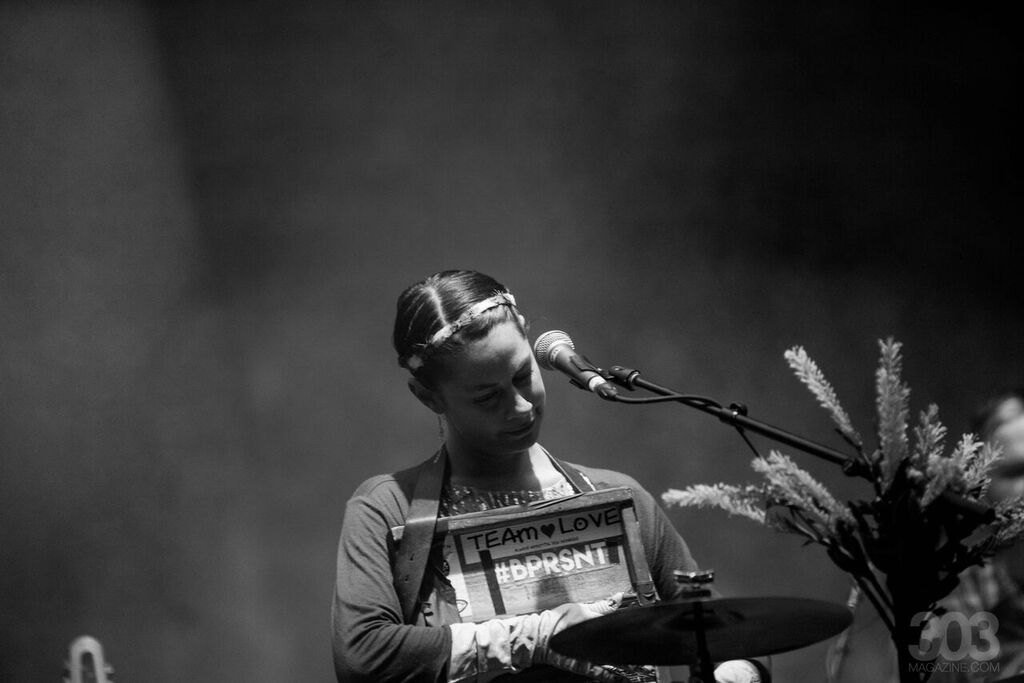 For over ten years, Elephant Revival shared their music with adoring audiences throughout Colorado and across the country. Their special style of Americana-folk music artfully fuses elements of gypsy tunes and Celtic rhythms, creating something truly original in the process. But what makes their music especially unique is that each track manages to reflect some glimmer of homegrown Colorado soul. Elephant Revival's songs read like love letters to our state, praising the mighty mountains and rivers that make it so majestic and respecting our inherent connection to that land.
The grand finale of the grand finale — the bold and italicized exclamation point to punctuate a show that went on for three straight hours — was yet one more mind-blowing rendition of "Rogue River," which sent the crowd (which had thinned out a bit towards the end of this school night concert) into a real tizzy, with ample room to tizzy about. "Rogue River" never fails to silence the crowd with its acoustic nature, making use of just a djembe, washboard and harmonized vocals. The song's transcendental essence consistently leaves the audience reeling and buzzing, and last night was no different — except that, perhaps, it'll be the last time we hear it played live for a long, long time.
This slideshow requires JavaScript.