Wednesday night's forecast called for a 100 percent chance of rain — and through the duration of the Post Malone concert at Red Rocks Amphitheatre it didn't rain a drop unless you consider the bangers that Malone showered upon the audience — in that case, we were all soaked.
The Texas-hailing rapper put on a diverse performance but the night didn't start out stellar. First to take the stage was 21 Savage and though the lack of precipitation was a welcome surprise his mediocre performance was not. The 25-year-old rapper's voice was not only noticeably different live but his energy level was so low that it might as well have been pouring rain. He calmly paced the stage, jumping from song to song, not finishing a single one — and used the line "Red Rocks make some noise," nearly 20 times to fill the space in between rhymes.
"This is like listening to 20 30-second song previews on iTunes," expressed an audience member to my right, and she was right. 21 Savage's performance was a string of 20-45 second song segments. That, partnered with his non-existent stage presence and lack of audience connection made for a performance that was mediocre at best. It wasn't just the failure to perform a full song, however, that made his performance so underwhelming. It was the compilation of poor vocals, little energy and inability to connect with the audience that made 21 Savage's performance so painfully basic. Something as simple as a genuine comment or a little movement other than pacing the stage and the occasional hand wave would have drastically improved the show. And while we can appreciate his ability to throw down a smooth rhyme, his live presence needs some work.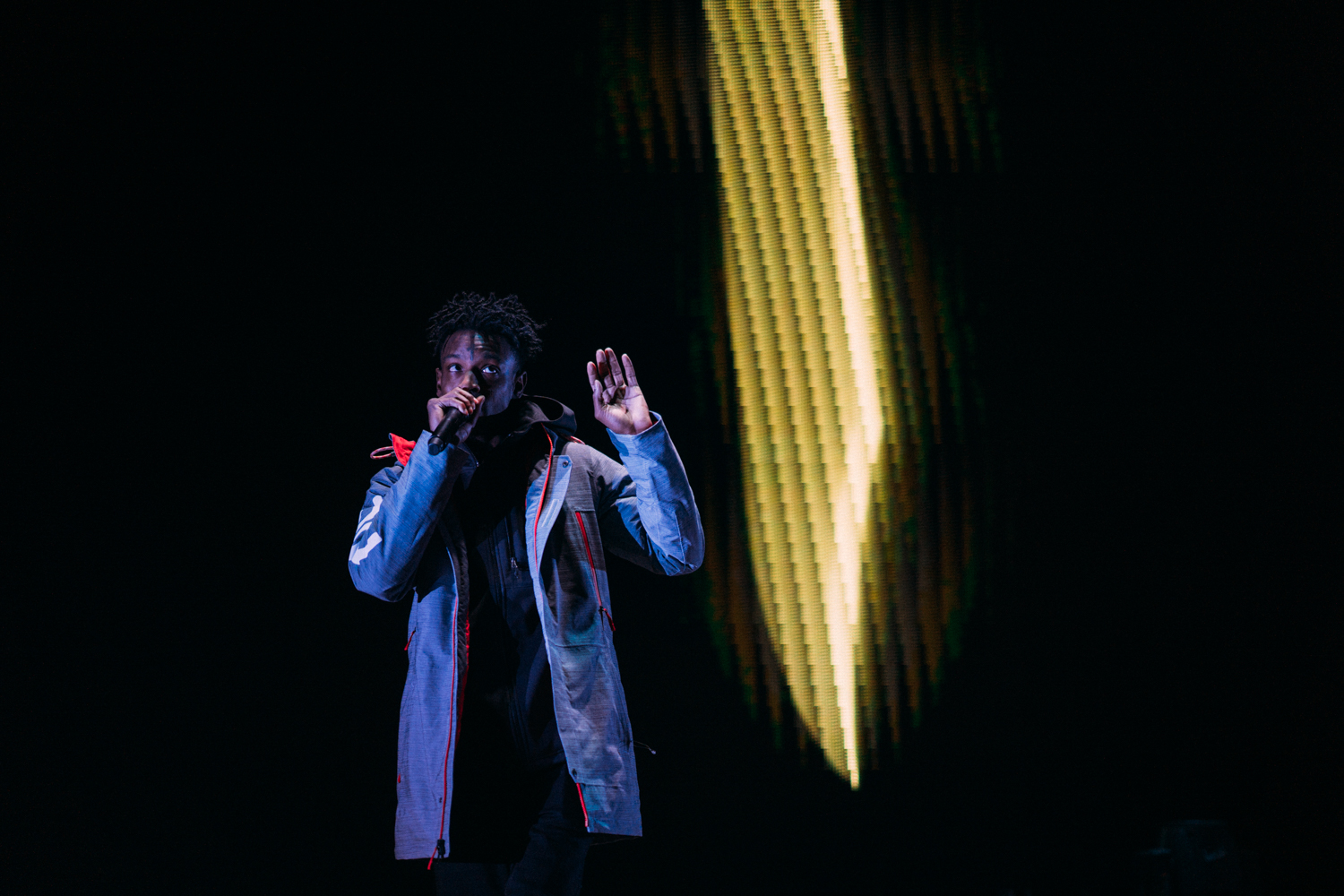 Fortunately, Post Malone saved the night. He came out at precisely 9:34 p.m., casually strolling across the stage in a yellow long-sleeved t-shirt and jeans, beer in hand.
"Red Rocks, put your mother-fuckin' twos up," Post Malone announced before diving into "Too Young" of his 2016 album Stoney. "Yo my name is Austin Richard Post and this is my first time playing Red Rocks," stated the rapper through deep, heavy breaths. "This venue is crazy."
Post Malone proceeded to play a rendition of "Over Now," from his latest album Beerbongs & Bentleys, that dropped last month. The album, released April 27, immediately broke records its first day out with 78.7 million streams worldwide in 24 hours. And its popularity was obvious at Red Rocks Wednesday night. Singles like "Psycho" and "Takin' Shots" were well received by the audience and woven in between beloved throwbacks. They showed the rappers ability to advance in the industry while also staying true to his roots. His set was simple but on point, beginning with green lights and smoke which slowly transitioned into red, blue and purple throughout the show. And though the altitude was obviously getting to him, his voice and personality continued to shine throughout the show.
"I'll tell you what, Colorado," said Malone, "I see a lot of people talking shit on Instagram. They'll post a picture of their watch like — 'isn't this baller, look at my girl isn't she fine?' But I'm like — I've seen your watch and it looks fake… and I've seen your girl and she looks like me."
Malone showed all aspects of his musical talent and all aspects of his personality — jumping from aggressively rapping about wrist watches and taking shots to sitting down with a cigarette and showing his most vulnerable side with an acoustic performance of "Feeling Whitney," off his 2016 album. Malone showed everyone in attendance that he is, in fact, a dichotomy. While many rappers bring little more to the stage than filthy lyrics and hyper-masculine energy, Post Malone showed that he can throw down both dirty rhymes and tender emotions. And it's not every day that you see an artist rap about beer bongs and Bentley's while also being able to whip out an acoustic guitar and play it with elegance and finesse. Becuase of this, Malone is one of those rare artists who can appeal to both die-hard hood rap fans and angsty teens from the suburbs — and for that, we appreciate him.