Margot Elena, a beauty and lifestyle brand mogul, is the daughter of a musician and fine artist. She grew up in a small town in Alberta, Canada, in a home that doubled as a storefront. She sold jewelry to classmates and printed a newspaper in high school to hawk her baubles. Now, her products are known worldwide, and she's running her creative hub in Centennial like Willy Wonka ran his realm of fantastical reality.
Elena opened her first shop in Lawrence, Kansas at the age of 22, fresh out of school with a degree in philosophy. She managed employees and scraped together a meager profit – just enough to order more supplies each week and reinvest in the business. She started by making handmade soap bars and custom blended niche fragrances. This was in the '90s when the number of boutiques was growing in the U.S. and before Bath & Body Works. Three years into it, Elena launched a nationally distributed brand and ran two stores. In 2000, she opened a store on Pearl Street in Boulder and the Lollia brand came out a year later. Tokyomilk and the other four core brands followed. The company moved into the Denver Tech Center about five years ago.
Lollia, TokyoMilk, The Cottage Greenhouse, Library of Flowers, Love & Toast and M.E. Life + Home products are common in boutiques and major retailers like Anthropologie and Urban Outfitters. They're recognized in magazines like O, The Oprah Magazine and featured on Good Morning America's GMA Deals & Steals.
Each collection has a distinct personality, giving women a range of ways to connect with the company. The designs and product developments originate in Elena's psyche and become living, evolving concepts with the help of her small but multi-talented crew.
"It's amazing because you see us out there on the shelf and think that we're a huge company – we're a family," Assistant Creative Director and Elena's right hand, Liz Hutchinson, said. There's a staff of 50 people between the creative center and two buildings nearby that handle sales and shipping. They're often called upon to do something they don't know much about. It requires a fire in the belly to take charge and run with it.
Practically everything is done in house, including trade show displays complete with petite decorative details, which are built in the creative center's basement wood shop. In the "grand hall," there's a staging area for retail display arrangements, a neighboring smoothie bar and a sun-soaked studio where every afternoon people are welcome to join a fitness class. A loft upstairs gives space for meditation and breathing breaks. There's a garden outside where personnel partner up to water herb, vegetable and flower patches.
"I need to be a whole being, and I need to also then see my entire community as whole beings, not just a deadline," Elena said about how she's promoting healthier living in the workplace.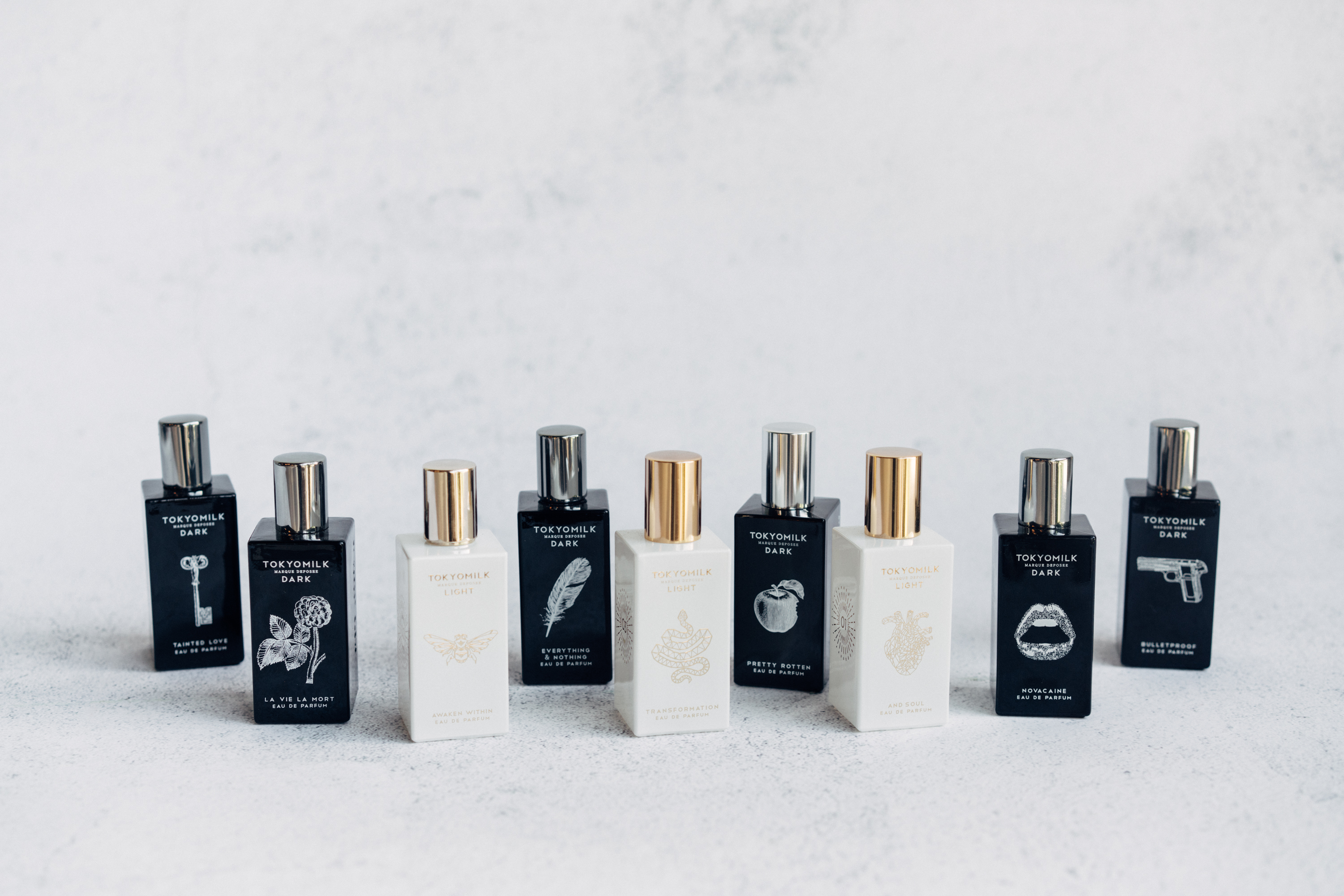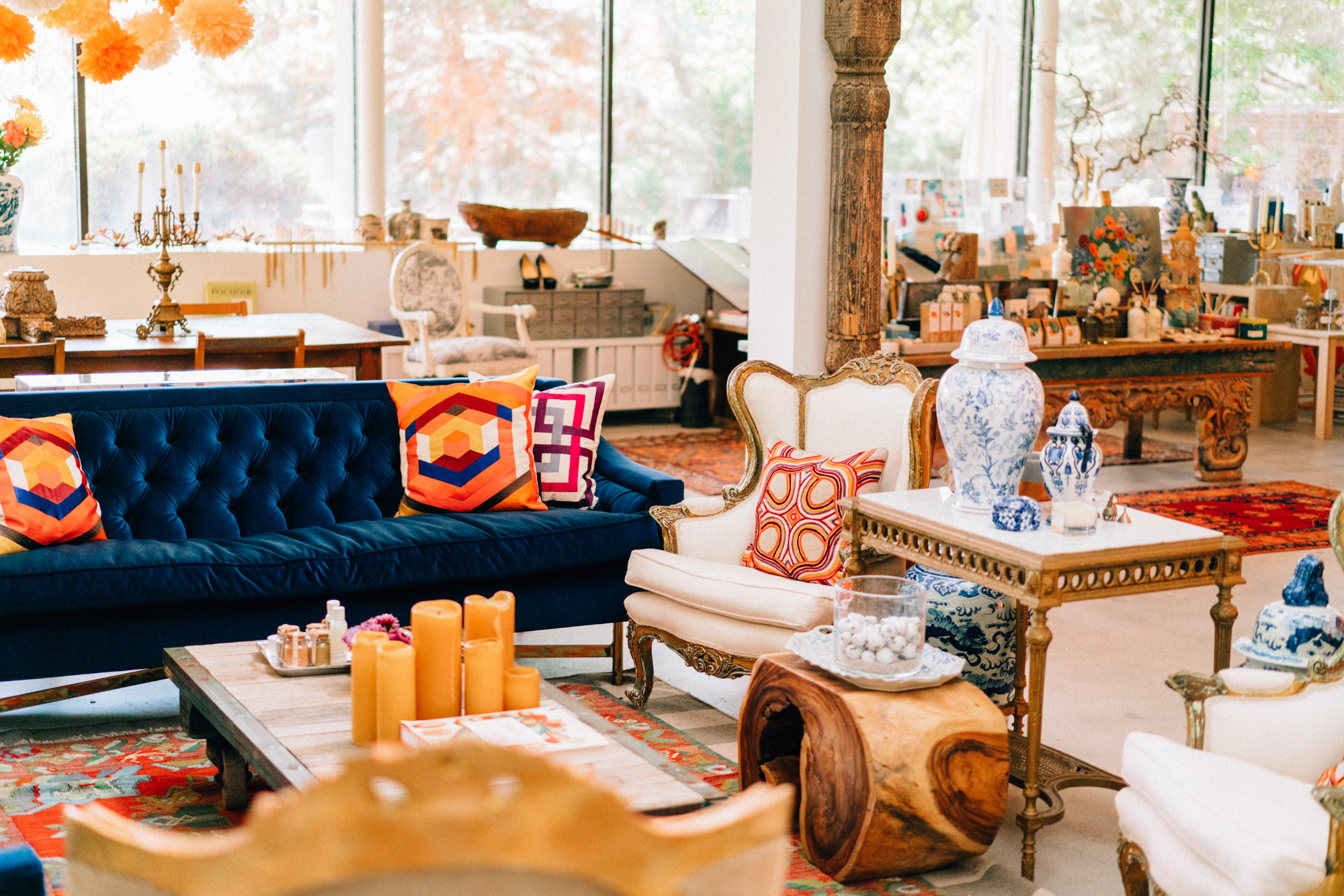 Elena loves being tucked into the Tech Center among throngs of pine that invite deer and a few owls outside her design studio windows. Her office/living space is lined with antique paper patterns, free weights in one corner, a sketching table near a small teepee tent, and in the middle of it all an intricate hors d'oeuvres set between blue velvet couches where she and guests might nibble and chat. It's a space undesigned, an eclectic mash-up of everything Elena loves and has not thrown out. She's a great amasser of things, including a seemingly never-ending flow of products, patterns and brands.
Elena says she's an introvert who enjoys quiet moments – but she's also a little bit punk and likes to wear loud printed platform shoes.
Music is the biggest part of Elena's artistic process. She credits her father.
"I'm beginning to articulate that better and seeing why that's so important," she said. "Once I can define something and communicate it in music… That's when I know I've got the character of it."
First, she'll crank it up to 11. Especially when on deadline and she needs to trick herself into a mode of confidence, Elena blasts '80s or hip-hop tracks. It's the "cool kid place" she's accessing, like how she felt screaming for Sting at Red Rocks Amphitheatre years ago. Elena went wild for him, and then she looked around and noticed she was in a sea of mom jeans and dads with clip on pagers.
Reality check. Elena does have a daughter, Theory — the teepee is her play place — and a spouse who fortuitously resembles Sting. Elena is in her 40s. She has light nutty brown skin that is luminous from within. It's freckled across her broad cheeks under deep brown eyes, and her head is topped with a voluminous cascade of curly black hair.
Once mama Elena successfully switches to cool kid designer, she flips on something mellow and jazzy, and real productivity begins.
Fight for good design: a mantra Elena uses to bring ideas that are vivid in her mind to life on paper or the computer screen.
Competent design is good enough, but it lacks a soul. Elena is uncomfortable stopping there: "I always call it 'itchy,' you know, you get this itchy feeling and it just – ggrrnaah! It just doesn't get to the idea. … So push through that, honor that feeling and take it to the place where it becomes calm."
This slideshow requires JavaScript.
The result: products, patterns and a whole business model thoroughly vetted by Elena's mind and heart. Women who buy Margot Elena find little details in the packaging like hidden messages or music playlists that complement a collection.
When threads of inspiration and new business opportunities create what she calls a "slipstream," Elena finds she is doing her best work. After a while of being in the flow, she looks back on what she's made and can't believe how far she's come.
Elena and members of her team, who inspire her to follow through on her ideas, have created a unique business model: "I'm getting mature enough in the business to kind of recognize it — it's kind of unicorn-y," Elena said.
Part of the company's secret magic is its location. Los Angeles or New York are obvious hubs for beauty and lifestyle brands.
"I think that, out in Colorado, we have literally our own headspace around us and we can tell a really unique story, and I think that that has been one of the reasons that we have always been one of the innovators instead of one of the followers," Elena said.
Philosopher Elena had to come to terms with working in commercial retailing. She wondered if spirituality and business could mix, and the popular idea of a "work-life balance" seemed an idea that rips people apart into two different places.
Her advice to young creative professionals in Denver: "As early as you can, and you probably will have to change and it will evolve as you evaluate, but truly come to that place of self-awareness to know: What do you want? What do you value? And who you are and live your life as integrated as you possibly can. And that may mean making some really weird decisions."
For Elena, that means introducing team members to meditation, yoga, green smoothies and lessons from her life coach. She wants a "love-based and heart-centered" company, even if people on the outside are initially skeptical or cynical. She wants to live rich minutes — not waiting for the workday to end so her life can begin: "I want to be the same person when I wake up, and I want to be that same person at the end of the day."
Today, she feels the most grounded and authentic she's ever been.
All photos provided by Margot Elena.
Margot Elena – TokyoMilk Dark from Postmodern Company on Vimeo.