Chris Harris Jr. has been with the Denver Broncos since the start of his NFL career, and that's exactly how he plans on finishing it. Even though he won't be retiring anytime soon, Chris not only dedicates his time to just his family and football, but to the people in need in Denver as well. By being a part of multiple organizations such as Big Brother Big Sister, Denver Children's Home, and his own foundation — the Chris Harris Jr. Foundation — saying that he is just a football player is an understatement. Coming from what he calls himself an "underdog" to where he is now, you can see how his has a passion for kids that grew up in the same environment he did, and is determined to be a great role model for them to look up to. We got to know him at his second home at the Denver Broncos Fieldhouse, and ask him a couple of questions that we know many Denver people have been dying to ask.
303 Magazine: So you had a very successful college career at KU and then didn't get drafted and became a free agent. What inspired you to keep going and think football is the career you want to pursue?
Chris Harris Jr.:  I just had a passion for it. I love the game a lot, I knew I had a chance to make the team. But I was in a different situation than a lot of players because we had the lockout, so what the lockout means is that after the draft the year I came out we couldn't have contact with anybody in the NFL. Usually, guys that go and get drafted get picked up after the draft the next day or the same day, so mine was very different because I had to wait until the end of July once they lifted the lockout. What motivated me during that time was my agent, and him being in my corner telling me that I'm going to have opportunities to play and just to continue to work out and that he is going to give me a chance.
303: When you look back at yourself from when you were undrafted, what would you say to yourself?
CHJ: That I am not going home. That was one of my motivations was to not go back to Oklahoma. To be a man and be a man on my own, that was my main motivation. To make the most of it and be a pro-bowl player, that was my main goal.
303: You have been with the Broncos day one since you've entered the NFL, how do you think the team has evolved?
CHJ: We definitely went through some stages, but I've been blessed to be on winning teams almost every year. I haven't had a losing record since I've been here. Worst record was eight and eight and that was my first year, so coming in with Elway and Von my first year and being able to have that chemistry to win two AFC championships, have two Super Bowl appearances and a Super Bowl. We have definitely been to the very top and been consistent for those seven years, that's something. The main goal is to win another one.
303: In the most recent game, I noticed that you and multiple players took a knee, but you, in particular, had your hand up. Can you please explain?
CHJ: Really just calling to God saying that we need prayer over our country. We decided as a team to kneel in unity. It's not against the flag, the troops, or anything like that, no disrespect to them at all, but we just wanted to point the emphasis of social injustice, the racial inequality that's going on, and things like that. We wanted to be able to make a stand and stand in unity, and really stand for our freedom of speech. A lot of people don't understand the things we do in the community and trying to do for the people that are hurting in the streets that get no help at all, so that's my main goal and that's why I did Coats for a Cause last night to put clothes on those kids backs whose parents can't afford to give them anything. I think in doing that [kneeling] you have to have actions with it, so I try to make sure I am very active in the community.
"We will definitely stand up for the rest of the year. I don't think it's going to stop unless President Trump is going to make an effort to be able to unite everybody."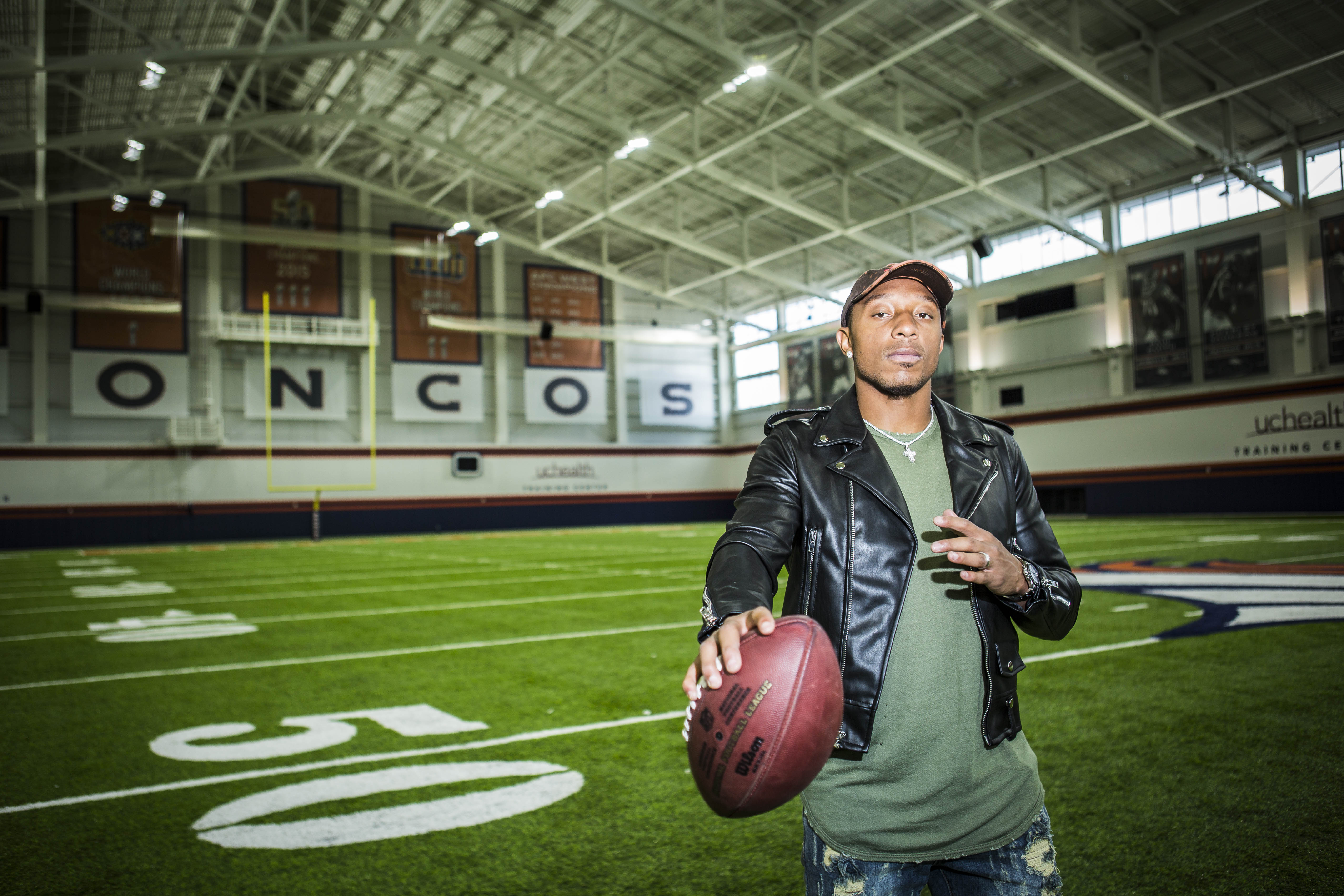 303: What do you think when President Trump says that NFL owners should fire anyone who doesn't stand for the national anthem?
CHJ: I didn't like it. I think that's taking away the freedom of speech. I think everybody is doing a peaceful protest. We see out there in this world that people are doing violent protest and people are getting killed or run over by cars and things like that. People say that there is a better way in doing it, but our best way is the only time on our platform in the NFL is during the anthem. I think there are other ways like standing up and locking arms, but if people really focus on us and not against the flag or the troops, because we love the troops, then people will understand what we are trying to do.
303: Do you feel that this protesting will continue further into the season?
CHJ: Oh yes, definitely. We will definitely stand up for the rest of the year. I don't think it's going to stop unless President Trump is going to make an effort to be able to unite everybody as one and understand the freedom of the speech that everyone in this world is given. I don't think it's going to stop.
303: Who originally came up with the term "No Fly Zone"?
CHJ: My wife Leah, she actually came up with it. I was going into my third season, and I always went like this [motions No Fly Zone] and celebrated with my arms out. We just wanted to work on branding, to get myself out there more, and we came up with that, and it was able to launch off crazy. I gave it to everybody else on the secondary defense, and kind of just took the name.
303: Since TJ Ward has been cut, how do you feel that it has impacted you as a unit?
CHJ: It has definitely impacted us. We are still learning to have that chemistry together, I think about midseason we will be pretty on point, but we are still playing at a high level. It is a different type of chemistry with me, TJ [Ward], Darian Stewart, and [Aqib] Talib, we have been together for four years, so you kind of grow as brothers, but we definitely miss him. But we look forward to building up the chemistry Justin [Simmons].
303: Do you think you'll ever leave the Broncos, or would you like to stay with the Bronco's till you retire?
CHJ: I'd love to stay here. I've been here my whole career and plan to get another big contract here and be here the rest of my career. Hopefully, we can keep putting up these banners and winning Super Bowls. But that is definitely a goal to stay here for life.
303: Do you think about retiring?
CHJ: No, not right now. I mean sometimes when my body is sore, but I still love the game a lot. I am very competitive, and I think once I lose my competitive drive, and don't like the fight on the field, then that's when I know it's time to be done.
303: Is it hard to balance family life and football?
CHJ: No, I still get plenty of time to be at home. But on away games we are only gone for a day, so we are still there for our families. You have to give them a lot of attention I think, me having all girls you have to give them extra attention. I think it would be different if I had boys.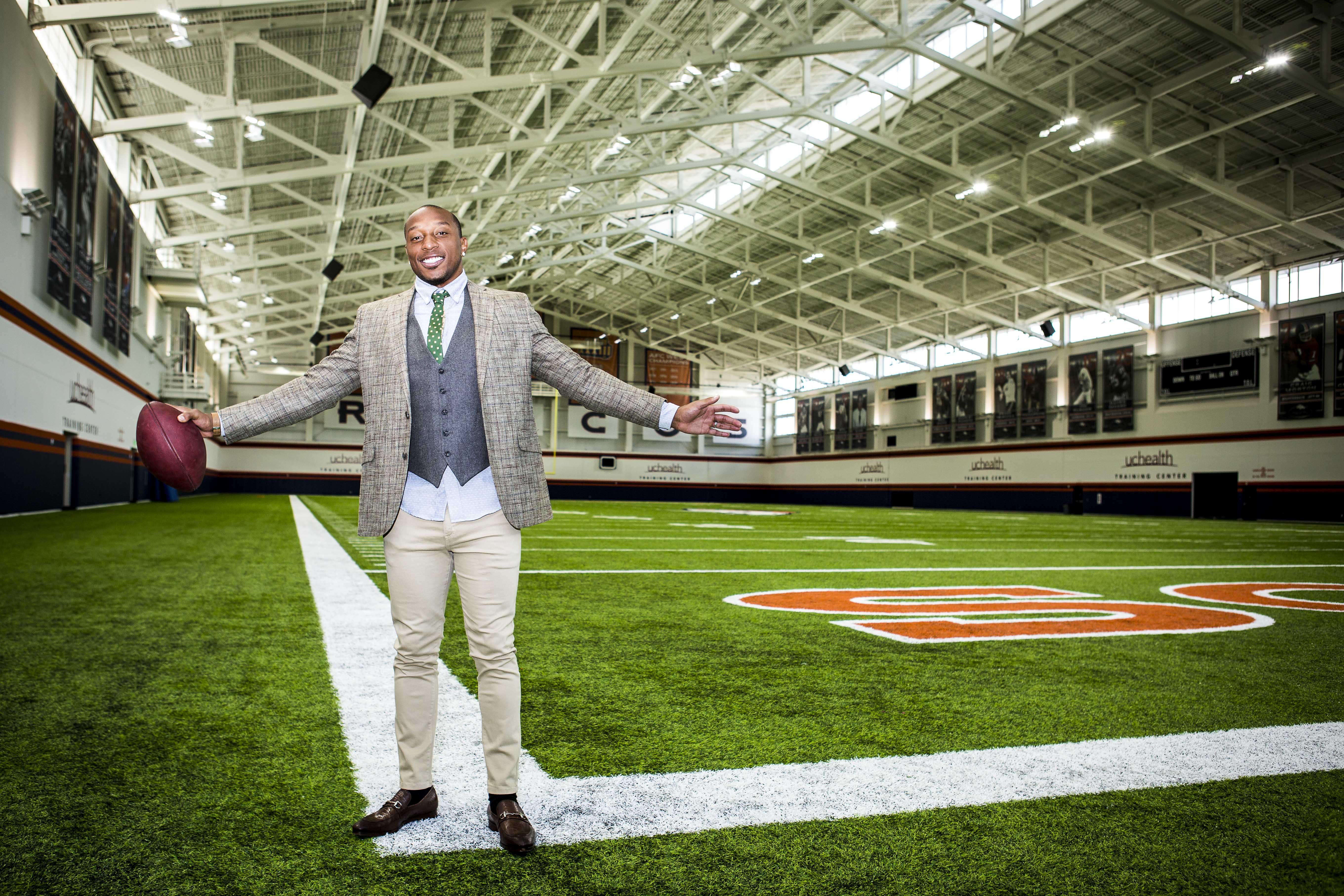 303: How did you ask out Leah, and how did you guys meet?
CHJ: We met when I was 18 years old at bible study. We were just friends, and I never saw her on campus ever again until four years later. I hit her up on Facebook and we kind of just started talking from there.
303: Do you think it was love at first sight?
CHJ: I mean I have always wanted to hit her up, I just didn't because she always had a boyfriend.
303: You have two daughters. What is that like, and what kind of philosophy would you like to instill in them?
CHJ: My main philosophy is to tell them to always be strong and try to be tough. Especially because people expect women to not be strong, so that's one thing I always say to my girls. I can definitely see them taking care of me a lot when I'm older. They're daddy's girls and I definitely love that for sure.
303: You and Leah participate in Big Brother and Big Sister, what are some ways you make your "little brother and little sister" feel special when you hang out with them?
CHJ: We all hang out as a whole group. So, we take kids all over certain ages and do student success programs with them. We try to make them get motivated to exercise and do chores and then we have a big party with them every year. If you try to make them feel special and emphasize that they know that they need to work, get good grades, be active outside playing, and doing their chores.
This slideshow requires JavaScript.
303: You and Leah started the Chris Harris Jr. Foundation. What made you want to start it and what have you found to be the biggest reward?
CHJ: I just realized there is a need out here. Both me and Leah have a heart for at risk kids, and me being an underdog the way I came into the league, these kids understand my story a lot better and they can relate to it. So we just always wanted to give back, It's been six years with the foundation and we can definitely see the impact of it with the kids. We get great feedback and it's changing people's life.
303: Do you see a lot of yourself in the kids when you go to the Chris Harris Jr. foundation events?
CHJ: Oh yeah definitely, a lot of these kids come from sing parent homes. A lot of them are just like me, they love playing video games, and being active outside. A lot of them don't like school too much, but you can push them too like it. A lot of them are underdogs, just like me in a certain way. They might not be the smartest but they strive to be that. So you can see them pushing an uphill battle, kind of like how I did.
303: If you could see yourself in 10 years, where do you think you'll be?
CHJ: Definitely be retired by then and be hanging out in my house in Dallas or here. Being involved with my girls, whatever activities they're doing. If they're playing sports or whatever, just being there 24/7 .I would like to relax and not do anything physical. Definitely want to go on vacations.
303: What are you most proud of what you have accomplished so far?
CHJ: Winning the Super Bowl. I think that's the biggest accomplishment you can win. Doing and getting all pro's in the pro bowls, those accolades. The next thing is to try to get another one [Super Bowl] and Hall of Fame. Those next two steps are hard, but I think I can do it.
303: Do you ever want to be on Dancing with Stars?
CHJ: No, Von told me how much hard work it was. I would have to be up at 5 [a.m.] and do routines all day and then go back to work again. I'm like nah I'll skip out. Just because of the hard work.
303: Tell me a little about Christmas with the Harrises
CHJ: It is a celebration really. Being able to celebrate what we are doing with our foundation and showing everyone what we are doing and giving everybody a chance to be able to support me. It was very big last year, all my teammates helped support it. It was fun and people loved it, especially getting served food by NFL players. Rewinding to last night, we did Coats for a Cause, and that 100 percent goes to Denver Children's Home. So we wanted to do something for my foundation to raise money, so we can do more and have an impact out here on people who are at risk.
All photography by Amanda Piela 
Wardrobe Stylist: Aaron Rodriguez 
Clothes provided by Ratio Clothing, Spruce and MAM Couture Boutique.
This interview was edited for length and clarity.