Many musicians in rap claim to be the GOAT (slang for the greatest of all time), but DJ Premier is not one of them. "I'm not the GOAT, man. I don't mind that name, but I'm not the GOAT," he says, laughing after I accuse him of being such as we sit down to chat about his current tour with the BADDER Band.
If the topic had been pushed, his argument would have been a difficult one to make. The musician has produced for all of the greatest in hip-hop: Biggie Smalls, Nas and the unforgettable Gang Starr. When the golden era of hip-hop comes to mind, there is no ignoring his contributions.
The BADDER Band consists of Premier, Brady Watt, Mark Williams, Takuya Kuroda and Lenny Reece. The five men have taken the live experience to new depths, transforming jazz, hip-hop, rock and anything else that can be imagined on stage into a whirlwind of past and present musical accomplishment. 303 Magazine was given the opportunity to discuss the origination and destination of the BADDER Band with Premier before their Wednesday night show at the Bluebird Theater. Read on to get the scoop before the performance, where you're sure to find us sweating out some mid-week stress.
303 Magazine: With the career that you've had, how did you find the inspiration for getting together with the BADDER Band?
DJ Premier: The BADDER Band project was put together by my manager, Ian, and one of my agents that I've known since the beginning of my Gang Starr career. He said, 'What if you put a band together that revolved around a trumpet player from Japan named Takuya Kuroda? He's got a hip-hop perspective and respect in the jazz field. If you put a band around him, I can get you gigs at Billboard Live in Osaka and Tokyo.' [Brady] Watt I already knew from a former employee, we basically had the same love for the same bass players: Marcus Miller, Larry Graham, Louis Johnson and [Charles] Mingus. Once we got cool, I already knew he could play.
 The drummer's name is Lenny Reece, we call him 'The Ox.' Lenny really lightens the load of my having to focus on the creativity. I am very particular about [the] way we set-up shows and how we do our routines, he brings so many great ideas and they always work. We were recommended Mark Williams, who is now a permanent member of the band. 
We also have a guy named Jonathan Powell to fill in for Takuya since he has so many tours of his own. He went to the same schools that Mark went to as kids. Jonathan is definitely a great part of our band. Two days into our tour, Lenny had to leave and I had never been without my drummer — that's the heartbeat of the band. He said, 'I got this kid, he's 25-years-old named Jharis Yokley from St. Louis.' We had one day to rehearse, we recorded, did Seattle and Portland and he was amazing. He hit every cue. Shout out to Jharis Yokley.
The first day we rehearsed, we clicked immediately and became pals. We're working on an EP first just to get things started. I don't want it to be all instrumental, but we're just structuring the music right now. It's comin' off.
303: With 'a decade of hits that will live forever' behind you, how do you know what will come of the future? 
Premier: Just doing more music. Prince, James Brown, The Rolling Stones, they did tons of albums. I just want to be recognized for having a lot of music out there. I just want to bang out more and more music. You don't put a limit on passion, you just keep doing what you love until you don't love it no more. And I love it.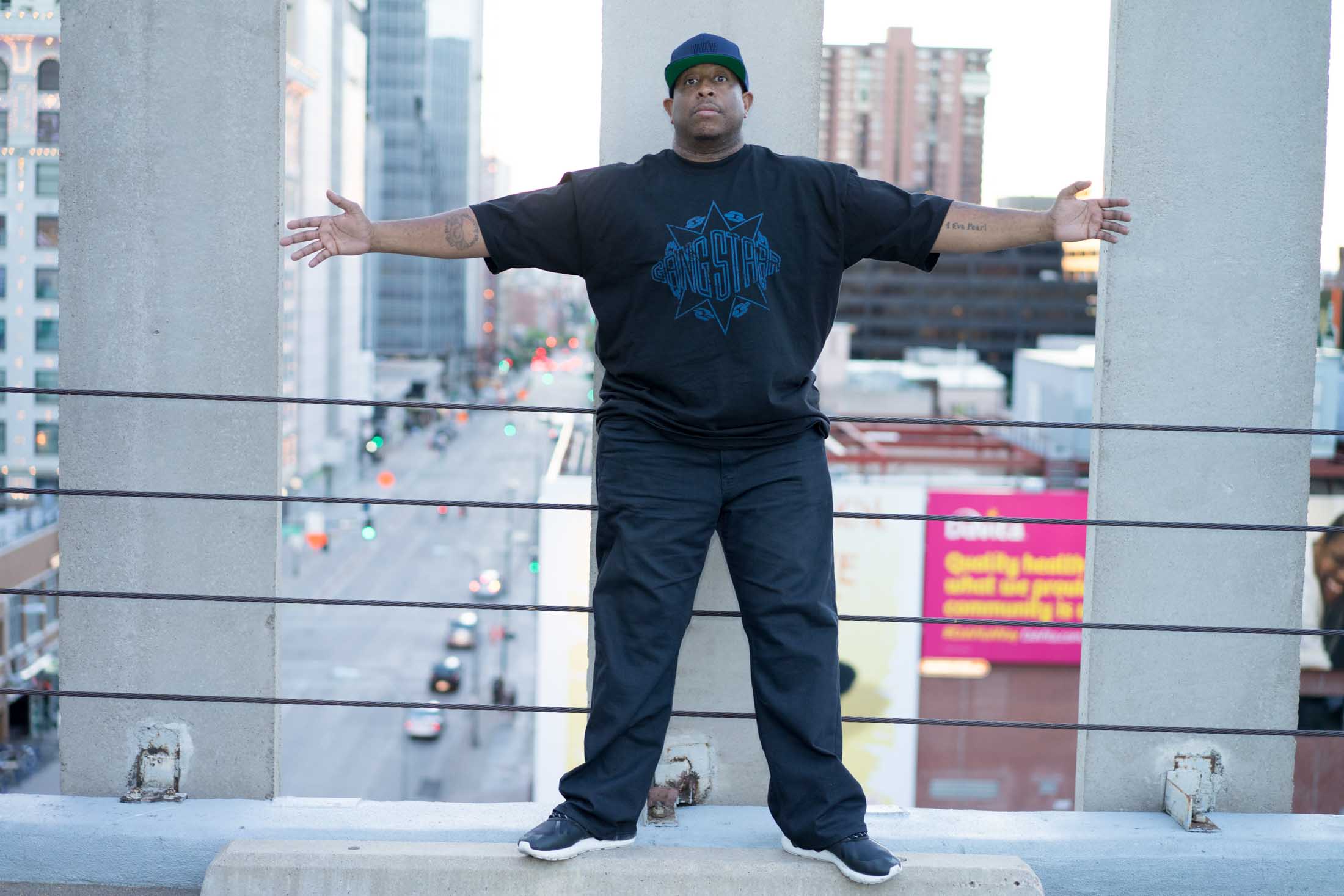 303: You said that you were revisiting rare Gang Starr beats on this tour, could you elaborate?
Premier: This tour is called the Catalogue Bash Tour. We are just going through my catalogue and bodies of work. Gang Starr is a huge part of my entire career because Guru gave me that lane to produce him and outside of Gang Starr.
I told Guru I wanted to be a producer regardless of being an artist because being an artist wasn't my number one thing. I wanted to produce all acts. We both had great careers and still do. We have Gang Starr Enterprises and I make sure 50 percent goes to his family, to his son who's 16. Shout out to KC. We make sure the name not only makes money, but still takes care of his family.
303: You said before that you didn't want to be pigeon holed into hip-hop, how has this band helped you fulfill that? 
Premier: I'm big on concerts. [I've seen] AC/DC, Rush, The Smiths, Morrisey last year with Blondie opening. I've been to Earth Wind and Fire, Iron Maiden, Van Halen and Prince a million times. I was going to Prince concerts when he was playing to maybe 500 people. I was there.
All of that adds on to: 'What are you going to interpret on that same model?' That's what we do, we take all these things from all other places and we put it on a really tight show.
303: As one of the most influential people in hip-hop, how do you think adding a band to your repertoire will change hip-hop?
Premier: Hopefully the model of what we are doing here will change what producers are doing. A lot of producers aren't on the mic like I am, and even I had to get the confidence after a few years to do that. I don't like my voice you know, I think it sounds weird hearing it back. Then we went on tour with Rage Against the Machine in 1999, when Full Clip came out. Seeing the way the audience went crazy with  Zack… I realized you gotta just let it all out on stage. That's me on stage, too, but it's me just completely naked with no clothes on.
303: If you could bring any other musician into the BADDER Band, who would it be?
Premier: I would bring a keyboardist. I am going to have to find a keyboardist who blends in with our sound and our look, you might see that addition later. Maybe a saxophone player, so that way we have the whole horns.
303: What would you say to the folks who are going to show up on Wednesday and will ultimately want more from you?
Premier: Get ready for a really tight show. We don't play games, we gettin' busy.
Also, our bassist, Brady Watt, has a new single out called "Youth In Revolt" with Michael Christmas, who is starting to buzz a lot in the underground. I have two labels, I have Year Round Records, which is my street label. We have a record that is buzzing called Represent Like This with Dub C and Snoop just posted on his tour bus blasting it saying he can't wait for the album, and that's a good sign. TTT is my new label with Ian, and that's called To The Top. Every time we leave to go do business, we go [holds pointer finger to the sky] to the top! That's our motto. I want that label to be more of a label that can do R&B, jazz, rock whatever. On TTT we signed an artist called Torii Wolf — she is very eclectic compared to what I'm used to doing. We released that single with Miguel, "2 LOVIN U," and we have a song out now with a band called Cherub called "My Space Baby." And, we got a PRhyme two album. We're just mixing it down. We know what we're doing, we have to have a plan but we don't have to go through all of the politics of major labels. Everything is everything.