It's a big festival week for Denver. From art, to film, to cosplay, there's something for everyone. Get into the geek-y spirit with an art gallery of redesigned action figures or check out Nerdlesque, a show where Burlesque meets comic book characters. If you're looking for some laughs, catch a glimpse of George Lopez's newest material or see more of an underdog like Dan Soder or Chris Charpentier. Try a little bit of everything and make it a great week.
Monday, June 26
Monday Movie Madness
When: June 26, 7:30 p.m.
Where: Infinity Park – 4599 E Tennessee Ave., Glendale
Cost: Free
The Lowdown: Infinity Park is starting up a summer of outdoor Monday movies and kicking things off with Lego Batman, where Bruce Wayne fights crime alongside a new sidekick. Bring a chair or blanket, a picnic and some pals for a night under the stars and in front of the big screen. If cooking isn't your thing, there will also be local food vendors to grab a bite from.
Tuesday, June 27
SeriesFest
When: June 27 – July 2, 7:30 p.m. Tuesday, 12 – 11:45 p.m. Wednesday, 11 a.m. – 11:45 p.m. Thursday and Friday, 11 a.m – 11:30 p.m. Saturday and 2 – 6 p.m. Sunday
Where: Red Rocks Park and Amphitheatre – 18300 W. Alameda Pkwy., Morrison on Tuesday and Sie Film Center – 2510 E. Colfax Ave., Denver Wednesday through Sunday
Cost: $40+
The Lowdown: SeriesFest is back for its third season. Opening with a '90s throwbacks Ms. Lauryn Hill, Common and En Vogue will take the Red Rocks stage. Then, bask in all things film at Sie Film Center for the rest of the week and weekend. Check out short films, competitions and screenings of international films, documentaries, independent films and more. Awards will be presented on Sunday.
History Buffs and Brews
When: June 27, 4 – 7 p.m.
Where: History Colorado — 1200 Broadway, Denver
Cost: Free
The Lowdown: History Colorado is hosting a history-themed happy hour. Let out the history buff in you while you grab a drink and learn about how it was made. The Denver Botanic Gardens' associate director of research will be there to explain how plants create whatever it is you're sipping on.
Wednesday, June 28
60 Minutes in Space
When: June 28, 7 p.m.
Where: Denver Museum of Nature and Science — 2001 Colorado Blvd., Denver
Cost: Free
The Lowdown: This adult program at the museum will use animation and images in the IMAX theater to explain the most recent developments in space research and science. Part of after hours at the museum, feed your curiosity for the latest in science alongside likeminded individuals.
Thursday, June 29
Dan Soder
When: June 29 – July 1, 8 p.m. Thursday, 7:30 p.m. and 9:45 p.m. Friday and Saturday
Where: 1226 15th St., Denver
Cost: $16 – $24
The Lowdown: This fresh face from Aurora is on the rise. Featured on Conan, Comedy Central's Live at Gotham and The Half Hour, Soder is known for his take on "man" humor. Check out his stand up special, NOT SPECIAL and see him in action this weekend.
What Up, Nerds?
When: June 29, 6 – 8 p.m.
Where: Cooper & Dash Gifts and Gallery – 1441 Wazee St., Denver
Cost: Free
The Lowdown: This art reception is featuring Kaitlin Ziesmer, Rob Jordan and other local artist's work with redesigning fan-favorite action figures — hence the "nerd" factor. These artists have taken Kid Robot's vinyl figurines and redesigned them using their own creative processes. Check out these classic artifacts with a twist as well as Ziesmer and Jordan's newer sci-fi-themed work.
White House Chefs, Robots and Something Surreal
When: June 29, 7 – 8:30 p.m.
Where: MCA Denver — 1485 Delgany St., Denver
Cost: $10 – $15
The Lowdown: MCA Denver is ready for another round of 3 Things, Any 3 Things. This week, it's White House chefs, robots and something surreal. See how these random things do or don't mix with special guests Adrian Miller, Laura Goldhammer and Mathias Svalina.
Miranda Bennett Studio Trunk Show and Appearance
When: June 29, 4 – 7 p.m.
Where: Goldyn – 2040 W. 30th Ave., Denver
Cost: Free
The Lowdown: It's a good day to be a fashion lover. This Thursday is Miranda Bennett Studio's trunk show and in-store designer appearance. If you aren't familiar with Bennett's clothes, they feature natural fabrics and dyes and gear towards flexible sizes. Sip on champagne, browse the designs and meet the woman herself.
Friday, June 30
Cherry Creek Arts Festival
When: June 30 – July 3, 5 – 10 p.m. Friday, 10 a.m. – 8 p.m. Saturday and Sunday, 10 a.m. – 6 p.m. Monday
Where: Cherry Creek North Shopping District — 2nd to 3rd Ave. between Clayton and Steele St.
Cost: Free
The Lowdown: The Cherry Creek Arts Festival is back and is including 255 artists from all over the country and from all different artistic backgrounds this year. The weekend will start off on Friday with an open gala at the JW Marriott that will raise money for art education. Then the rest of the weekend will compose of art exhibits, demonstrations, food and entertainment. The Arrow Five Years Out Art Challenge will take place and be displayed starting on Saturday and food trucks from Little India, Mac 'N Noodles and Simply Pizza will be there to snack, plus beverages to wash it down by Blue Moon Brewing Company, Glenfiddich Whisky, Hendrick's Gin and others. Music will be by The Michael Hornbuckle Band, the Crystal Swing Band, Wendy Woo, the Rebirth Brass Band and many more.
Untitled: Action!
When: June 30, 6 – 10 p.m.
Where: Denver Art Museum — 100 W. 14th Ave. Pkwy., Denver
Cost: $15
The Lowdown: There's something about old western movies that make you feel nostalgic and part of a wilder time. The Denver Art Museum is capturing these artistic qualities of cowboys, tumbleweeds and galloping horses at this week's "Untitled" event. Saddle up for both the full versions of legendary stories as well as the lesser known ones, explanations of western artifacts and of course, screenings of the films themselves.
Crooked Timber
When: June 30, 6 – 7 p.m.
Where: RedLine Contemporary Art Center – 2350 Arapahoe St., Denver
Cost: Free
The Lowdown: In this piece of RedLine's Exposure art series, Brian Napier presents his exhibit takes a look at people's relationship with the physical Earth and features natural objects and representations of their disruption by man. The exhibit will be open through July, but catch this opening reception party where there will be wine from Infinite Monkey Theorem and beer from Ratio Beerworks. There will also be plenty of activities including a "beatmaking 101" workshop, a "build yr own zine" station and live video art by Travis Sturm.
Final Friday Art Walk
When: June 30, 5 – 9 p.m.
Where: Golden Triangle Creative District — bordered by Speer Blvd., Colfax Ave. and Lincoln St.
Cost: Free
The Lowdown: Head down to the Golden Triangle for their first art walk of the summer. The creative business members of this district are opening their doors for the public and include restaurants, museums, galleries, studios, shops and salons. Browse through places like the Denver Art Museum, Walker Fine Art, the Clyfford Still Museum and many more, grabbing bites to eat and beverages to drink along the way.
Denver Comic Con
When: June 30 – July 2, 10 a.m. – 7 p.m. Friday and Saturday, 10 a.m. – 6 p.m. Sunday
Where: Colorado Convention Center – 700 14th St., Denver
Cost: $38.50 – $82.50
The Lowdown: It's a pop culture fan's dream! Denver Comic Con is back in action for the sixth year in a row bringing comics, gaming, cosplay, celebrities, animation and some great people watching. Dress up as your favorite film, animation, TV or comic character and get a chance to meet others equally obsessed, maybe even compete in the Cosplay "Classic" Costume Contest. Between browsing the vendors and demonstrations, catch Friday's opening ceremony and Sunday's Third Annual Group Unity Wedding and Guinness World's Record Attempt.
George Lopez
When: June 30 – July 2, 7:15 p.m and 9:45 p.m. Friday and Saturday, 5 p.m. Sunday
Where: 5345 Landmark Pl., Greenwood Village
Cost: $45
The Lowdown: Hopefully we don't need to explain who George Lopez is…this comedy and sitcom star is making an appearance at Comedy Works to test out his material for his new HBO special. With multiple talents including comedy, acting, TV and movie production, Lopez is sure to put on a great show. Show him what a Denver audience looks like and be one of the first to see the works of his newest project.
Artist Panel
When: June 30, 6 – 7 p.m.
Where: Sandra Phillips Gallery – 47 W. 11th Ave., Denver
Cost: Free
The Lowdown: Art critic Michael Palgia is leading this month's "Final Friday" art panel. Come talk about the social issues of today and art's role in them, from activist art to more subtle representations and get be able to ask any questions you have of someone who knows a thing or two about contemporary art.
Prom Night Denver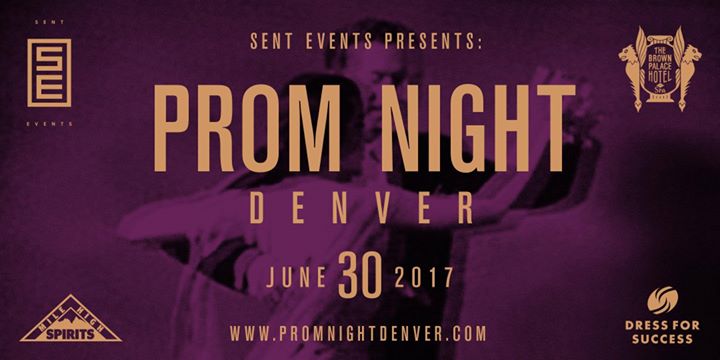 When: June 30, 9:30 – 11:59 p.m.
Where: The Brown Palace – 321 17th St., Denver
Cost: $75
The Lowdown: Re-live your high school prom — and maybe a bit classier this time around. Put on your best dress or tie and dance the night away to the DJ collective, MEAN TEAM, which features Spencer Forman, DJ Wushu and SpydaT.E.K. of Mad Decent. There will be an open bar and hors d'oeuvres and the event benefits Dress For Success of Denver.
Nerdlesque: A Comicstrip…Tease
When: June 30 – July 2, 8 – 10 p.m.
Where: The Clocktower Cabaret – 1601 Arapahoe St., Denver
Cost: $30 – $40
The Lowdown: This week's theme of geekiness is showing a sexy side with a comic-themed burlesque show. Superhero, sci-fi and comic book costumes set the scene for performers DeeDee Derriere, Tatianna TaTa, Brigitte Bordeaux and Merci Me bring in the dancing. The emcee of the show is "Princess Peach Schnapps," also known as Sofia Soubrette, who will lead the audience through this sci-fi fantasy. The show also promises a few surprise appearances.
Saturday, July 1
Laura Ann Samuelson
When: Begins July 1, 10 a.m. – 5 p.m.
Where: Denver Art Museum — 100 W. 14th Ave. Pkwy., Denver
Cost: $15
The Lowdown: Laura Ann Samuelson does the talk and walks the walk – or dances the walk that is. As a dancer and choreographer, Samuelson specializes in performances art and is the DAM's newest creative-in-residence. She choreographs and performs dances that explore the relationship between human bodies and the environments they find themselves in. Not one to shy away from creative spaces, she has been known to perform everywhere from swimming pools to loading docks. Watch her live creative process throughout the next two months.
Sunday, July 2
Chris Charpentier
When: July 2, 7 p.m.
Where: 1226 15th St., Denver
Cost: $14
The Lowdown: You may have seen this native Denverite on TruTV's Those Who Can't or doing stand-ups on FuseTV, Viceland or Comedy Central Digital. Now with his own monthly show, Everybody's Great!, Charpentier is returning to Denver to deliver his jokes with a mustache that makes everything greater.
---
Mark Your Calendars
Park Hill 4th of July Parade
When: July 4, 1:30 p.m.
Where: 2300 Dexter St., Denver
Cost: Free
Independence Eve Fireworks
When: July 3, 8 p.m.
Where: Civic Center Park – 101 14th Ave., Denver
Cost: Free